PA Faculty Receives Distinguished Service Award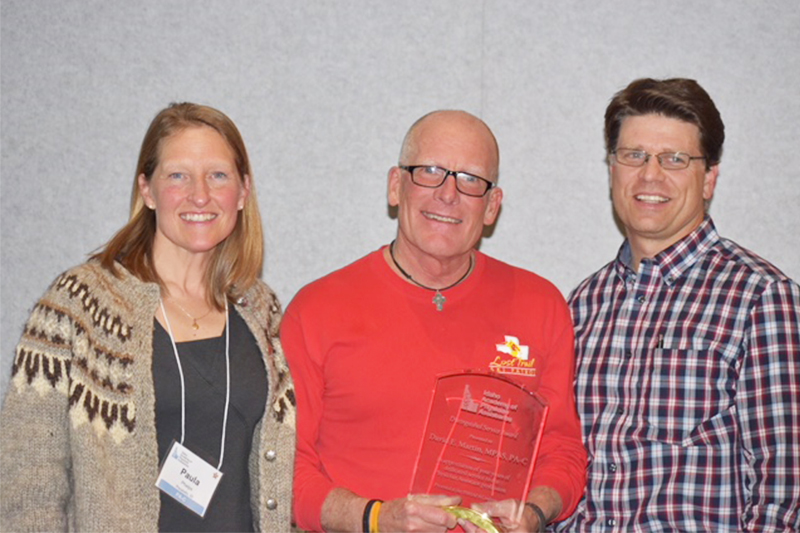 From left: Paula Phelps, David Martin with his Idaho Academy of Physician Assistants' 2018 Distinguished Service award, and Jared Papa
April 23, 2018 - POCATELLO, ID
POCATELLO - Idaho State University's David Martin, MPAS, PA-C, has been awarded the Idaho Academy of Physician Assistants' (IAPA) Distinguished Service award. Martin, academic coordinator and clinical assistant professor for ISU's physician assistant studies department, accepted the award during the IAPA Annual Meeting & CME Conference Annual Awards Reception on Friday, April 6, 2018, in Sun Valley, ID. The award seeks to highlight PAs who demonstrate exemplary service to their patients, the community, and the PA profession. Martin has been a faculty member for fifteen years, serving as academic coordinator for the past eight.
Paula Phelps, physician assistant studies program director, says Martin began his career as a PA in the early 1980s in Challis, ID. "Although Dave has since moved to Pocatello, his heart remains in the rural clinics at home. He routinely returns to Stanley, ID, to cover shifts," Phelps explains.
Idaho suffers from an appalling physician-to-population ratio, ranking 49th in the country. Phelps says, "Dave works to remedy the physician-to-population disparity through his work at the ISU PAS Program. He consistently takes first-year PA students to Intermountain Medical Clinic with him, mentoring and allowing them to experience the clinical setting alongside him."
In his nomination for Martin for the service award, Jared Papa, MPAS, PA-C, service learning coordinator and clinical assistant professor for ISU's PA program said, "Dave's three decades of caring for Idaho communities, education of future PAs, and dedication to making Idaho a great place to practice medicine is unprecedented. Dave is the epitome of what this award is looking for." Phelps echoed this sentiment, saying "Dave has provided this type of compassionate, quality care for over 30 years without fanfare or recognition. The ISU PAS Program congratulates David Martin on his achievement and thanks him for his continued service, both to the program and to past, present, and future PAs."
One student told the story of Martin's compassion toward a young man who arrived shortly before the clinic's closing time, asking for something for pain. The student expected that Martin would simply take a quick history, a brief physical, issue a small prescription, and usher the man out quickly to end the night on-time. Rather, Martin sat down and spoke with the young man genuinely, eye-to-eye, asking questions in a way that showed he saw the young man as someone more than a patient number. After a long conversation, the man broke down and opened up to Martin, revealing a troubling past and current depression. The student said they saw in that moment exactly why they chose the PA profession to begin with: a true desire to help people.
In addition to his work at ISU, Martin has also served in various capacities within the IAPA and several terms on the Idaho Board of Medicine, as an advocate for PAs in the political arena.