Two ISU Professors Selected by Prestigious Academic Institutes
Written by Scarlett Smith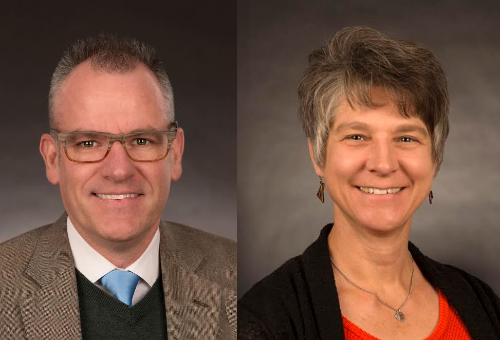 POCATELLO – Two of Idaho State University professors will stand out in their field by taking part in leadership training throughout the year. The Department of Physical and Occupational Therapy Director Bryan Gee and Physical Therapy Program Director Deanna Dye were recently accepted to participate in separate prestigious academic leadership institutes.
Gee was selected out of 40 applications to participate in the American Occupational Therapy Association (AOTA) Academic Leadership Institute. He plans to attend a two-day intensive workshop, complete seven monthly online modules and participate in seven monthly facilitated group mentoring sessions. The program will allow Gee the opportunity to grow and develop as an academic leader in the profession.
"To be honest I was very surprised to be selected as I knew there was a huge need and interest for the AOTA Leadership Institute," said Gee. "There is a shortage of faculty especially occupational therapy administrators so I was aware that it would be competitive."
Dye, was selected to participate in the American Physical Therapy Association (APTA) Education Leadership Institute (ELI). This highly competitive program provides a hybrid of online and onsite educational modules and takes one year to complete. The program is intended to develop innovative and influential leaders in physical therapy education who can function within a changing politico-socio-cultural environment.
"I was honored and thrilled to be selected to participate. It will be a tremendous amount of work but I hope it will all apply to my daily work," said Dye. "I expect to develop and improve my skills in organization, management, mentoring and maneuvering through the various layers of academic organizational structure."
Another motivation for all of Dye's extra work is to prepare for the future expansion in the physical therapy program to the ISU Meridian Health Science Center.
"The ELI Fellowship will help to hone the curricular design and expansion process, which requires approval from our specialized accreditation body. I'll be able to share all the wisdom of the collective group to benefit all within our program, the students, the faculty and the clinical sites. Truly, I am seeking as many techniques as possible to help me keep the many details of program directing organized and manageable," Dye said.
Nancy Devine, Associate Dean for the Kasiska Division of Health Science and Director of the School of Rehabilitation and Communication Sciences appreciates the initiative taken.
"I am so pleased that Dr. Gee and Dr. Dye were successful applicants to leadership programs and that ISU will directly benefit from these learning experiences provided by the professional associations," said Devine.
Connect with KDHS
208-282-4899
208-282-2946
921 S. 8th
Stop 8055
Pocatello, ID 83209-8055
Imagine yourself at ISU with our virtual 360° tour: http://youvis.it/xYoT2l