Pharmacists Gain Expanded Health Care Role in Idaho
Written by: Scarlett Smith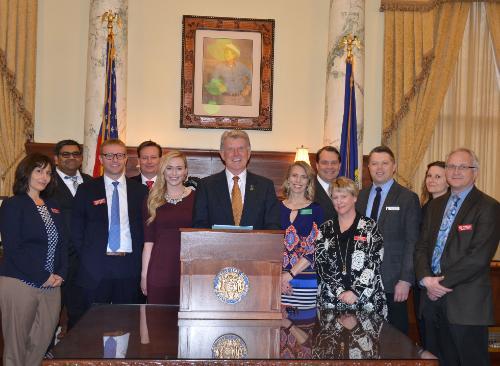 BOISE- Idaho pharmacists now have an expanded role in health care after a new legislative bill went into effect July 1, 2017. House Bill 191 received almost unanimous support from both legislative houses and was signed by Governor C. L. "Butch" Otter on March 24. The bill gives the Idaho Board of Pharmacy the authority to determine which classes of drugs pharmacists can prescribe in the future. Previously, new prescriptive authority for pharmacists would have to go through the entire legislative process–which is what had to be done this year when lawmakers gave approval for pharmacists to prescribe FDA approved smoking cessation products.
ISU's Assistant Dean of Experiential Education Kevin Cleveland was one of a select few that attended the signing of the bill.
"Most people will see their pharmacist seven times more often than their doctor in a given year," said Cleveland. "This exposure gives the pharmacist a unique opportunity to have an impact on the patient's care."
The new legislation not only increases patient access to needed medications, it also means that patients will not need to make an appointment with a provider prior to obtaining certain treatments or tests.
For many of these new roles, pharmacists may be required to complete approved trainings. ISU College of Pharmacy students are currently graduating with the required training for these new responsibilities. The ISU College of Pharmacy will also be holding continuing education training courses in the future for pharmacists who need to update their education.
"This groundbreaking legislation puts Idaho pharmacists at the forefront of pharmacy practice across the nation," said Catherine Cashmore, ISU College of Pharmacy associate dean of students. "Specifically, this legislation will allow pharmacists to prescribe products for minor, self-limiting conditions and those that do not require a diagnosis. It also covers conditions that have a simple CLIA-waived lab test to guide clinical decision making."
In addition to the ISU College of Pharmacy, there are several other individuals and organizations who played vital roles in expanding the definition of pharmacy practice in Idaho: the Idaho State Board of Pharmacy, the Idaho State Pharmacists Association, the Idaho Society of Health System Pharmacists and Idaho Representative and pharmacist Sue Chew.
"This progressive law will allow pharmacists to practice at the full capacity of their training and move the profession forward," Cleveland said. "However, having a law like this also puts a lot of responsibility on the pharmacist to ensure that the care provided by the pharmacist is also communicated to the patient's primary care physician. This communication is essential in order to provide optimal care and outcomes for the patient."
Connect with KDHS
208-282-4899
208-282-2946
921 S. 8th
Stop 8055
Pocatello, ID 83209-8055
Imagine yourself at ISU with our virtual 360° tour: http://youvis.it/xYoT2l