Occupational Therapy Students Showcase Research at National Conference
Written by Scarlett Smith
POCATELLO- Idaho State University's Master of Occupational Therapy students contributed their research findings and gained valuable insight into their future career at a national conference that also marked the profession's centennial year. Bryan Gee, Director of the Master of Occupational Therapy Program, and Kimberly Lloyd, Director of Clinical Education, traveled to Philadelphia with 13 students for the 2017 American Occupational Therapy Association's (AOTA) National Conference. Each April, the AOTA hosts a six-day conference consisting of scholar lectures, presentations, practice-based sessions and more.
"I really enjoyed my time at the conference," said graduate student Lauren Troy. "It's always inspiring to see what other researchers and clinicians are researching and the potential impact it could have on the field of occupational therapy. I felt like I left the conference with a lot of good information that I can directly apply to my work, as well as some ideas about the direction I could take with my future career."
While at the conference, ISU students and faculty delivered five separate presentations which drew a lot of attention from attendees.
"The most popular presentation for our program was probably our research study on the effect weighted blankets have on sleep for children with autism." said Gee.
Other research that was presented includes:
Cost-Effective and Efficient Way to Code Behavior and Performance: An Overview of Datavyu
Exploring the Current Status of Occupation-Based Intervention and Practice and Its Implications for the Future of the Profession
Infant and Maternal Reciprocity as Expressed Through Fine Motor, Sensory Processing, Play Participation and Co-Occupation
"I calculated that 30 percent of our occupational therapy students went on the trip, which is pretty high given the distance and the cost," Gee said. "Half of the students went to present, the other half simply wanted to go for the experience."
Next year, the national conference will be held in Salt Lake City, Utah and Gee hopes that all students will attend, given the close proximity.
Students in the ISU Occupational Therapy Program are a diverse group with a wide variety of interests, skills and backgrounds. Multiple opportunities exist for students to connect with one another for learning and for recreation for more information on the program visit isu.edu/dpot/ot/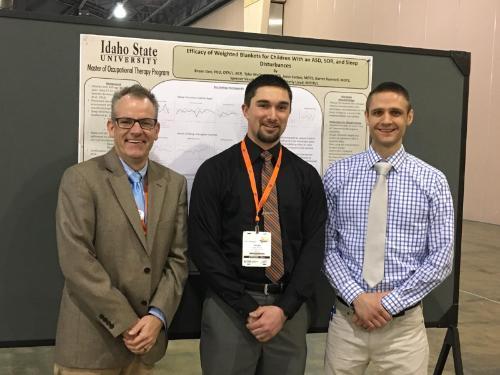 (Today Show Weatherman Al Roker addressing the conference as they celebrate 100 years of occupational therapy)
Connect with KDHS
208-282-4899
208-282-2946
921 S. 8th
Stop 8055
Pocatello, ID 83209-8055
Imagine yourself at ISU with our virtual 360° tour: http://youvis.it/xYoT2l