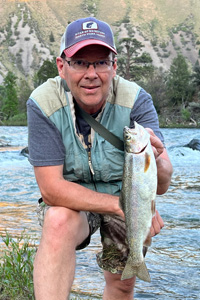 Robert Liimakka
Clinical Assistant Professor / Coordinator Surveying and Geomatics Engineering Technology
Office: Roy F. Christensen Complex 271
Robert Liimakka is assistant professor and coordinator of the Surveying and Geomatics Engineering Technology Program. He is a licensed surveyor in the states of Idaho, Michigan and Wisconsin. Mr. Liimakka has extensive surveying experience in both the public and private sector having worked for the USFS in retracement surveys and private surveying and engineering firms performing construction, boundary, and land development surveys. Mr. Liimakka is the State Coordinator for the National Society of Professional Surveyors – Certified Survey Technician (CST) program. He served as Secretary of the Idaho Society of Professional Land Surveyors and is Chair of the ISPLS Education Committee. Most recently, he has received certificates in online course development and delivery.
Education
Ph.D. In progress, University of Maine, Major: Civil Engineering
MS, University of Maine, 2000, Major: Spatial Information Science and Engineering
BS, Michigan Technological University, 1986, Major: Land Surveying
AAS, Gogebic Community College, 1983. Major: Engineering
Areas of Expertise
13 years professional surveying experience prior to academia
Boundary Surveying
Construction Surveying
Geodesy
Land Surveying Consultant (legal issues, boundary resolution, professional practice, zoning, technology and methods)
Research Interests
Large network adjustments
3D laser scanning
Mobile and aerial mapping
GPS data analysis
Teaching Experience / Interests
Beginning Surveying
Boundary Surveying Principles
Public Land Survey System
Autonomous Mapping Systems
Land Use Planning
Survey Computations
Surveying Field Practice
Capstone Design Projects
GPS/GNSS
Geodesy
Professional affiliations
Idaho Society of Professional Surveyors
National Society of Professional Surveyors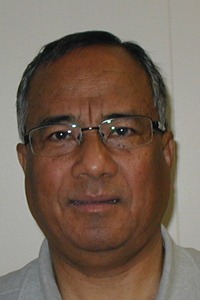 Rajendra R. Bajracharya, Ph.D., P.L.S.
Professor / Surveying and Geomatics Engineering Technology
Office: Roy F. Christensen Complex 109
Education
Ph. D. in Geospatial Information Engineering from University of Wisconsin-Madison
MS in Geodetic Science from Ohio State University
BSc (Hons) in Land Surveying Sciences from North East London Polytechnic, England
BSc from Tri-Chandra College, Kathmandu
Career Highlights
Instructional
Faculty at Idaho State University since 2001 to current

Fulbright Scholar, Taught at Kathmandu University, Fall 2014

Faculty at University of Colorado, Denver 1995-2001
Faculty at University of Colorado at Boulder, 1995
Instructional Survey Officer at Survey Training Center, Nepal, 1977-1981
Others
At ISU, established GPS Continuously Operating Reference Station (CORS) at three ISU Centers for Real Time Kinematic (RTK) surveys.
He prepared Accreditation Board for Engineering and Technology (ABET) –Technology Accreditation Commission (TAC) Self-Study Questionnaire for accreditation process of the Geomatics Technology Program at ISU in 2005 & 2011
Chair of Faculty Research Committee for three years at ISU.
Performed Research for Monitoring Structural Deformation of Standley Dam in Denver, CO.
Worked at Arrow Land Surveying, Westminster, CO. 1996-2001 part time.
Team Leader Surveyor for International Boundary Survey between Nepal and India 1983-84
United Nations Volunteer Team Leader Surveyor in Laos, to perform survey for irrigation canals from Mekong River, and land acquisition survey, 1981 – 83.
Terra Survey, Wales, UK to extract property information for Wales National Water Authority 1977 Jan-Feb.
Favorite Professional Experience
It has been my pleasure to see our senior year students/graduates pass their Land Surveying Intern national exam (LSI) towards becoming a Professional Land Surveyor. Since I joined ISU, about 35 graduates have passed the LSI national exam and 18 graduates have gone on to earn their professional surveying licenses. Three of the Professional Land Surveyors are the owners of their own surveying companies.
One professional experience that I will never forget is a surveying experience I had in Nepal. I walked with another surveyor every day along trails and the sides of fast moving rivers for an entire month to perform a feasibility survey study for the construction of a road in a remote portion of Nepal. Some days our work took us apart, and I did not see another human the whole day and spent nights alone under a beautiful sky ceiling. The total length of the road now constructed is about 500 km, and it gives me pride to think I was part of such a significant project in such a wonderful country.