Virtual Open House October 20 and November 17, 2021
The Idaho State University Department of Nutrition & Dietetics will be holding a virtual open house on Zoom Wednesday, October 20, from 4-5 PM, and Wednesday, November 17, from 4-5 PM. Both times are in the Mountain Time Zone. If you have questions, please contact Lisa Peart at lisapeart@isu.edu or at 208-282-5719.
Zoom Links:
Didactic Program in Dietetics
Dynamic courses
Extensive field experience
DI application prep
Transfer and second-degree students welcome
MS in Nutrition
Supervised DI practice
18 interns in 3 locations
Community nutrition focus
RDN exam prep (100% pass)
ACEND-approved
ISU is discontinuing the MS in Nutrition (stand-alone) degree.
We will continue to offer the MS in Nutrition/Dietetic Internship program.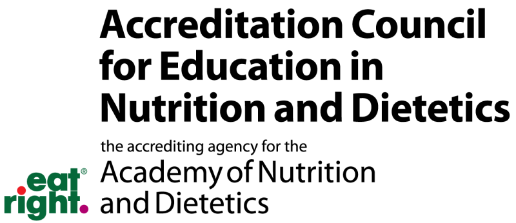 Idaho State University's
Dietetic Internship and Didactic Program in Dietetics are accredited
by the Accreditation Council for Education in Nutrition and Dietetics
of the Academy of Nutrition and Dietetics
120 South Riverside Plaza, Suite 2190
Chicago, IL 60606-6995
(312) 899-0040 ext 5400
http://www.eatright.org