President's Office Staff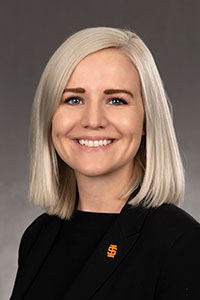 Dani Dunstan
Chief of Staff
(208) 282-3343
danidunstan@isu.edu
Institutional priorities

The status of key projects and initiatives

Mission, vision, and values at ISU

Employee engagement
Dani Dunstan joined Idaho State University as chief of staff to the president in August of 2018. Dani has a passion for the mission of higher education. In her role as chief of staff, Dani develops strategy, programs, and initiatives that serve student needs and further the mission of education in Idaho. Dani brings a strength-based leadership approach aimed at employee growth and engagement at all levels of the university. In this role, Dani is responsible for the execution of the President's agenda and high-level priorities. This is accomplished by maintaining an inventory of all critical path projects and resolving issues that could impact the execution of initiatives. Dani participates in institutional planning, policy development, and problem resolution. She also acts as an emissary and liaison to the campus community on behalf of the President.
Prior to joining Idaho State University Dani served as the director of campus operations at Boise State University and the executive assistant to the chief operating officer. Before joining Boise State, Dani served as the Community Relations Coordinator for Idaho's Dairy Products Commission managing community outreach programs and executing marketing and communications initiatives.

Dani holds a master's degree in Public Administration and a bachelor's degree in Political Science. In her spare time, she enjoys reading, running, and traveling.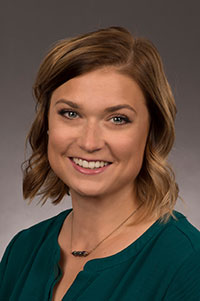 Jenn Forshee
Executive Assistant & Special Projects Manager
(208) 282-2566
jennforshee@isu.edu
Calendar Choreography
President's Office Operations
Presidential Events and Scheduling
Jenn Forshee has been with Idaho State University for over 6 years. She joined the President's Office in January 2019. Prior to that, she served as the Event Coordinator for the Office of Alumni Relations where she organized and executed events and programming to further improve alumni engagement among Idaho State University graduates. Jenn has a keen eye for detail and is a master organizer. In her current role, Jenn oversees a wide range of complex administrative and operational tasks. Jenn manages the presidential scheduling process and ensures all president's office logistics flow seamlessly.
In her spare time, Jenn enjoys hiking, climbing, mountain biking, and reading. Jenn has a bachelor's degree in Psychology and is currently enrolled in the Master's of Public Administration program at Idaho State University.
Becky Robison
Policy Manager
(208) 282-3442
robireb2@isu.edu
Policy process
Writing, updating or reviewing policies
University Policy Manual
Becky Robison is a proud Idaho State University alumna. Robison received a bachelor's degree in History and a master's degree in Public Administration from ISU. While at ISU, her research focused on vaccine narratives and public policy. Robison returned to ISU in 2019 after serving as the Assistant Planner for Bannock County. Her involvement in local planning and governance included ordinance changes and work on the County's comprehensive plan. Robison is a fourth generation Idahoan with numerous connections to the area. She enjoys traveling, cooking with (and sometimes without) her family, music, and the Oxford comma. Robison looks forward to applying her experience with managing details and relationship-building to the position.