2017 Collaborative Broadside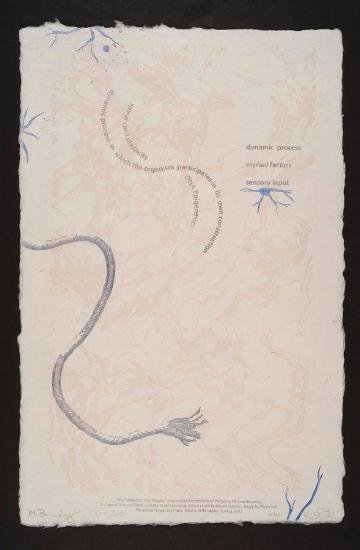 Photo by Dr. Terry Ownby
The Pinyon Jay Press presented their first annual Collaborative Print Project in 2017.
Paula Jull, Roger Schmidt and Naomi Adams Velasquez worked with Psychology colleague, Michele Brumley, in 2017 to create a small limited edition letterpress and handmade paper broadside poster to visually celebrate Dr. Brumley's research and contributions to our college and community. Naomi created the handmade paper and Paula designed and letterpress printed the broadside. This collaboration is an example of the spirit of professional achievement and cooperation of the faculty of the College of Arts and Letters at Idaho State University. Both Dr. Brumley and Dean Turley-Ames received several prints each of this special edition to give to important friends of our college.
The Department of Art houses a first class papermaking facility as part of the fibers study area in its studio complex, which Naomi Velasquez utilizes in teaching papermaking and related coursework, as well as her own professional research projects.
Pinyon Jay Press resides in the Dept. of Communication Media and Persuasion labs. Paula Jull is Director of the letterpress lab, which hosts workshops, classes, and provides research space for graduate students and faculty working in letterpress.