ISU featured in viral story about a 106-year-old cold case
January 2, 2020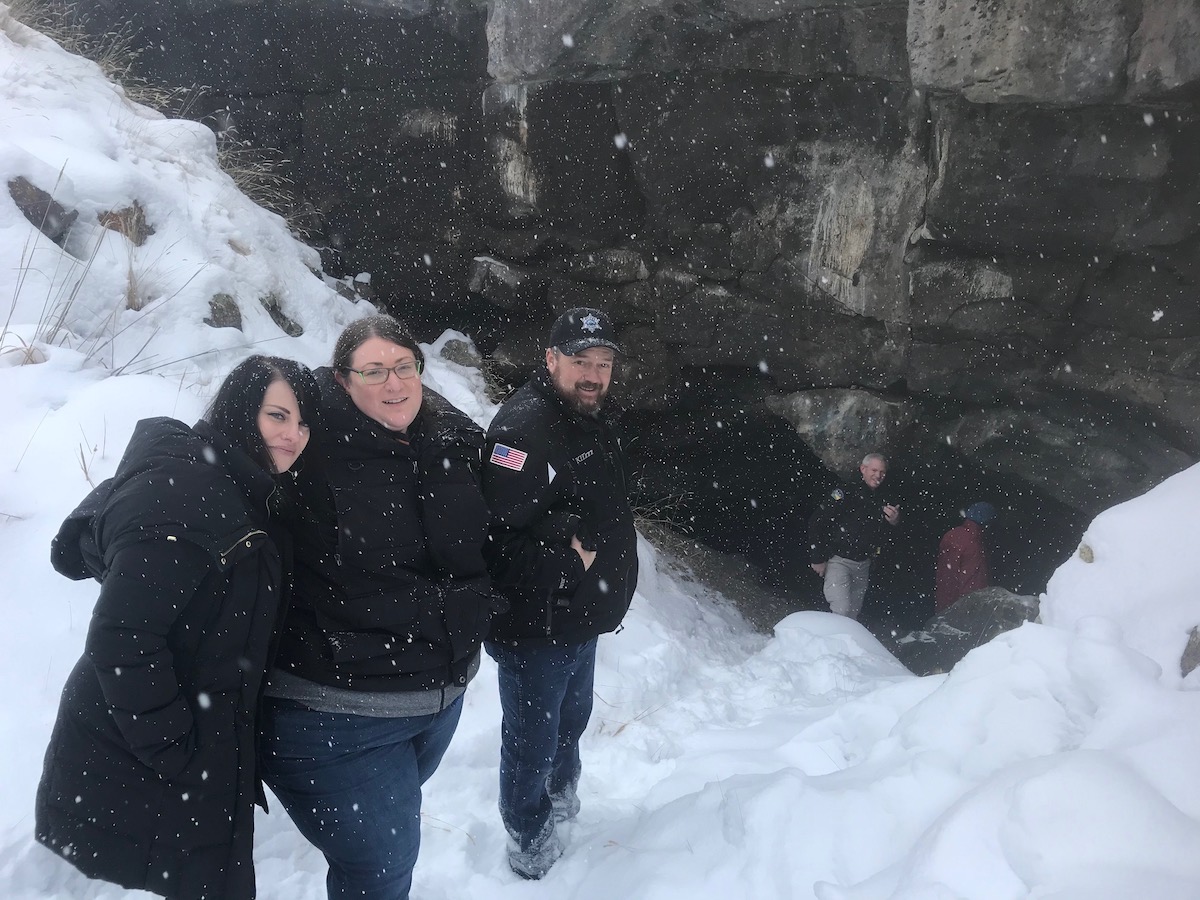 POCATELLO – ABC, NBC, CBS, CNN, New York Times, Fox, USA Today, Telemundo, BBC, CBC…
Idaho State University's anthropology department has been featured prominently in a story that was gone viral nationally and internationally about the announced identity of a murderer who died in 1916, whose headless torso was found in a cave near Dubois, Idaho in 1979 and additional body parts were found in 1991.
The ISU anthropology department has been working on helping to solve this case for about 40 years. At a press conference held on New Year's Eve in Dubois, Clark County Sheriff Bart May and a representative of the DNA Doe Project, Anthony Redgrave, announced the remains were of Joseph Henry Loveless, an outlaw who escaped from jail in 1916 and who had killed his wife with an ax. For additional details about the case, click on one of the links below.
Over the last 40 years, Idaho State students and faculty have worked on the case with professionals from the FBI and Smithsonian. Most recently, Samantha Blatt, ISU assistant anthropology professor has been involved with the case, and she spoke at the press conference in Dubois.
"The finding itself took a lot of manpower and hours but as someone who is in love with learning the history of the region and Idaho it is absolutely fascinating, and to be here physically (at the cave site where the remains were originally found) is even better," Blatt said at the site where the remains were found. "ISU researchers have talked about and thought about it for many thousands of hours."
The effort to identify the Clark County man was highly collaborative, involving many individuals from different agencies. Now that all involved agencies have confirmed the identification, they hope to lay this individual to rest and tell more of his story, Blatt said.
In 2019, Blatt and former ISU professor Amy Michael, now at the University of New Hampshire, worked with volunteer forensic genealogists from the DNA Doe Project, a nonprofit organization formed to identify unknown deceased persons, to find his name. Blatt collected DNA samples from the remains stored at Idaho State, helped crowdfund the DNA analysis and consulted with Michael and DNA Doe Project genealogists about contextual and biological evidence.
As DNA itself is not enough to identify many cold case victims, those genealogists at the DNA Doe Project combine DNA data with publicly available information from sources like birth certificates, newspapers and census reports.
The DNA Doe Project, using DNA samples supplied by ISU, helped identify the remains with the combined efforts of 14 volunteer genealogists over the course of 15 weeks. The project put in more than 2,000 hours of genealogical research into this identification, according to Anthony Redgrave, team leader for Clark County John Doe at the DNA Doe Project.
Here are few links to the story – an internet search will produce many more.
https://www.nbcnews.com/news/us-news/human-remains-found-idaho-cave-identified-outlaw-who-died-over-n1109111
http://www.startribune.com/headless-torso-found-in-idaho-cave-identified-as-bootlegger/566613071/
https://www.washingtonpost.com/national/headless-torso-found-in-idaho-cave-identified-as-bootlegger/2019/12/31/c947995e-2c25-11ea-bffe-020c88b3f120_story.html
https://www.nytimes.com/aponline/2019/12/31/us/ap-us-cave-body-identified.html
https://www.cbsnews.com/news/joseph-henry-loveless-headless-torso-found-idaho-cave-identified-outlaw-who-escaped-jail-in-1916/
https://abcnews.go.com/US/headless-torso-found-idaho-cave-identified-murdered-outlaw/story?id=68018409
https://www.youtube.com/watch?v=nKHw6cJrI-4
https://www.theguardian.com/us-news/2020/jan/01/headless-torso-found-cave-identified-murderer-escaped-jail-1916
https://fox13now.com/2020/01/01/headless-torso-found-in-idaho-cave-identified-as-bootlegger/
---
Categories: