ISU undergraduate Sidney Fellows researches how to bring camas to Fort Hall Indian Reservation
October 15, 2020
Andrew Taylor, Marketing Assistant Director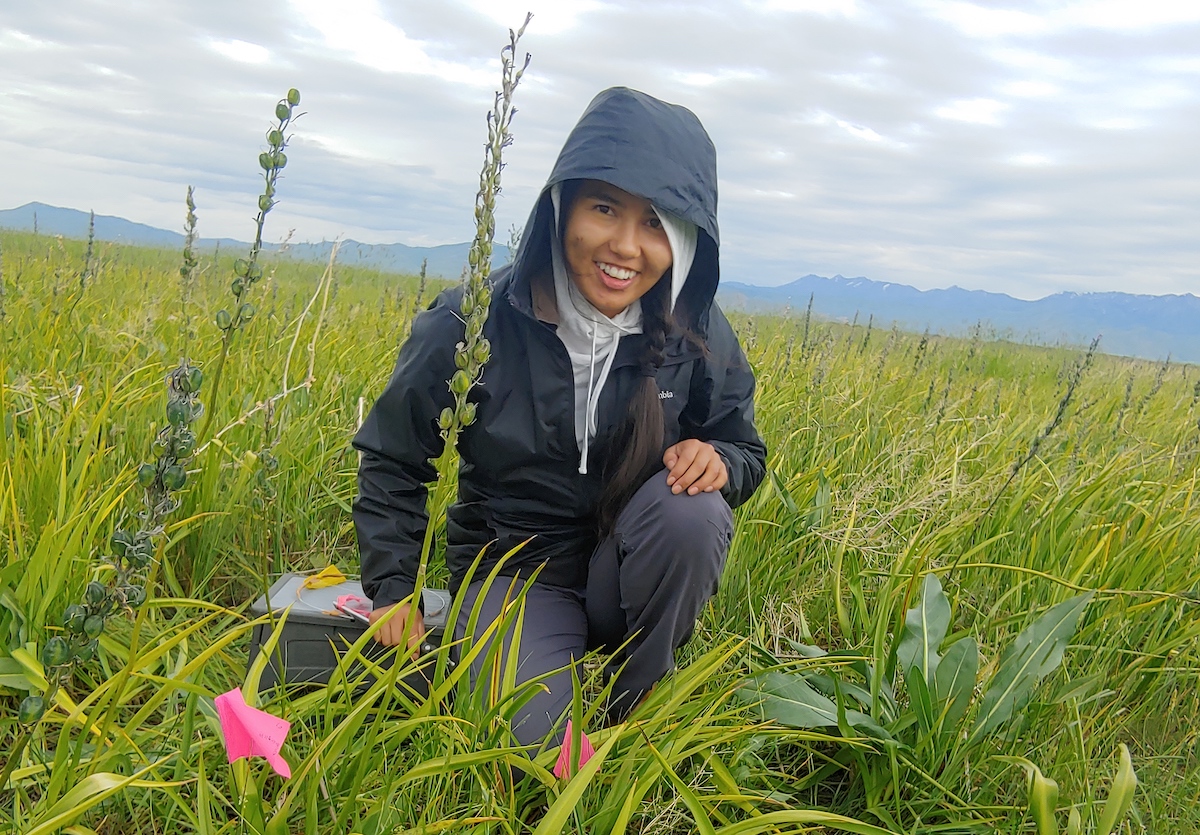 POCATELLO – Biological sciences undergraduate student Sidney Fellows has lofty goals.
Fellows, 24, is a member of the Shoshone-Bannock tribes. Her plan is to help establish camas, a traditional subsistence plant, at the Fort Hall Indian Reservation, and to contribute additional information to fellow tribal members about the importance and availability of this traditional food source.
"The main goal of the project is to assess the best growing conditions for Camassia quamash, a plant commonly known as camas. We are interested in the adaptive capacity of Camassia quamash under changing conditions, including the feasibility of growing plants in Fort Hall, Idaho," Fellows said. "We are going through a literature review, and doing seed germination and bulb transplant experiments and the ultimate goal is to be able to grow and raise it on the Fort Hall Indian Reservation."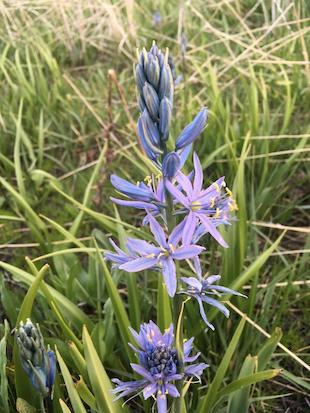 Camas is a lily-like plant found in wetlands and prairies whose onion-like bulbs have been gathered by Native Peoples of Idaho, and across the Pacific Northwest, since time immemorial. The bulbs are traditionally slow-cooked in an underground oven giving them a delicious sweet flavor similar to sweet potato. Camas has declined in abundance due to habitat conversion and may be further threatened by climate change and invasive species.
Shoshone-Bannock tribal member access to camas is challenging for multiple reasons stemming from European Colonialism, including the erroneous exclusion of the Camas Prairie area of southcentral Idaho from the Fort Bridger Treaty of 1868 that established the Fort Hall Indian Reservation. Camas Prairie, near Fairfield, Idaho, was and continues to be highly culturally significant camas gathering area for the Shoshone-Bannock Tribes. Fellows' project is about both understanding camas ecology and growing conditions, as well as building opportunities for greater cultural connection to camas.
Fellows has had plenty of collaboration on this project, including working closely with the Shoshone-Bannock Tribes' Language and Cultural Preservation Department and Historical Research Office, mentorship from an Idaho State postdoctoral research assistant and faculty member, funding from the National Science Foundation's GEM3 EPSCoR Grant, and logistical support and accommodations provided by Terry Gregory and the Idaho Fish and Game at the Camas Prairie Centennial Marsh.
The funding and oversight for her project is provided, in part, by the NSF's five-year, multi-million-dollar Idaho GEM3 grant being undertaken by Idaho's universities and colleges to study sagebrush and Redband trout, and their environments, to help provide evidenced-based information for resource management and policies. The full title of the GEM3 project is Genes by Environment: Modeling, Mechanisms, Mapping (https://www.idahogem3.org/).
"GEM3 has a broad focus, but part of what we really want to do is change the way science is done and do science more collaboratively, partnering with and contributing to the needs of communities," said Georgia Hart-Fredeluces, an Idaho State post-doctoral research assistant in the Department of Sociology, Social Work and Criminology, who is Fellows' ISU advisor on the project along with assistant professor Morey Burnham.
"We chose camas because of my interest in traditional food systems. That is what got us collaborating with the Shoshone-Bannock Tribes departments and other tribal members who guided us towards researching camas because of its great value. It is a traditional food that sustained our tribal people for untold generations, and beyond just a food, the camas plant has cultural importance that brings tribal communities together in healthful ways," Fellows said.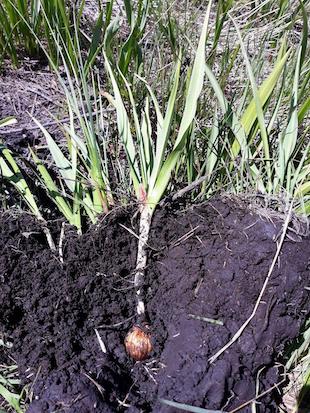 The researchers and collaborators have traveled to the Grays Lake National Wildlife Refuge and the Camas Prairie Centennial Marsh Wildlife Management Area to collect seeds and gather camas plants to transplant. More than 800 seeds have been planted for germination experiments, several hundred more for non-experimental production, in a private greenhouse at Fort Hall. Camas plants can take three or more years to mature to the size that they will bloom.
Sidney's collaboration with the Shoshone-Bannock Tribes could also result in camas being planted in Fort Hall Reservation community in garden boxes and could become part of Shoshone-Bannock Tribal Museum walking garden, said Bobette Haskett, an Idaho State alumna who works in the Tribes' Historical Research Office
Haskett, and Louise Dixey, director of the Tribes' Language and Cultural Preservation Department, both emphasized that this camas research project was about much more than trying to bring back and grow this subsistence plant at Fort Hall. They also noted that Fellows' project dovetailed nicely with a 3-year Center for Disease Control and Prevention Tribal Practices for Wellness in Indian Country grant the Shoshone-Bannock Tribes received in 2018.
"It seemed like the stars aligned for us and we are so excited about this project," Haskett said. "We are excited that Sidney has taken on this project and that we've gone on events and outings to work in the field with her and we as a department have learned a lot along with her, and so her information will be useful for our tribal people and will be used to teach."
They said a very important aspect of this camas research effort is to document and educate how important this traditional food source is to the Shoshone-Bannock Tribes. The 1868 Fort Bridger Treaty preserved a reservation for the Shoshone-Bannock people which specifically referenced the Camas Prairie as the western boundary for the Reservation, but a transcriber's error misspelled Camas and instead wrote Kansas prairie.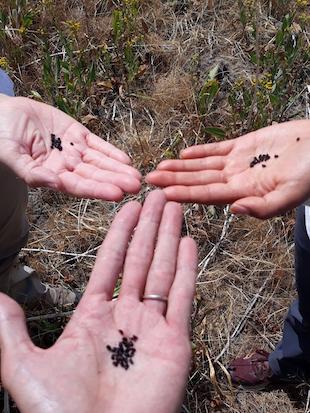 This new research effort is helping to reconnect tribal members with this traditional plant and with the physical areas of Camas Prairie and Grays Lake.
"I think it's important that our people continue to go to those areas to harvest food and it's just a reminder to our young people to continue that because even though those areas were excluded from our treaty, it's important that we go there no matter what the conditions are, whether it's for academic reasons or for cultural reasons or for subsistence," Dixey said. "It's important that we can continue to go there and I think that it's important for Idaho State to be aware of and create awareness among their students and create further educational opportunities in all areas."
Besides the big-picture research activities Fellows has learned about, she has learned some personal lessons as well.
"I was able to see the importance of networking, and by networking I just mean you see the importance of having the support of other people in your research process," Fellows said. "I've learned that research is a community effort and that's been a very meaningful insight for me. I've really enjoyed being able to connect with people through this plant. All these different people in the community are supporting me to pursue my interests by giving me guidance in my research."
Photo information: second photo, camas flower; third photo camas root; fourth photo, camas seeds. Photos courtesy of Georgia Hart-Fredeluces
---
Categories:
College of Arts and LettersCollege of Science and EngineeringResearchUniversity News