ISU School of Performing Arts to present "A Midsummer Night's Dream"
November 2, 2020
Megan Stover, SOPA Business/Marketing Manager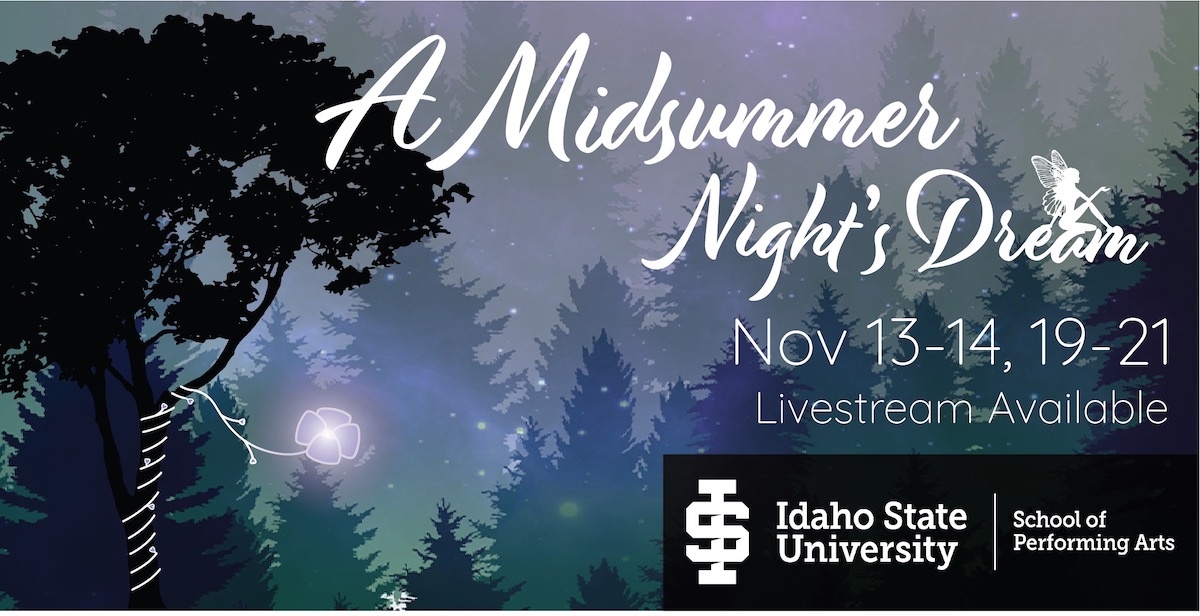 Play will feature limited in-person audience and livestream
POCATELLO – Idaho State University's School of Performing Arts will present "A Midsummer Night's Dream" on Nov. 13, 14, 19, 20 and 21 at 7:30 p.m. in the Bistline Theatre in the L.E. and Thelma E. Stephens Performing Arts Center.
Shakespeare's "A Midsummer Night's Dream" is a wild tale filled with magic, trickery, star-crossed lovers, and, of course, comedy. When four Athenian's venture into the woods in pursuit of their own desires, they fall victim to tricks from the mischievous fairy Puck, causing love triangles and other trouble. Meanwhile, Puck helps his master play a trick on the fairy queen. Imaginable chaos ensues. The ISU cast includes a talented 25 students, ranging from freshman to seniors.
Norman Schroeder, director of "A Midsummer Night's Dream," spoke about the process of creating a show during these uncertain times.
"Surprisingly, I keep finding myself in a good place," Schroeder said. "My relative serenity is due to the trust I know I can place in our students. Always dedicated and motivated, these students have kept themselves healthy and safe, and have handled every twist and turn in our concept, our process, and our schedule with poise and aplomb."
He said that students joining the production virtually by Zoom for two weeks can step right back into the later rehearsals without a discernible loss of progress.
"A cast that can't warm up as one single group, doesn't sit in the same room for notes, still becomes a tight ensemble, and even has an enjoyable rehearsal and performance process," Schroeder said. "The scenic and costume shops deal with reduced hours, new procedures and configurations, yet still stay on track to build all aspects of the show. And that's what it's all about here in educational theatre."
A very limited number of tickets are available now by calling box office manager Julie McKnight at (208) 282-3330, or purchasing online at isu.edu/tickets. Strict precautions are in place due to COVID-19, and masks are required for all patrons and staff. Seats will be automatically assigned in groups of two. Please purchase tickets at least one day in advance of your chosen show date to allow for accommodations.
Flex Pass holders can call ahead to reserve their seats. Live-streaming tickets will be available for all performances. These livestream performances are free of charge, however patrons are encouraged to donate by visiting my.isu.edu/give. More livestream information will soon be found on the ISU School of Performing Arts website, www.isu.edu/sopa/.
---
Categories: