Idaho State University psychology professor recruits 125 area women for study
January 7, 2019

POCATELLO – Over the past four years, Idaho State University Clinical Psychology Professor Nicki Aubuchon-Endsley's Perinatal Psychobiology Laboratory team has talked to more than 100 expectant mothers in Southeast Idaho to help identify risk factors for rural families.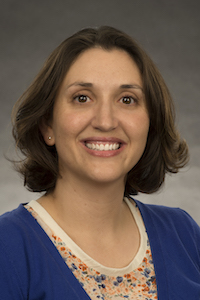 The women completed self-reports, participated in interviews and underwent behavioral observation from the third trimester of pregnancy to 18 months postpartum. This process comprised the data collection portion of the IDAHO Moms Study, a longitudinal study exploring maternal perinatal health in relation to infant development and maternal adjustment.
"We really appreciate our community members and rely on them to participate in our research," Aubuchon-Endsley said. "It's been wonderful to see mothers and infants over the course of the study and to speak with mothers about their experiences to get a better understanding of how experiences during pregnancy affect longer-term outcomes."
The IDAHO Moms (Infant Development and Healthy Outcomes in Mothers) Study aims to better understand health indicators like diet or stress during pregnancy and their relationships with motor, sensory, language, socioemotional and functional behavior development in infants. Taking into consideration other factors like breastfeeding and social support, the project's initial findings highlight the importance of the prenatal environment.
Specifically, Aubuchon-Endsley, who began the project after her arrival at ISU in 2014, said, "Significant relationships between perinatal maternal health and infant development and/or maternal adjustment suggests that efforts should be made to increase access to care, resources, and services for perinatal women."
The data collected as part of the IDAHO Moms Study has provided the basis for many student theses and dissertations across several ISU departments. Students involved in the project have presented their work at regional, national and international conferences, submitted work for peer-reviewed publications and have gone on to continue working with women and infants in various fields, including medicine, public health, education, counseling and clinical psychology.
Since the study focuses on women in the Southeast Idaho community, IDAHO Moms contributes a new perspective to research on maternal health and infant outcomes. Project participants had diverse socioeconomic backgrounds, but belonged to an understudied rural population that faces unique barriers to care during pregnancy.
"It's important for us to use this research to assist in identifying risk factors that could be the focus of future prevention or intervention research for rural families," Aubuchon-Endsley said.
She expressed her appreciation for all of the support that her team received in completing the IDAHO Moms Study from ISU, the College of Arts and Letters, Office of Research, Department of Psychology and more than 40 community partners.
For more information, please visit the Perinatal Psychobiology Lab website at: http://aubuchonendsley.weebly.com/.
---
Categories: