Jared Vineyard will earn ISU's first experimental psychology Ph.D.
May 2, 2016

POCATELLO – Idaho State University student Jared Vineyard will walk across the graduation stage next week as the first Ph.D. student to graduate in experimental psychology from ISU, and the first in his family to obtain an advanced degree.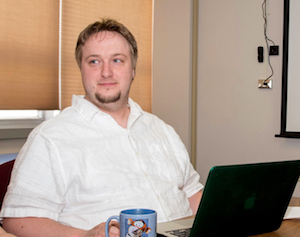 "I am excited and proud to represent this program," he said. "I am excited to practice the skills that I have learned and get out into the world. I am ready to use science to be useful and contribute to the field."
The experimental psychology doctoral program first started at ISU in 2011 and currently has 12 students. The program's main objectives are to provide students with a solid foundation of knowledge in the core areas of psychology and to guide them in developing an expertise in a specific research area.
"Jared graduating this year shows the quality of this program," said Tera Letzring, Vineyard's advisor and the director of experimental training. "This is only our fifth year as a program and we are excited to have Jared graduate to show that this program is successful at training students to conduct research and think critically."
Vineyard, an Idaho native, first attended ISU to receive his certification to be a substance abuse counselor. After working for a few years as a counselor, he decided to come back to ISU to receive his bachelor's degree in psychology.
It wasn't always in Vineyard's plans to receive a Ph.D. After working as a substance abuse counselor for a few years, he wanted to receive his master's degree in counseling and continue to work in the therapy field. But after working as the director of treatment at his facility, he noticed that there were many factors that seemed to limit a patient's outcome after finishing treatment. These factors include how well the facility was organized, the different policies and procedures in place and the state- and county-level rules. These limiting factors motivated him to receive his Ph.D. He plans to use his degree in applied setting to improve the human experience wherever he is needed or the work is engaging.
Vineyard defended his dissertation on Monday, April 18, and interviewed for a position at St. Luke's Hospital in Boise as a post-doc researcher in the Applied Research Department later in the week. His dissertation was about the accuracy of judging risk in others, where he looked at how people perceive risk and how likely they are to take risks.
Idaho State University's experimental psychology doctoral program will welcome five new students into the program this fall.
---
Categories: