Why Give?
Idaho State's excellence and leadership in higher education depend greatly on the generosity of alumni, parents and friends. From annual gifts that make an immediate impact to endowed gifts that last for generations, contributions to Idaho State University serve as a catalyst for positive change. Your gifts make a powerful difference for hundreds of students each year, making it possible for them to have a positive impact on their communities and around the world.
Giving…
Helps Idaho State University enroll the most promising students.
Ensures the quality of an Idaho State University education.
Philanthropy enhances the caliber of faculty that Idaho State University can recruit and retain, strengthens academic programs and improves campus facilities and services.
Affects Idaho State University's role in the State of Idaho and its national ranking.
Inspires others to give, creating a multiplier effect.

Alumni giving is a vote of confidence in the University. Additional alumni and other types of donors (such as corporations and foundations) want to know they're investing in an institution that has the support of its community.
Online
The simplest and easiest way to give to Idaho State University is through our secure online giving site. The ISU Foundation can accept Visa, MasterCard, American Express and Discovery credit/debit card transactions.
Cash
Personal checks, cashier's checks or money orders made payable to:

Idaho State University Foundation
921 S 8th Ave, Stop 8050
Pocatello, ID 83209-8050
Phone
Give by making a phone call to (208) 282-3470 Monday – Friday 8:00 – 5:00 MST.
Recurring Gifts
Sustain your impact through regular and consistent contributions to Idaho State University. You can set up your credit card to be charged a certain amount at a frequency of your choosing using the online giving site.
Securities and Annuities
Many supporters choose to make charitable gifts by transferring securities, stocks and bonds to Idaho State University Foundation because it can be a wonderful way to help students and possibly reduce personal capital gains or estate taxes. Please contact Theresa Capasso at (208) 282-3956 if you are interested in supporting the University through a gift of stock.
Wire Transfer
To make your gift via wire transfer, please contact Theresa Capasso (208) 282-3956 for bank routing information.
ISU Employees can give through payroll deduction
Make a personal impact and reinvest in ISU through the payroll deduction program.
Payroll Deduction Authorization Form
Pledges
Pledges are formal statements of intention to make a gift. You may complete your gift by making regular payments over time and every payment is eligible for an income-tax deduction. When making a pledge, the ISU Foundation will send you a pledge reminder in the mail with a return envelope. Pledges can be made online or by mail using the Pledge Form.
Establish an Endowment
Endowments at Idaho State University are a sound investment in a better future. With an endowed gift, you provide permanent support for the University. Your gift is invested — never spent — and each year a distribution is made to your chosen program or area. Learn more about establishing an endowment.
Personal Property
Gifts of personal property, including rare books, works of art, valuable collectibles, and tangible items of demonstrable value may in some cases enable you to make a significant gift to support Idaho State University with outstanding tax benefits to you. Likewise, gifts of intangible personal property, such as copyrights, patents, and mineral rights, can generate income for the program of your choice on a continuing basis.
Real Estate
Gifts of real estate, including personal residences, second homes, income property, and vacant land, offer a wide variety of tax and other benefits. Whereas most people give their entire interest away, it is also possible to give only a portion of the property (an undivided percentage interest) while retaining the rest for other purposes.
Need more information?
Contact a development director to learn about these gift options.

Giving Through a Will or Trust
Create a lasting legacy that offers a way to support Idaho State University's mission for generations while meeting your current financial needs.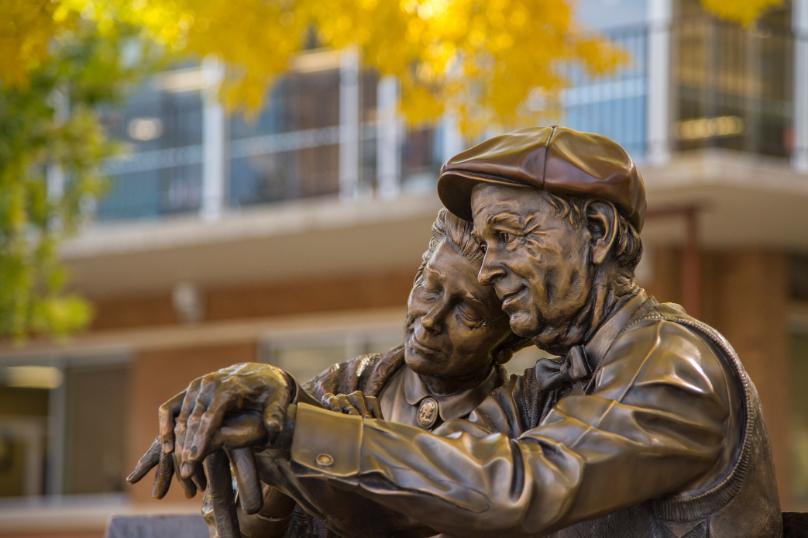 Many donors choose to honor a loved one or friend with a gift to support Idaho State University in his or her name. Perhaps the gift is in memory of a loved one who attended the University or in honor of an inspirational professor.
If the gift request will be announced in the media, please notify the ISU Foundation directly so that gift arrangements can be made.
We suggest the following wording:
Donations may be made "In memory of [name of decedent]" for a purpose to be designated by [name of spouse/name of family]. Please make checks payable to: ISU Foundation and forward to the following address: 921 S 8th Ave, Stop 8050, Pocatello, ID 83209-8050