Order In Person or Online
The Bengal ID provides students with many benefits. There is no cost for your first Bengal ID. You may order it in person at the Pocatello, Idaho Falls, and Meridian campuses. We encourage you to order your card online for faster pickup.
Faculty/Staff: Employee information must be in Banner before a Bengal ID can be ordered.
Read the guidelines below before completing the form.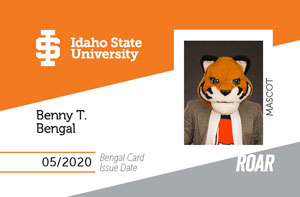 Online Photo Submission Guidelines
YES!
Solid plain light background
Head and shoulders must face forward
Face centered eyes and features visible
Current color photo taken within the last 6 months
JPG format not over 3 MB
NO!
Blurred or visible background objects
Hats, sunglasses, costumes, or pets
Hand gestures, signs, props
Photo filters or portrait mode
No School/professional photos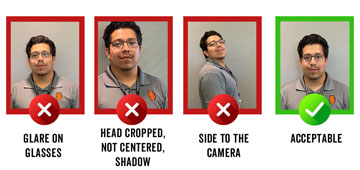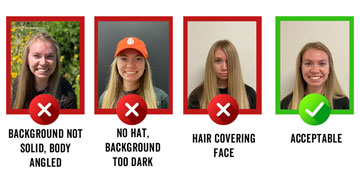 Pick Up Your Bengal ID
Visit us at any of the following locations to pick up your Bengal Card. Remember to bring a valid government issued photo ID (i.e., U.S. Driver's License issued by DMV, Security/U.S. Green Card, Passport book or U.S. Military ID Card)
Pocatello Campus
Campus Connection Desk, Earl R. Pond Student Union
7:30 a.m.-4:00 p.m., Monday-Friday
Idaho Falls Campus
Information Desk, Samuel H. Bennion Student Union
8:00 a.m.-6:00 p.m., Monday-Friday
Meridian Campus
Front Desk, Sam and Aline Skaggs Health Science Center
7:30 a.m.-4:00 p.m., Monday-Friday