Bengal Athletic Boosters Scholarship Fund Drive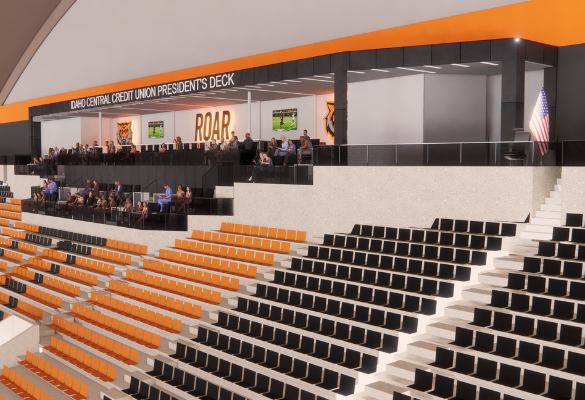 The purpose of the Bengal Athletic Boosters is to provide financial support to the programs of the Idaho State University Athletic Department through membership and fundraising activities. Funds raised provide student-athlete scholarships.
Providing a positive collegiate experience for our student-athletes is just the beginning. Their lifelong pursuit of personal and professional growth begins at Idaho State University with the support of coaches, teammates and professors. Their accomplishments, on and off the field of competition, are made possible by Bengal Athletic Boosters members who give generously. Thank you for providing foundations that will last a lifetime.
For the first time, premium club seating including full food and beverage service and VIP parking will be available in the ICCU President's Deck. Groups of 4 seats or 8 seats are available for purchase by BAB Members at the Player Level ($1,500) or above.
Groups of 4 seats are available at $5,000 for the 2022 Football Season
Groups of 8 seats are available at $10,000 for the 2022 Football Season
Presidents Deck Seating includes a full food and non-alcoholic beverage package at each game, VIP Parking, and all benefits afforded by the applicable BAB Membership Level
*The Tax Cuts and Jobs Act passed in 2017 ended the ability to deduct 80 percent of Bengal Athletic Boosters (B.A.B) charitable contributions attached to the purchase of tickets. However, you do have the option to forego all B.A.B. benefits associated with your contribution in order to receive a tax deduction for your gift. Please let us know if you choose to deny these benefits on the gift forms, and we will make the necessary arrangements.
When Do I Pay?
You may pay your entire pledge up front or in monthly payments by check, cash or credit card. Payment deadlines for priority seating and parking apply:
Membership fees are due in full by the first Friday in August to receive your football season tickets and parking pass.
Membership fees are due in full by the first Friday in October to receive your men's basketball season tickets.
As generous donors to Bengal Athletics, you play a pivotal role in providing student-athletes with a positive experience. In doing so, you are considered to be Representatives of the Institution's Athletic Interests and as such should be aware of NCAA rules and expectations for Boosters. Please take a moment to review the NCAA Guidelines for Boosters.
How Can I Donate?
Scholarship fund drive volunteers will be contacting current and potential donors during the spring.
Call the Bengal Athletic Boosters office at (208) 282-5773 to renew your membership or become a new member.
Fill out your membership benefits card completely and return to the Bengal Athletic Boosters office in the envelope provided.
Special Events
The Bengal Athletic Boosters annual scholarship fund drive is the largest fundraising endeavor of the year. All proceeds go directly toward student-athlete scholarships as do net proceeds from these events:
Bengal Auction
Bengals in Boise Golf Tournament
Orange and Black Golf Classic
Bengal Kick-off Party
Reserved Tailgate Parking
Split the Pot (home football games)
Scarecrow Auction and Chili War
Punt, Pass, Kick and Snap
Bengal Corn Hole Tournament
Membership Benefits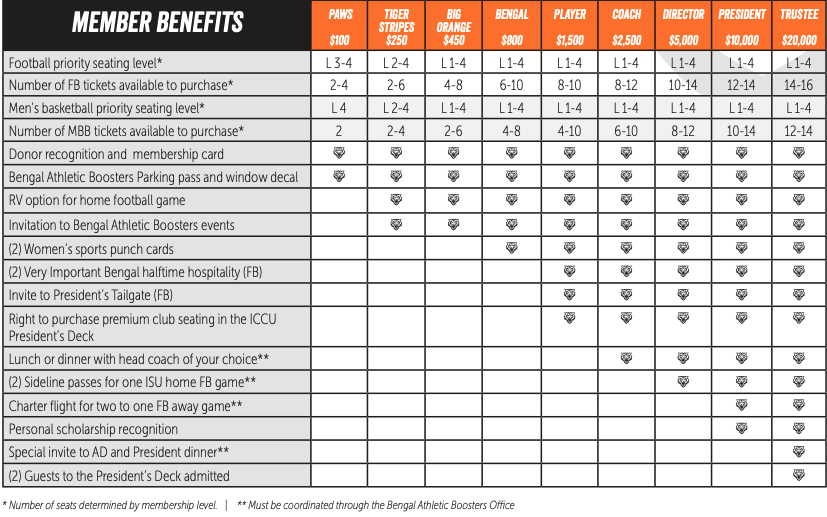 Football priority seating level*: L3-4
Number of FB tickets available to purchase: 2-4
Men's basketball priority seating level*: L4
Number of MBB tickets available to purchase*: 2
Donor recognition and membership card
Bengal Athletic Boosters Parking pass and window decal
*Number of seats determined by membership level
Football priority seating level*: L2-4
Number of FB tickets available to purchase: 2-6
Men's basketball priority seating level*: L2-4
Number of MBB tickets available to purchase*: 2-4
Donor recognition and membership card
Bengal Athletic Boosters Parking pass and window decal
RV option for home football game
Invitation to Bengal Athletic Boosters events
*Number of seats determined by membership level
Football priority seating level*: L1-4
Number of FB tickets available to purchase: 4-8
Men's basketball priority seating level*: L1-4
Number of MBB tickets available to purchase*: 2-6
Donor recognition and membership card
Bengal Athletic Boosters Parking pass and window decal
RV option for home football game
Invitation to Bengal Athletic Boosters events
Number of seats determined by membership level
Football priority seating level*: L1-4
Number of FB tickets available to purchase: 6-10
Men's basketball priority seating level*: L1-4
Number of MBB tickets available to purchase*: 4-8
Donor recognition and membership card
Bengal Athletic Boosters Parking pass and window decal
RV option for home football game
Invitation to Bengal Athletic Boosters events
(2) Women's sports punch cards
Number of seats determined by membership level
Football priority seating level*: L1-4
Number of FB tickets available to purchase: 8-10
Men's basketball priority seating level*: L1-4
Number of MBB tickets available to purchase*: 4-10
Donor recognition and membership card
Bengal Athletic Boosters Parking pass and window decal
RV option for home football game
Invitation to Bengal Athletic Boosters events
(2) Women's sports punch cards
(2) Very Important Bengal halftime hospitality (FB)
Invite to President's Tailgate (FB)
Right to purchase premium club seating in the ICCU President's Deck
*Number of seats determined by membership level
Football priority seating level*: L1-4
Number of FB tickets available to purchase: 8-12
Men's basketball priority seating level*: L1-4
Number of MBB tickets available to purchase*: 6-10
Donor recognition and membership card
Bengal Athletic Boosters Parking pass and window decal
RV option for home football game
Invitation to Bengal Athletic Boosters events
(2) Women's sports punch cards
(2) Very Important Bengal halftime hospitality (FB)
Invite to President's Tailgate (FB)
Right to purchase premium club seating in the ICCU President's Deck
Lunch or dinner with the head coach of your choice**
*Number of seats determined by membership level
**Must be coordinated through the Bengal Athletic Booster Office (208) 282-5773
Football priority seating level*: L1-4
Number of FB tickets available to purchase: 10-14
Men's basketball priority seating level*: L1-4
Number of MBB tickets available to purchase*: 8-12
Donor recognition and membership card
Bengal Athletic Boosters Parking pass and window decal
RV option for home football game
Invitation to Bengal Athletic Boosters events
(2) Women's sports punch cards
(2) Very Important Bengal halftime hospitality (FB)
Invite to President's Tailgate (FB)
Right to purchase premium club seating in the ICCU President's Deck
Lunch or dinner with the head coach of your choice**
(2) Sideline passes for one ISU home FB game**
*Number of seats determined by membership level
**Must be coordinated through the Bengal Athletic Booster Office (208) 282-5773
Football priority seating level*: L1-4
Number of FB tickets available to purchase: 12-14
Men's basketball priority seating level*: L1-4
Number of MBB tickets available to purchase*: 10-14
Donor recognition and membership card
Bengal Athletic Boosters Parking pass and window decal
RV option for home football game
Invitation to Bengal Athletic Boosters events
(2) Women's sports punch cards
(2) Very Important Bengal halftime hospitality (FB)
Invite to President's Tailgate (FB)
Right to purchase premium club seating in the ICCU President's Deck
Lunch or dinner with the head coach of your choice**
(2) Sideline passes for one ISU home FB game**
Charter flight for two to one FB away game**
Personal scholarship recognition
*Number of seats determined by membership level
**Must be coordinated through the Bengal Athletic Booster Office (208) 282-5773
Football priority seating level*: L1-4
Number of FB tickets available to purchase: 14-16
Men's basketball priority seating level*: L1-4
Number of MBB tickets available to purchase*: 12-14
Donor recognition and membership card
Bengal Athletic Boosters Parking pass and window decal
RV option for home football game
Invitation to Bengal Athletic Boosters events
(2) Women's sports punch cards
(2) Very Important Bengal halftime hospitality (FB)
Invite to President's Tailgate (FB)
Right to purchase premium club seating in the ICCU President's Deck
Lunch or dinner with the head coach of your choice**
(2) Sideline passes for one ISU home FB game**
Charter flight for two to one FB away game**
Personal scholarship recognition
Special invite to AD and President dinner**
(2) Guests to the President's Deck admitted
*Number of seats determined by membership level
**Must be coordinated through the Bengal Athletic Booster Office (208) 282-5773