ISU Bengal Dancers Tryout Information
Tryouts for the 2022-2023 Bengal Dancers will be held:
In person- May 27 & 28, 2022 OR through video submission. Video submissions due May 27th, 2022.
Mandatory Meeting Sunday May 29th for all those that make the team (on zoom)
Auditions are open to all college students and all high school seniors.
What are we looking for someone with Strong Work Ethic, Excellent Student, a Team Player- who thinks of the team before themselves, Humble, Strong Performer, Technical dancer and Proficient in Jazz, Hip Hop and Pom.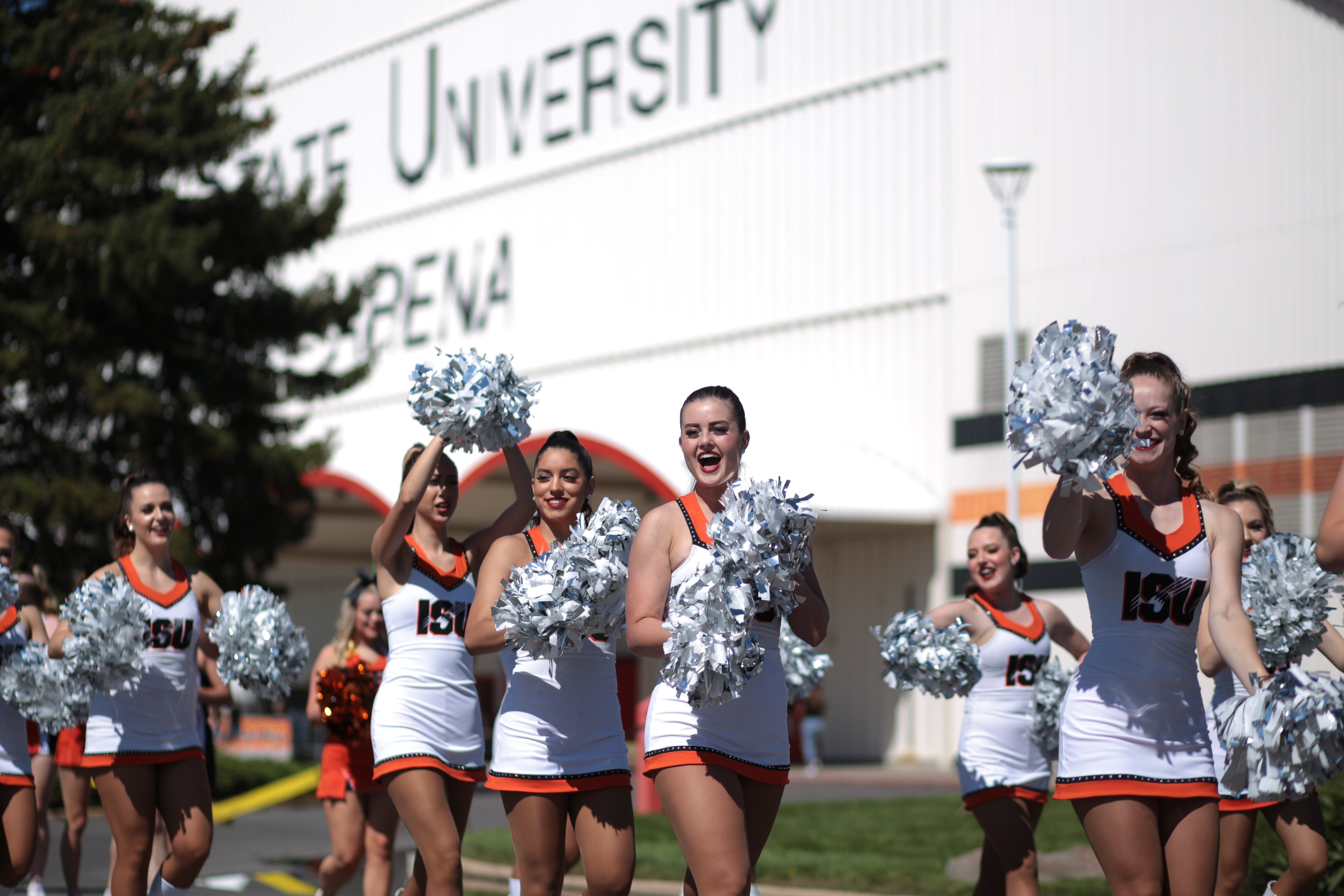 STEP 1:
Right Now
ALL APPLICANTS (in person or on-line) need to click on the link to register for tryouts before Saturday May 20th, 2022. This will be how we can update information to you as it changes.
-In person or video submission is $30.00 (new participants) $20.00 (returners) to audition.
Send payment to Venmo: @IdahoState-DanceTeam.
*Be sure to specify it is for Dance Team Auditions
STEP 2:
In-Person
All registered participants that have PAID the fee will receive an email on May 20th with paperwork to be filled out and videos to learn before the tryouts on May 27th.
On-line/Video Deadline: Friday May 27th, 2022
All registered participants that have PAID the fee will receive an email on May 20th with paperwork to be filled out and videos to learn. Then they will have to email back the link for the videos of themselves performing the skills.
**Videos will need to be uploaded to a Youtube account and playlist. You will make this playlists "unlisted". But copy the link and email it to me. (Directions will be sent out through email)
CUTS WILL BE MADE- Call backs will be on May 28th, 2022.
Remaining dancers MAY be notified & sent videos to learn, record & send video link back in Youtube playlist.
STEP 3:
TEAM ANNOUNCEMENT
Team will be announced and we will have a mandatory meeting (in person or virtual) team meeting to sign letter of intent. Sunday May 29th at 8PM. Zoom links will be sent via email.
Contact Kolissa Manchan via email at manckoli@isu.edu with any questions.
Bengal Dancer team members…
Dedicate approximately 20 hours a week to practice, workouts, games and public appearances
Must be available to report back for practice and camp mid-summer
Must attend a mandatory meeting after auditions

Must be able to pay for the year approximately $2000.00 (fundraisers available throughout the year)

Must be able to fundraise or pay out of pocket for expenses
Must be able to attend mandatory events that may take place on Sundays
Frequently Asked Questions
How many spots are available on the ISU Dance Team?
Each year, the Dance Team holds auditions for all of its members, both rookie and veteran members.
The number of members on the Idaho State University Dance Team varies year to year depending on the talent that is seen at each year's tryout; however, there are number limits in terms of policies within the national competition companies. The various Dance Associations, which host the annual College Dance Team Competitions each year, have rules on how many dancers are allowed to compete, therefore there may be alternates for competitions but those members will perform for all community events and games the rest of the year.
What kind of dance experience is needed?
You definitely need some sort of dance training whether it be by a dance studio or school dance team, but it is not necessary to have been on a certain dance team. At the audition they will learn several different styles of dance and technique across the floor, so it is beneficial for the participants to have experience in jazz, hip-hop, and pom.
What skills are needed to tryout?
Calypso Leap
Tilt jump
Kip up
Triple or Quad Pirouette
Leap in Second
Leg Extension/Tilt Hold
A La Seconde turns in Second with a double or more at end (minimum 2 counts of eight- can add in extra turns if can)
Leg hold turn
Toe Touch
Turning Disk
Aerial or Cartwheel
Any type of Switch Leap
Head Spring
Is there a height or weight limit?
The ISU Dance Team does not adhere to typecasting (i.e., similar heights, body types or skin tones), as each dancer is unique in their height or weight. While there is no weight requirement or weigh-in included in the training program, the Bengal Dancers are encouraged to maintain a healthy lifestyle and muscular build. The Dance Team maintains this training level by participating in weightlifting and aerobic conditioning throughout the week.
Do the selected members for the team receive any financial aid?
Yes, everyone that is eligible will receive a scholarship stipend.
To be eligible:
You must register for a minimum of 12 credits each semester and remain a full-time student.
You must successfully complete 24 credits in one academic year.
You must maintain a 2.0 cumulative GPA.
Transfer students or continuing ISU students must enter the squad with a 2.0 cumulative GPA in order to be eligible to receive a scholarship.
If you fail to meet the above requirements you will not receive a scholarship the following semester.
You may receive one academic credit per semester for Bengal Dancers. Keep in mind that if you quit or are dismissed from the squad your grade will be affected based on the point in the semester that you stopped participating. You need to complete at least 60% of the semester in order to receive a passing grade.
Out of state members will also receive Out-of-State Fee Waivers. If any girl quits or is dismissed from the team early, she will be required to pay back any financial aid.
What someone can't come to the audition, can they still tryout?
Yes, although it is best to come and audition in person, we do accept digital audition. You will need to email manckoli@isu.edu for further instructions on what is required for the video.
When do the participants find out if they make the team?
The auditions will be on Friday night and Saturday afternoon, the new selected team will be told that day and have a mandatory meeting on the Saturday night.
Do the participants tryout alone?
No, we will have them in groups of 3 or 4 and in alphabetical or numerical order to start then as cuts are made, we may try them in different groups to see how dance styles mesh.
How many hours a week does the Dance Team practice?
Depending on the season, the time commitment varies. In August, when the team first starts practice for the upcoming season, practices average 3 to 4 hours a day 5 days a week for the first few weeks as the team prepares for their first round of competition and the upcoming football season. During the school year, the team practices on Monday, Wednesday evenings for 3 hours and on Fridays for 3 hours. The team also does morning workouts four mornings a week for an hour.
Football game days last approx. 5 hours. The season begins to overlap with basketball in late fall/early winter and the schedule varies week by week. Basketball game days last approx. 3 hours.
In addition to these practices and games, various public relations events are interspersed throughout the year.