START Program Staff and Instructors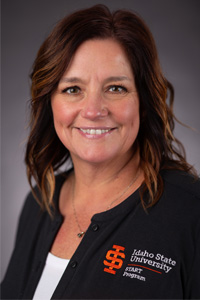 Cherisse Brown
START Director
208-282-4359
Cherisse Brown attended Idaho State University and earned her Bachelor's Degree in Sociology in 2009. Her professional experience includes 6 years working in the non-profit sector wherein she managed the state workforce development contract for southeast Idaho and a total of 9 years working closely with at-risk populations in the social services field. Cherisse is most passionate about helping others see and maximize their potential and considers it a great privilege to work with students in the START Program at ISU.
Donald E. Allen
Math Instructor
208-282-4094
Don Allen likes math. He started math by playing cribbage, lotto, and other board games with his grandmother. He still likes math problems all the way from adding 2+2 up to group theory used in particle physics. No problem is too easy. No problem is… . Well, yes, some problems are very hard.
Don was born in Missoula, Montana. He graduated from Idaho Falls High School sometime during the last century. He attended college in New York, NY, Eugene, OR, and Pocatello, ID. He earned a Master's degree in Physics from Idaho State University as a nontraditional student.
Don has worked in variety of jobs, including farm, factory, retail sales, social service, and education. He worked more than ten years for USDA in a wonderful job which combined food and science. Getting paid to taste French-fried potatoes made him believe even more in higher education.
Don is delighted to be the Math Instructor for the START program. Working with the people, both students and staff, is the best part of the job.
Michael Clarke
Advanced Instructor
Office: Roy F. Christensen Complex 383
208-282-2810
BS Business Finance
MBA General Business
Professional Work Experience
19 years in education
Spent 11 years teaching CTE, Computers, and Business at the high school level
10 Years as an adjunct professor local community colleges in Business in Central California
2 Years as full time faculty at a community college
Starting 6th year here at the College of Technology
Career Highlights
Ran several businesses including computer networking and repair and business consulting
Runner up for Fresno County Teacher of the Year 2007
Took my students to various international competitions, consistently placed in the top 10, including 3rd place in Marketing at the San Diego Virtual Enterprise Trade Fair
One of my favorite Professional Experiences
Okay, I'm going to cheat a little and tell you about two small ones.
The first was in my first year of teaching, a young lady was struggling with an assignment and so I bent down and slowly explained it to her in a different way. All of the sudden she says, "Oh, now I get it Mr. Clarke!" Lightbulb going off over my head or whatever metaphor you can think of but right then I knew I was on the right path in teaching.
The second was when I took my students to the aforementioned San Diego Trade Fair. My students were setting up their booth (instructors weren't allowed to help) and another instructor looks at my students and said something like," Are all your students Hispanic?" I looked and I said, "No, two of them are Hmong also". I honestly had never really thought about it, to me they were just students. I realized that growing up with a Native American step-father had pretty much made me colorblind. If that is the case, I hope I never start noticing things like that.
Angie Lion
Resource Coordinator and English Instructor for the START program
Office: Office: Roy F. Christensen Building Room 262
208-282-3208
https://www.isu.edu/tech/tutoring/
Professional Work Experience
State of Idaho Regional Facilitator for new CTE educators in region 3
Assistant Professor of Surgical Technology at BSU then College of Western Idaho
Clinical Coordinator of Surgical Technology College of Western Idaho
Treasurer Idaho State Assembly of the Surgical Technologist
Health Occupations Education Specialist and Instructor for the College of Western Idaho– 9 years
Lifetree Adventures/Group Missions Trip Leader to Puerto Rico 3 consecutive years
Career Highlights
Certified as a Certified Surgical Technologist 2003
Certified as a Professional Emotional Quotient Analyst CPEQA (TTI Success Insights)
Certified as DISC Behavioral Analyst (TTI Success Insights)
Continuing education in the Organizational Learning & Performance Graduate program.
One of my favorite professional experiences
While living in Shanghai, China I participated in a medical mission with Love Without Boundaries performing cleft lip surgeries to orphan Chinese babies to increase their chances of adoption.
I have also had the privilege of being a leader on 3 mission trips to Puerto Rico with Group International.
It pleasures me in knowing I have had such a rewarding career in the Operating Room assisting multiple surgeons in successful outcomes and being part of a team that improves the lives of others. Teaching at CWI allowed me to have a bigger impact on my community because every year I had 18 students that could reach more patients than I ever could do alone.
Presenting at National Conferences for the Association of Surgical Technology was also a highlight of my career. I was a lead presenter on:
"Positional Leadership vs Self-Leadership: Finding Your Opportunity to Thrive"
Co-presenter on "Research Findings – CSTs in the Workplace: Motivational Outlooks and Job Satisfaction's Influence on Job Tenure"
Co-presenter on "Teambuilding in the OR and Beyond"
While working at The College of Western Idaho, I was identified by leadership to participate in an 18-month leadership program (The Complete Leader, with Ron Price). During this time, I was able to develop 25 leadership competencies in this EMBA style program.
From this program, I developed new interests in Emotional Intelligence and DISC Behavioral Styles and I decided to become certified so that I can use the assessments from Target Training International (TTI). I am now a "Value Added Associate" which means I have access to the assessments which I use to coach and develop others that value self-improvement and I assist leaders that value developing their staff.
Mike Serpa
Math Instructor
Office: Roy F. Christensen Building, 3rd Floor
Mike was born I Wendell Idaho and grew up in American Falls Idaho. He attended Idaho State University earning a BS and MS in Physics. Mike has worked for RCA in their solid state research lab and for AMI Semiconductors holding various technical and technical management positions.
Mike's hobbies are studying the piano, reading, gardening and playing with his new puppy Lolli.
He enjoys being part of the START team because of the personal satisfaction he gets helping students take the next step in their education.
Valerie Watts
Instructor
A native Pocatelloan, Valerie Watts has held a variety of teaching positions both here and in Southern California. After graduating from Idaho State University, her first teaching jobs were in the Academic Skills Development (now TGE) and Adult Education programs on the College of Technology campus. In 2012, Valerie returned to Adult Education to teach math again. She finds it especially gratifying assisting students in their educational journey. Valerie enjoys accompanying her husband on motorcycle trips and working outdoors on various summer projects at home.
Contact Us
(208) 282-4359
College of Technology,
Idaho State University
921 South 8th Ave, Stop 8380
Pocatello, Idaho 83209