Phi Kappa Phi
Idaho State University Phi Kappa Phi Chapter 110
The installation date for our chapter was February 26, 1970. The Honor Society of Phi Kappa Phi is the nation's oldest, most selective, and most prestigious all-discipline honor society. Standards for election to Phi Kappa Phi are extremely high. Membership is by invitation only to ISU's top 7.5 percent of second term juniors and the top 10 percent of seniors and graduate students from each college.
The Society is proud of its record of helping members advance their education and serve their community through various programs. Members are eligible for one or more of the Society's grants and awards such as the "Fellowship Program" for graduate studies, "Love of Learning," and "Literacy."
The chapter of PKP at ISU is proud to support eligible undergraduate PKP members with scholarship money donated by our members. Your contributions to this fund are welcome.
SCHOLARSHIP ANNOUNCEMENT 2022
Scholarship Opportunity for Phi Kappa Phi members:
If you are planning on entering graduate or professional school next academic cycle, then you may be eligible for this award.
The Honor Society of Phi Kappa Phi currently awards fifty Fellowships of $8,500 each, six at $20,000 each, and two at $35,000 each to members entering the first year of graduate or professional study. Idaho State University's Chapter #110 will select one candidate from among the eligible applicants. More information about this fellowship opportunity is available at The Honor Society of Phi Kappa Phi.

Eligibility
To apply for a Phi Kappa Phi Fellowship, you must:
Be an active member of Phi Kappa Phi (annual dues paid by April 15 of the current year).
Have applied to enroll as a full-time student in a post-baccalaureate program of study
for the current academic year. Accredited international institutions are acceptable.
You may complete the application online and save the completed PDF. You'll then submit the application, official transcripts, test scores (if applicable), work sample, and two letters of recommendation to your local chapter by April 1, 2022 via email. The nominating committee for the ISU PKP chapter will select one applicant as its nominee for the competition.

If you are interested:
Complete the application online, print it out, and submit it via email with the other required
materials no later than April 1, 2022 to:
Dave Wood ( wooddav4@isu.edu )
Spring Scholarly Lecture
ISU Phi Kappa Phi Spring Scholarly Lecture presented by Dr. Diana Livingston Friedley
Music by Contemporary and Underrepresented Composers Howard Boatwright, Thomas Hasenpflug and Libby Larsen.
Wednesday, April 13, 2022
7 p.m.
Jensen Grand Concert Hall
Stephens Performing Arts Center
Watch the live stream at Youtube.
Performances with: soprano, Diana Livingston Friedley; clarinet, Shandra Helman; violin, Emma Rubinstein; percussion, Thomas Hasenpflug; and piano, Mark Neiwirth.
Circle of Excellence Chapter Award Program
The Honor Society of Phi Kappa Phi recognizes outstanding chapters each year for their work through the Circle of Excellence Chapter Award Program. The Circle of Excellence Award Program recognizes chapters for their work in promoting excellence on the local campus and engaging the community of scholars each year.
Our chapter has achieved Circle of Excellence Platinum status for 2020-2021. This is the second year in a row that we have achieved this level of excellence. This level of performance can only be achieved because of the efforts of our dedicated chapter officers and members.
2021 ISU Chapter 110 Phi Kappa Phi Initiates
Congratulations. We welcome you as our newest Phi Kappa Phi members and wish you continued scholarly success and community service.
Alumni
Catherine S. Black | Biology
Cecelia S. Celedon | Psychology
Graduate Students
Devin H. Anderson | Public Health, Human Resource Dev.
Seneka Arrington | English,Counseling
Ethan Bassett | Political Science, GIS
Braeden Clayson | Sports Management Public Administration
Phyllis C. Correll | Buisness, Communication Sciences
Gabriela Anna Gawlik | Public Health
Diana Gilmore | Family Nurse Practitioner
Carolin A. Glendenning-Bowman | Business
Nikki J. Hansen | Rehabilitation and Communication Science
Zachary D. Hillman | Kinesiology
Benjamin Jantzi | Family Nurse Practitioner
Felicia D. Johnson | Biology, Psychology
Nikole Layton | Business, Healthcare Administration
Shirley Dawn Lesperance | Human Ecology, Hospitality
Beenish Mannan | Public Administration
Rebeca Peacock | Biology, Instructional Design & Technology
Carlos A. Rubio-Vaca | Biology, Pharmacy
Jason Russell | Marketing, Public Administration
Jessica M. Sargent | Sociology, Public Administration
Scott Snell | Nursing
Samantha Snow | Audiology
Professional Students
Maria Blaser | Biology, Pharmacy
Courtney K. Buckland | Health Care
Amneh Natouf | Pharmaceutical Science
Mitchell Petersen | Pharmacy
Harlee J. Speth | Physical Therapy Assistant
Sandra S. Takahashi | Educational Leadership
Marvin Walker | Surveying and Geomatics Engineering
Tyler Walters | Spanish
Sukyoung Yoon | Pharmacy
Seniors
Andrew Alder | Business Management
Seth J. Angel | Homeland Security and Emergency Management
Preston Hatch Baker | Microbiology
Chelsea R. Cobabe | Nutrition and Dietetics
Chad J. Cullip | Homeland Security/Emergency Management
Nelly Cyuzuza | Biology
Alan L. Fluckiger | General Studies
Christopher J. Free | Civil Engineering
Hannah J. Huffman | Biology
Ricky Morgan | Health Sciences
Kateea M. Peterson | Anthropology
Amber Phillips | Accounting
Eleise D. Ramos | Elementary Education
Mo Shamseldin | Organizational Leadership
Juniors
Janita Aamir | Computer Science, Statistics
Shanice J. Allen | Radiographic Science, Business
Beckett W. Bodell | Medical Lab Science (Pre-Med)
Jessa J. Briggs | English, Public Relations
Dane D. Buck | Health Science, Dentistry
Ariel Crew | Medical Lab Science
Karlie T. Dalton | Nursing
Anthony Davis | Biochemistry
Hope Fitzgerald | Theatre
Maria C. Gomez Patlan | Dental Hygiene
Alexander M. Hentges | Homeland Security/Emergency Management
Edward J. Isla | Workplace Training and Leadership
Mark S. Jackson | Cybersecurity Engineering
Eizaak F. Jordan | Political Science
Taylor Kurz | Public Relations
Sebastian Madrigal | Biomedical Science, Spanish for the Health Professions
Anthony D. Martinez | Chemistry
Cheyanne S. Mast | Computer Aided Drafting and Design
Mylee Mickelsen | Integrative Organismal Biology
Hannah E. Montrose | Biology, Spanish
Bret M. Plocher | Civil Engineering
Kathryn Richardson | Ecology and Conservation Biology
Jessamyn M. Skutches | Journalism
Briana Leslie Steele | Health Care Administration, Nursing
Brooklyn Thompson | Graphic Design
Michaelee Tingey | Occupational Therapy Assistant
Emma Watts | Political Science, Economics
Bailey Vahsholtz | Chemistry
2021 Awardee
Ricky Morgan is our nominee for the Honor Society of Phi Kappa Phi Fellowship award offered to graduates entering their first year of graduate studies. Ricky graduates this year with a BS in Health Sciences. He was initiated into PKP during his Junior year at ISU. He has been accepted into ISU's dual degree Master of Science in Athletic Training program and Doctorate of Physical Therapy. As a graduate student, Ricky will be trained to treat different stages of injuries in athletes as well as provide preventative treatment and education to enhance optimal movement. As a former Air Force Medic, Honor Guard and current undergraduate student-scholar, Ricky's love of learning and commitment to community and campus service embodies the mission of Phi Kappa Phi.
Our Chapter's Fellowship Nominees and Scholarship Recipients
2021 – Ricky Morgan, PKP Fellowship nominee
2020 – Beverly Jackson, Nifty-Fifty Phi Kappa Phi Scholarship
2020 - Kylie Greenwell, PKP Fellowship nominee
2019: William Veloso, PKP Fellowship nominee
2018: Paula Arinze, "Let the Love of Learning Rule Humanity" fall tuition scholarship recipient
2017: Jennifer Ann Stemper, "The Sandra Shropshire Fall, 2017 Tuition Scholarship" recipient
Fellowship: The Honor Society of Phi Kappa Phi currently awards fifty Fellowships of $8,500 each, six at $20,000 each, and two at $35,000 each to members entering the first year of graduate or professional study. Each active Phi Kappa Phi chapter may select one candidate from among its local applicants to compete for the Society-wide awards.
Fellowship application deadline to the ISU chapter: April 1, 2021
Scholarship: The ISU chapter of ISU, through generous donations from our community and members, offers scholarship money to eligible undergraduate PKP initiates. Your contributions are always welcome.
NiftyFifty Anniversary
March 26, 1970 - March 26, 2020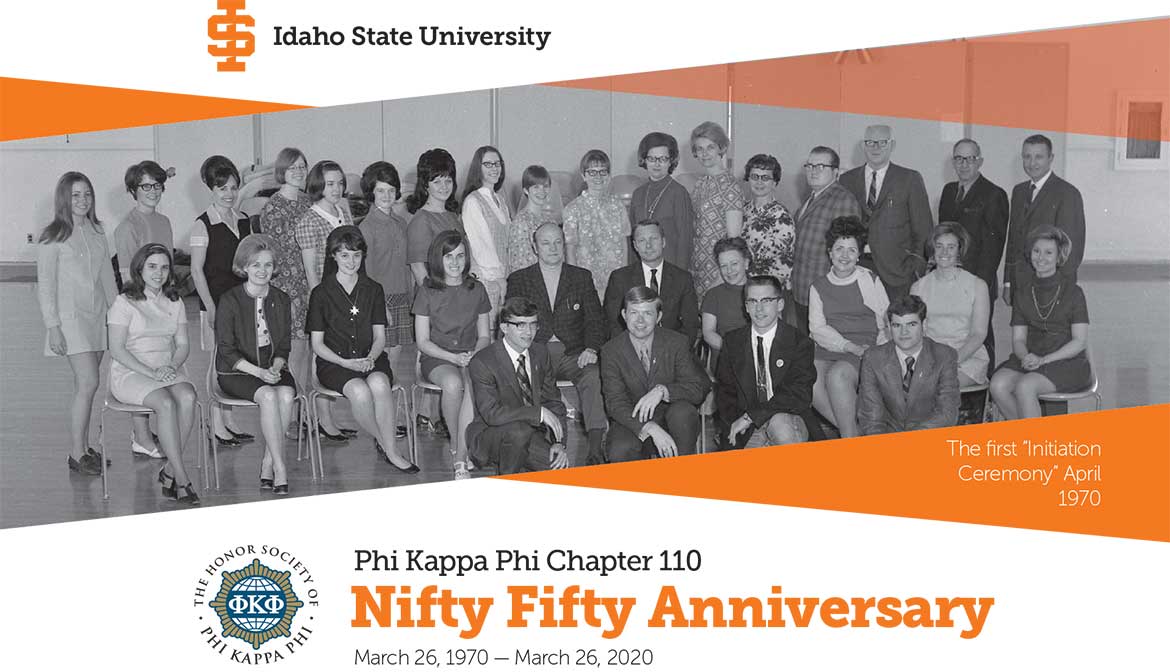 Phi Kappa Phi Hosts Children's Book Drive
In celebration of our 50th anniversary, the Idaho State University chapter of the Honor Society Phi Kappa Phi hosted a children's book drive at both the Pocatello and Meridian campuses. "We are proud to promote the love of learning by providing these books to children and teens in our local community through this service project," said Phi Kappa Phi President Barbara Frank.
The books collected during the book drive were distributed to Court Appointed Special Advocates (CASA), Family Service Alliance, the Aid for Friends Homeless Shelter, and Family Advocates. Phi Kappa Phi student Vice-President Nelly Cyuzuza, Awards and Grant Coordinator Jody Finnegan, and Board Member Joni Loftin delivered the books to these organizations. The books will be given to youth in the greater Pocatello and Treasure Valley communities to spur on a love of reading and learning.

"This is such a great thing for our agency ", said Jared Marchand, Executive Director for CASA. "It is important for our volunteers to have these books to bring to children during their visits. It helps the volunteer connect with the children they are advocating for and provides them with something of their very own. Often times these children are removed from their home with no belongings of their own. It's nice for our agency's volunteers to give them something they can keep while they go through what is often times the worst situation of their life."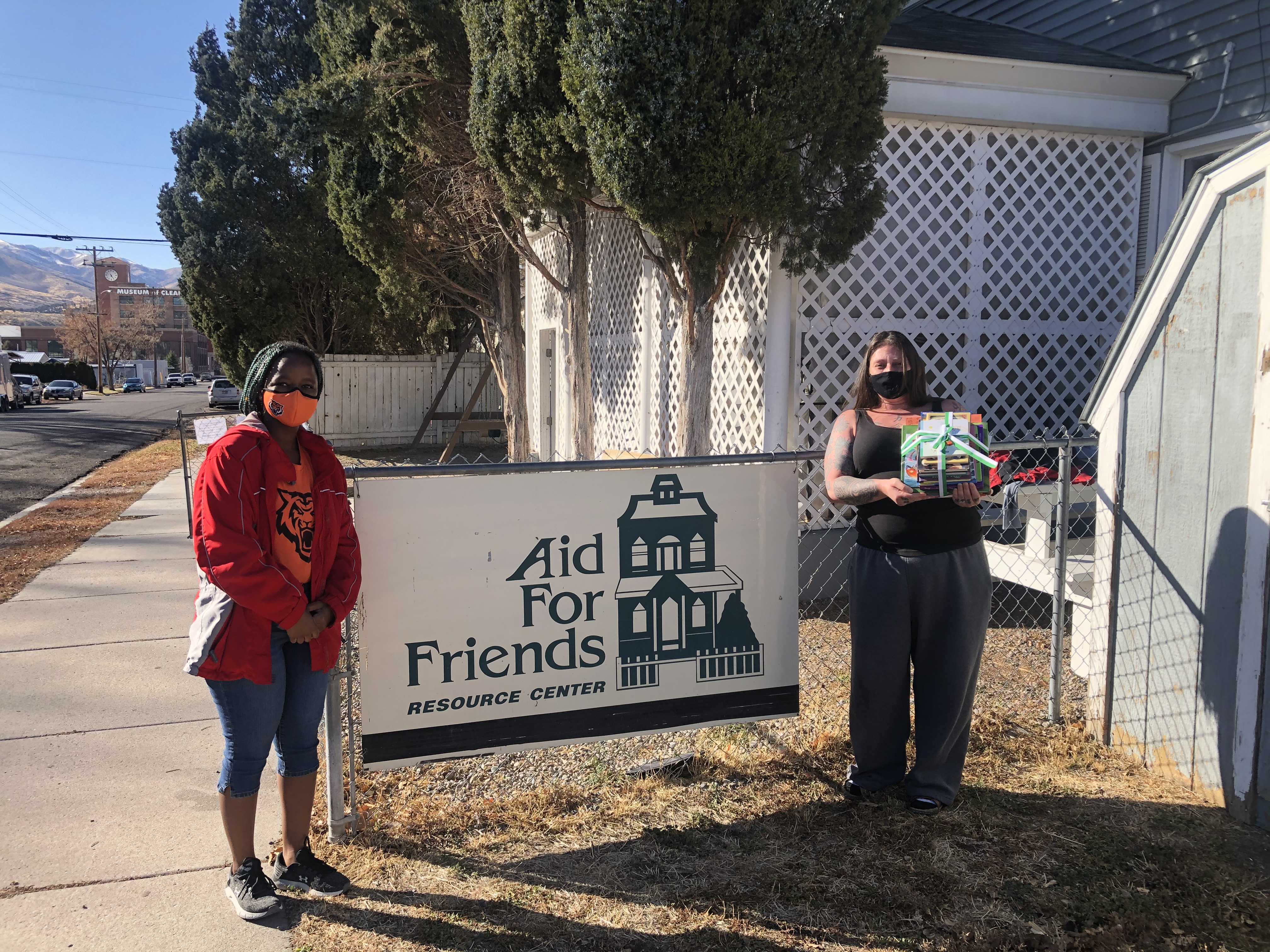 Annual Scholarly Lectures
2020 – Dr. Mark McBeth, Polarization, Pandemic, and Parables
2019 – Dr. Karen Neill, Intimate Partner Violence: Current Evidence Supporting Victim Safety and Offender Accountability
2018 – Dr. Donna L. Lybecker, Sustainability in Ireland and the US
2017 – Dr. Janet Loxterman, Genetic Tools for Species Conservation