ISU's Kappa Psi Epsilon Pi chapter awarded 8th Best Chapter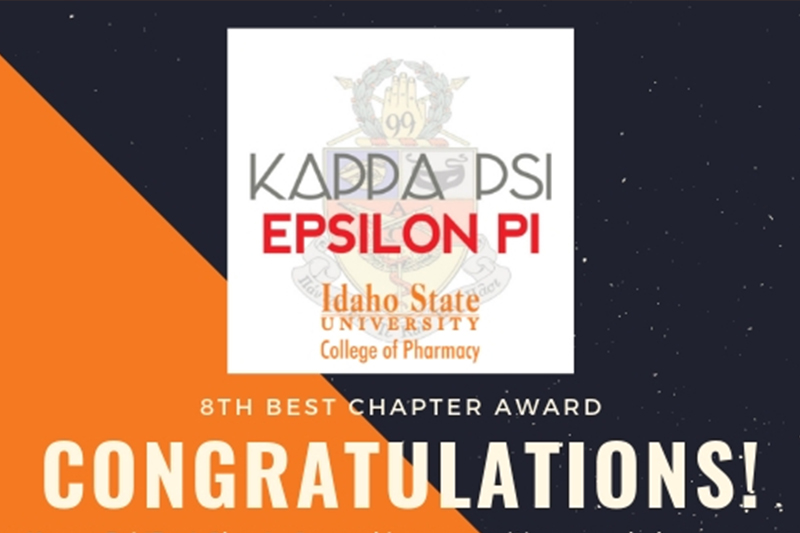 The ISU Kappa Psi chapter, Epsilon Pi, was recently recognized as the 8th best chapter in the whole fraternity. The Kappa Psi "Best Chapter" award is a recognition awarded on an annual basis. Considerations for the award include; maintaining membership over time, operations of the chapter, participation within the fraternity on a regional and national level, scholarship and awards earned by members, participation in other pharmacy organizations and leadership positions held in those organizations, participation in professional pharmacy activities and philanthropic activities, social activities and relationships with the graduate members of the fraternity. There are 115 chapters in the fraternity that are up for consideration. Our chapter is one the smaller-medium sized chapters and is only about 7 years old. Winning this award shows that our students are leaders and are dedicated to their profession and to their community.
About Kappa Psi
Kappa Psi Pharmaceutical Fraternity, Inc. is the world's oldest and largest pharmacy fraternity. Currently, there are 110 Collegiate Chapters and 80 Graduate Chapters, more than 87,000 members across the United States, Canada, and the Bahamas. It was founded by Mr. F. Harvey Smith on May 30th, 1879 at the Russell Military Academy in New Haven, Connecticut.
About Epsilon Pi
Epsilon Pi was chartered on November 12, 2011 in Meridian, Idaho. At Idaho State University College of Pharmacy, we strive to not only strengthen fellow brothers but the community as a whole and the profession of pharmacy. Epsilon Pi engages in the community as well as strengthening friendships and brotherhood in the activities we do. Philanthropic events include book and clothing drives for the Idaho Youth Ranch, volunteering at the Idaho Food Bank, and many other events within the Treasure Valley.
Visit Kappa Psi Epsilon Pi's website or Facebook page.