Polish Ambassador Speaks with ISU Students about the War in Ukraine
March 13, 2023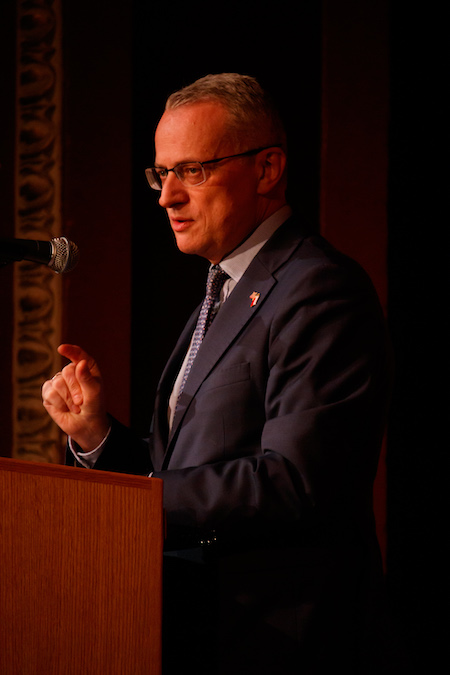 Idaho State University students received a rare opportunity on Thursday- the chance to ask questions about the war in Ukraine to the Polish Ambassador to the United States, His Excellency Marek Magierowski.
Magierowski was in Pocatello Thursday as part of the 52nd annual Frank Church Symposium. Named in honor of the late Senator Frank Church, the symposium has grown over the years, offering the university and the community opportunities to discuss global issues and expand their perspectives. This year's theme was Europe at a Crossroads: Progression or Regression? In addition to meeting with students, Magierowski was the keynote speaker at a public event Thursday evening.
Magierowski addressed questions from a number of students regarding what Poland can do right now to help with the war in Ukraine, the outlook of new countries joining NATO, the issue of Crimea, and the golden question: How do you think this war in Ukraine is going to end?
"Russia will never vanish. It has been, is, and will remain our neighbor," he said. "I have been asked this question a hundred times. I cannot answer. I do believe that we will one day see a democratic, liberal and free Russia. This is what Russians deserve. They have been brainwashed and indoctrinated since Putin came to power. It will be a very arduous and lengthy process to change this mindset that Russians have."
Magierowski shared his experience of having lived under oppression.
"I was born under communism, which you are so lucky to not be under," he told students, "and then I experienced democracy. I enjoyed freedom of expression."
He spoke of the "shocking lack of respect for human life" demonstrated by the Russian army.
"We treat our soldiers humanely and our co-citizens with dignity, which is not the case with Russia," he said. "When you see how miserably the Russian army has performed that makes me think it's a complete mess and also they don't care for human life. If they did, they would perform much better. This is what the American, what the NATO armies are known for, because we know what human life means, and what it means to the families."
---
Categories: