ISU Empowers Students with Travel Funds for Research and Presentations
June 5, 2023
Elisabeth Curtis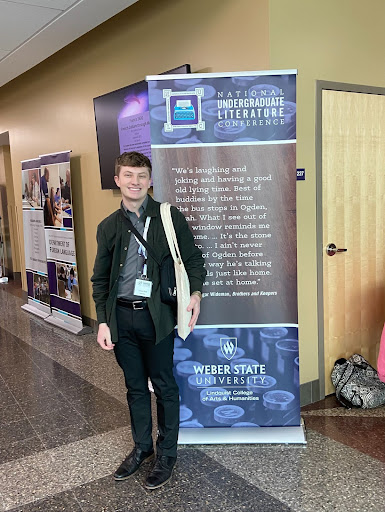 In an effort to promote interdisciplinary collaboration and support the professional development of undergraduate students, the College of Arts and Letters at Idaho State University issued a Request for Proposals inviting full-time undergraduate students with College of Arts and Letters majors to apply for travel funds. The purpose of this initiative was to facilitate student presentations across disciplines by providing financal support for their travel expenses.
"I had such a wonderful time at this conference - it was a great way to experience a history conference in a lower-risk environment as it was a conference where only students were presenting," history and English major Jessa Briggs says, "It allowed me to develop deeper bonds with two of my history classmates and two of my history professors, all of whom are so supportive and amazing and have helped me grow exponentially as a historian."
The primary goal of providing funds to students was to support those who wished to present their research or creative activities at conferences, exhibits, recitals, or other relevant events. A total of 30 individual students were funded through this program, representing a diverse range of work students engage in across various majors within CAL.
Four students from the Communication, Media, and Persuasion department traveled as a team to the 2023 National Student Advertising Competition (NSAC) in Spokane, Washington. They presented a marketing campaign on behalf of the entire ISU team to a panel of judges, showcasing the culmination of their semester-long research, strategizing, budgeting, and creative work. The ISU NSAC team placed first place in the regional competition.
"This has been one of the most fulfilling and empowering experiences I have ever had the chance to be a part of," says Shayla Rowe. "At the risk of sounding cheesy, I would even say my time with NSAC has been life changing. My work with this team has been the most valuable time in my college education, and the things we have accomplished have prepared me to move into the professional world with confidence."
Students from the English and Philosophy departments seized the opportunity to showcase their research and engage with their respective academic communities. Their endeavors included attending the 2023 National Undergraduate Literature Conference (NULC) in Ogden, Utah, and presenting research at various other conferences, such as the Phi Alpha Theta Northwest Regional Conference and a philosophy conference at Pacific University in Forest Grove, Oregon.
Bayden Sayer, a philosophy major, shared his enthusiasm stating, "It was the most rewarding experience that I have had in my college career, and I love that I am able to have these opportunities to help me in my education."
History majors demonstrated their passion for research and presentation by participating in prestigious conferences such as the Phi Alpha Theta Northwest Regional Conference and the annual conference for the American Historical Association (AHA). Their presentations covered topics ranging from racial injustice and influences on American pop art to race, masculinity, and voodoo in the New South.
Shayla Manwill, a history major, says that presenting her work at the AHA conference reaffirmed that this was the path she wanted to take in her life and it is something she will never forget.
Political Science majors attended conferences in Forest Grove, Oregon, and the World Social Science Association Conference in Tempe, Arizona. They presented original research on topics like the impact of COVID-19 on unpaid labor and other time use activities.
Of the experience, Emma Watts, a political science major, explained that conference attendees were eager to help the ISU students augment their project with a new technique or perspective.
Psychology students collaborated on a joint paper poster presentation at the Western Psychological Association, showcasing their research in the field.
Psychology student Jacob Tudor says, "The WPA conference at Riverside, CA was beautiful! I felt so thankful for the opportunity to visit and present my lab's data in such a historic and diverse community."
Sixteen Theatre majors from ISU participated in the Kennedy Center American College Theatre Festival (KCACTF) in Spokane, Washington. This national organization oversees eight regional festivals, offering workshops, showcases, competitions, and networking opportunities. Students had the chance to receive professional feedback, make connections, and be considered for scholarships. They also attended workshops led by experienced professors, performers, and directors in the field of theatre.
Lauren MacDonald, an Assistant Professor in Latin American History at ISU emphasized the significance of this type of academic experience for students. Speaking of two students at ISU who traveled to a conference, MacDonald says, "The ability to present their original research to a wide regional audience as a final capstone to their time as ISU undergraduates was clearly very meaningful to both of them."
---
Categories: