Idaho State Set to Award First Master's Degrees in Electrical and Computer Engineering
May 2, 2023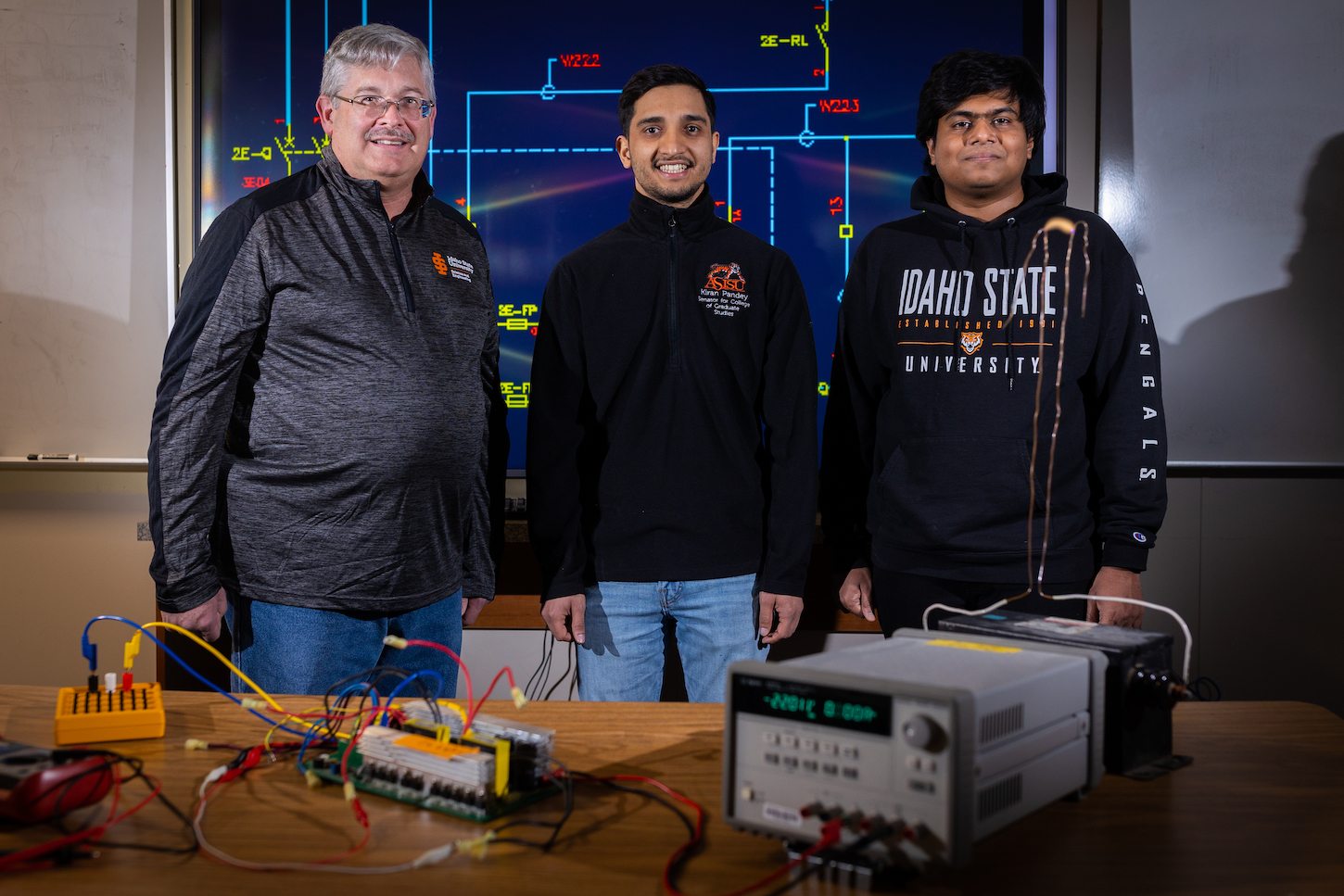 The first students to ever receive a master's from Idaho State University in Electrical and Computer Engineering will walk across the commencement stage on May 6.
Kiran Pandey and Shah Md Nehal Hasnaeen will have the honor of being the first to be handed their diplomas. In addition to his new master's, Pandey, from Arghakhanchi, Nepal, has earned an honors bachelor's degree in electrical engineering from Idaho State. While at ISU, he's served as a student ambassador, tutor coordinator, and Associated Students of Idaho State University Vice President. Looking ahead, Pandey plans to continue his career at Virginia Transformer Corporation as a Test Engineer.
"ISU has provided me with a remarkable range of opportunities, including community service, leadership, and academics, making for an unforgettable student life experience," Pandey said. "The courses I have taken have allowed me to develop and solidify my technical skills, particularly in power systems, transmission, and clean energy - my areas of passion. I am forever thankful to my major advisor, Dr. Thomas Baldwin, whose constant motivation and ongoing conversations during and after research and projects have been invaluable in my academic and personal growth."
Meanwhile, Hasnaeen, from Bangladesh, has focused his research on the electromagnetic fingerprints of radio frequency identification tags. He has published three papers and submitted two others for publication while working in the lab of Assistant Professor Andrew Chrysler. Outside of the classroom, he has served as the President of the Bangladesh Students' Association at Idaho State University since August 2022. Hasnaeen will defend his thesis in the summer before heading to the University of Tennessee Knoxville to pursue a doctorate in Data Science and Engineering.
"In addition to my master's coursework, I was able to take some additional classes on system modeling and machine learning," said Hasnaeen. "When I was interviewing for doctorate programs, the additional courses and the papers I was able to publish helped me stand out compared to other candidates. I'll be working at Oak Ridge National Laboratory as part of my doctoral studies, and it would not have been possible without ISU's academic offerings."
Two other students, Suman Neupane and Zayed Mohammad, will also wrap up their studies over the summer. Neupane will defend his master's thesis before moving into industry and specializing in the radio frequency identification and antenna design fields. Mohammad plans to pursue a career in industry and is also planning to earn a doctorate.
"All four of these students have excelled in their academic careers and are truly a marvelous group to be our first graduates," said Steve Chiu, professor and chair of the electrical and computer engineering department. "They have all worked closely with our faculty on their research and have served as mentors to our undergraduate students. As a department, we congratulate them on reaching this milestone."
The master's of Electrical and Computer Engineering is one of the newest academic programs at Idaho State. Students are able to specialize in power engineering, wireless radio frequency communications, electromagnetics, semiconductor circuit design, and more. Students will also select a concentration in either Electrical Engineering or Computer Engineering for their research work. Faculty have designed the program to allow full-time and part-time students to complete their degrees within a reasonable amount of time. Additionally, a student's degree path can be customized to allow students already working in the field to integrate their in-progress research and development projects.
"Electrical and computer engineers are at the forefront of tackling the most pressing issues facing us when it comes to sustainability, intelligent systems, and safeguarding critical infrastructure, to name a few," Chiu said. "If tackling some of the big challenges of society interests you, I'd encourage you to pursue a career in electrical and computer engineering."
For more information on Idaho State University's Department of Electrical and Computer Engineering, visit isu.edu/ece.

Prospective students can book a campus tour at isu.edu/visit.
---
Categories: