Idaho State University to Offer Bachelor's Degree in Computer Engineering, Master's Degree in Electrical and Computer Engineering Starting Fall 2022
March 14, 2022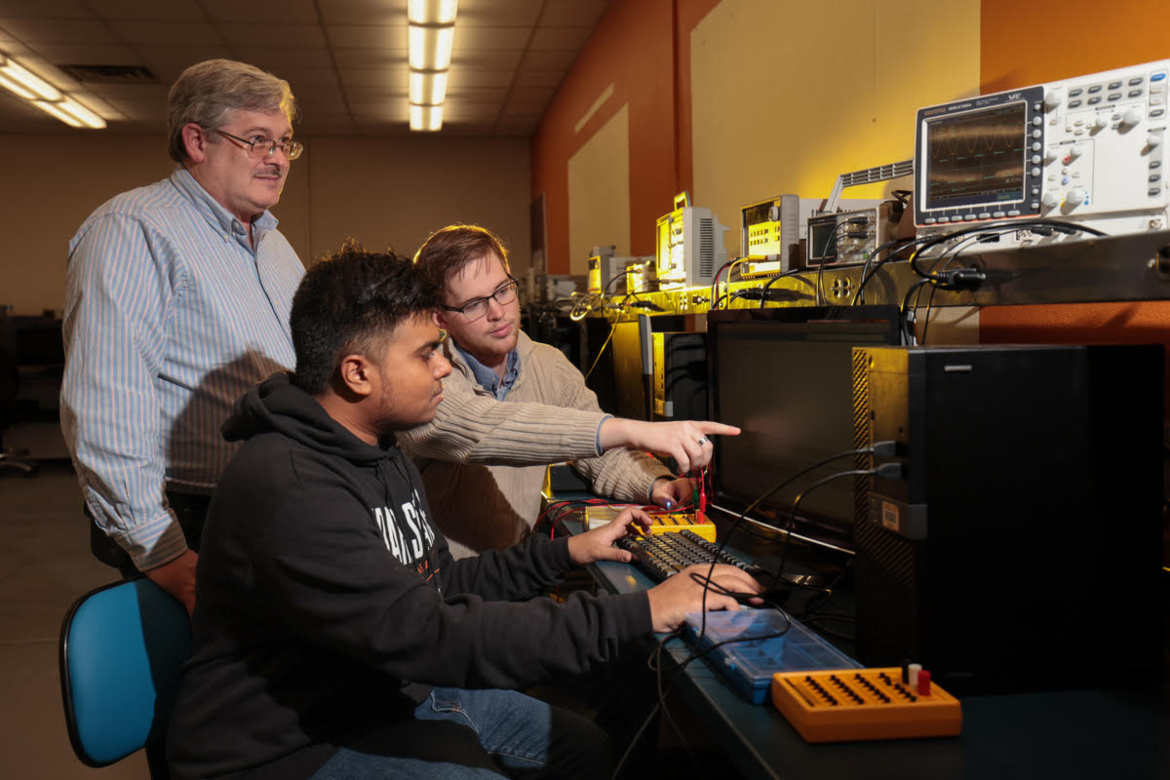 Idaho State University's Electrical and Computer Engineering Department will soon offer a pair of new academic programs.
Starting this fall, students can declare a major in Computer Engineering or join the graduate program and study Electrical and Computer Engineering. Students who opt to pursue a Bachelor of Science in Computer Engineering will focus their studies on hardware and software and the cyber-physical systems that impact critical infrastructure and nearly all the computing devices people interact with daily. Computer engineers are involved in multiple aspects of computing, ranging from the development of embedded microcontrollers, microprocessors, small wearables, large supercomputers, and semiconductor circuit design. This degree also provides an ideal foundation in cyber-physical systems, which are integral to today's intelligent critical infrastructure.
"The BS in Computer Engineering degree expands on our existing ABET-accredited BS in Electrical Engineering degree," said Dr. Steve Chiu, Professor and Chair of the Department of Electrical and Computer Engineering. "This is a degree that provides students with an opportunity to combine electronic engineering and computer science to specialize in computer hardware, firmware, and software."
Students looking to take the next step in their studies with a Master of Science in Electrical and Computer Engineering will be able to specialize in power engineering, wireless radio frequency communications, electromagnetics, semiconductor circuit design, and more. Students will also select a concentration in either Electrical Engineering or Computer Engineering for their research work.
"Given the broad nature of this field, this degree is designed to offer two tracks," Chiu said. "The student works with faculty members to decide on either the Electrical Engineering track or the Computer Engineering track, based on their academic and professional background."
Undergraduate electrical engineering student Calvin Condie plans to pursue an MS at Idaho State University and is excited by the possibilities available with the new degree offering.
"It is fantastic to see that ISU is expanding to fit the demands of its students' needs and the needs of the job market," Condie said. "ISU has always been trying to help their students, and these new degrees show that they are invested in helping students perform better in the workplace and research."
Meanwhile, Shah Md Nehal Hasnaeen is looking forward to being one of the new program's first graduates.
"The MS in Electrical and Computer Engineering program is a perfect fit for me to showcase my abilities and highlight my research achievements," said Hasnaeen.
ISU faculty designed the MS degree to allow full-time and part-time students to complete their degrees within a reasonable time frame. Additionally, their degree path can be customized to allow students already working in the field to integrate their in-progress research and development projects.
"Idaho is an incredible place to call home; a home I was genuinely concerned about having to leave to advance my career in radio frequency engineering," said Brandon Starks, Wireless Systems Engineer at Idaho National Laboratory and 2021 Bachelor of Science graduate from ISU. "Now, I'm able to study the specialties I need to continue to make exceptional contributions to my team at the Idaho National Laboratory."
"The addition of these degree programs give our students opportunities to find rewarding, high-paying jobs in one of the most dynamic fields in all of engineering," said Dr. Scott Snyder, Dean of the College of Science and Engineering. "Computer engineering touches all of our lives every day and will continue to grow in importance to our society and the world."
The demand for computer and information technology-related jobs is anticipated to grow by 13 percent by 2030, and the median annual pay is $91,250, according to the U.S. Bureau of Labor Statistics. The median yearly salary for Electrical and Electronics Engineers is $103,390.
Prospective students with questions about the programs are asked to contact Chiu at stevechiu@isu.edu or (208) 282-3187.
More information on the Electrical and Computer Engineering Department.
---
Categories: