Home Lost, Place Found: The ISU Sports Video Crew and New Opportunities for a Refugee
March 8, 2023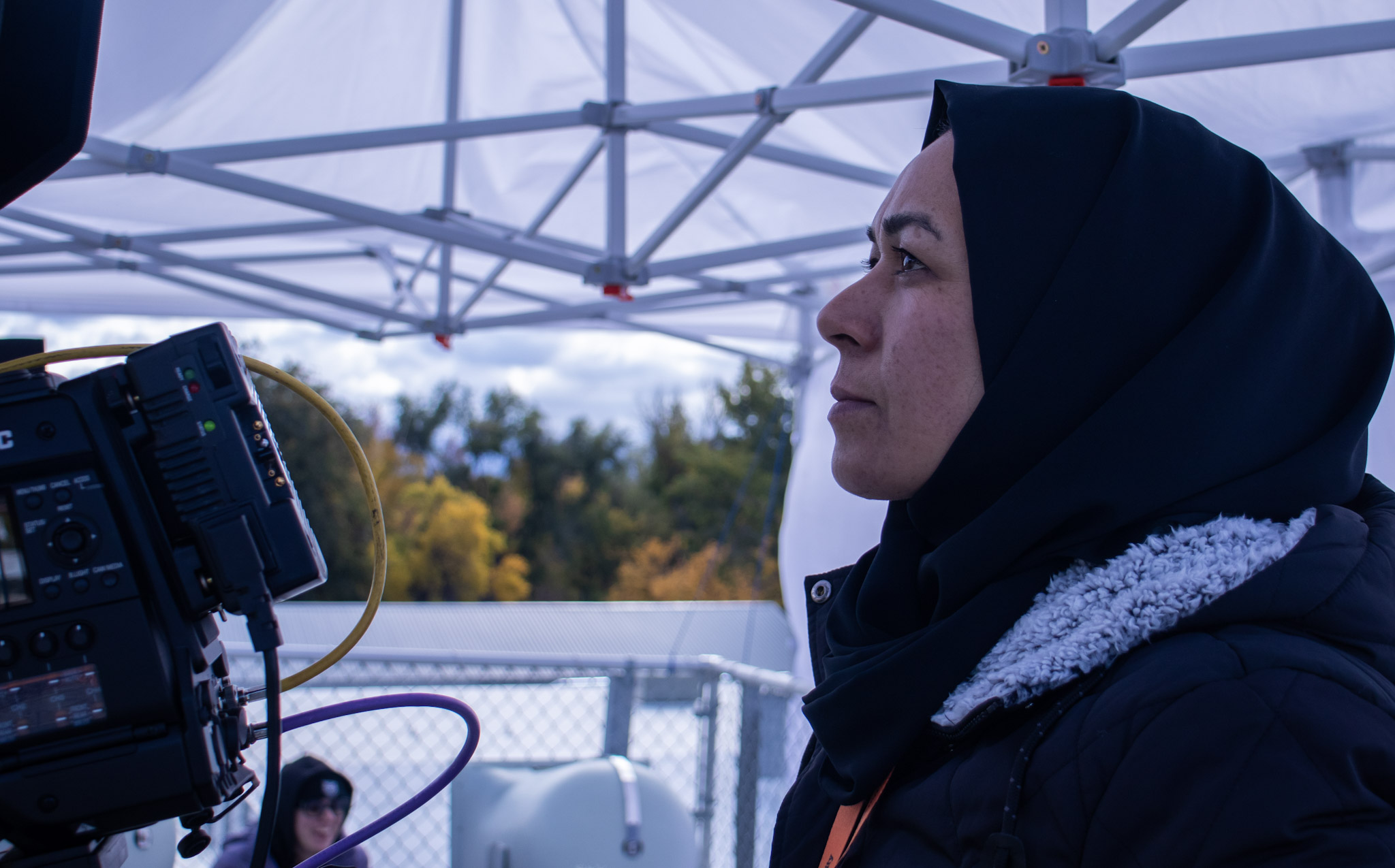 On August 15, 2021, the Taliban entered Kabul and destroyed all the efforts of the people over twenty years. Nasrin Hussaini was from the same group of people and lost all her belongings. She left Kabul with her two daughters and one son with the help of the American government. She and her children were forced to leave their family, life, work, university and all the things they had worked hard for for years.
Hussaini knew that she would face many challenges and says she had prepared herself for a winding path. After eight months in Albania, she entered the United States and arrived in Pocatello on March 21, 2022. With the help of Global Talent, Hussaini has joined the film team of Idaho State University. She sees this as a good opportunity to start working again.
About 10 years ago The Big Sky Conference told every school they had to develop an in-house film production team. John Young, Assistant Lecturer in the Department of Communication, Media, and Persuasion at Idaho State University, is the current leader of The Sports Video Crew, made up of mostly students and ISU alumni, who film the games for BSC streaming on ESPN+ and Disney.
Young says they broadcast about 70 games a year now, about two to three games a week all season.
"We have to produce excellent broadcasts consistently," he said. "We're on ESPN. It's probably the most visible thing for ISU globally."
The Sports Video Crew livestreams to ESPN+ every home football, basketball, women's volleyball, women's soccer, women's softball, and track and field event. Being on the crew is a paid learning experience for students. The crew works with professionals from ESPN and Disney Streaming Services, learning everything they need to know to put on professional live sports broadcasts, including operating cameras, managing audio, directing, handling instant replay, commercial breaks, and working with the announcing talent.
Their work has been featured on Sports Center's Top Ten Plays three times in the past several years.
Young explains that every year they bring in three or four people that they can train. When those students graduate there's room for more.
Young said that "the right thing to do as an educational institution is to give a lot of people a great opportunity."
"By the time they're seniors they get really good. There are very few Division One programs where you can be a student and be the primary camera operator for ESPN."
Matt Roberts helps lead the crew with John Young. He is a former student who studied photography.
"It's great to work with the students, train them, and see them grow. We're giving students training and resume points, and real world experience," Roberts said.
"It becomes a passion," Young said. "It's a labor of love for people.
One of those experiencing these opportunities is Hussaini, who is a primary camera operator. She was a media professional in Tabul and the film crew at ISU gives her the opportunity to work in her trained profession.
"There's a lot of creative camera work and storytelling these students can aspire to," Young says. "Nasrin is absolutely capable of that. We're really glad to have her."
Hussaini, born on March 26, 1981, has a bachelor's degree in judiciary and administration law. In Afghanistan she worked as a producer and director of television programs and as a filmmaker. She started learning cinematography in 1999 and a year later worked with Afghan filmmakers.
She started official work in filming with the Afghanistan National Television in 2006, and from 2008 to 2021 she worked as a producer and director in television. She participated in various filmmaking workshops and has made three short films. One of them, "Silent Scream," won the Best Director Award at the 6th Herat International Women's Festival 2020. The Best Actress was also chosen from this film.
The International Women's Film Festival is supported by forty institutions, both national and international media, and a number of other national human rights and international organizations such as the International Federation for Human Rights.
Hussaini says she is excited to be in the company of those who understand film and image again because she loves her work.
Isabelle Faraci is an ISU alumna who graduated in 2021 with a bachelor's degree in visual communication, video emphasis. Currently she is the graphics coordinator for the crew. She ensures that they have the scoreboard, blurbs from teams, and graphics such as in-game stats. She helps coordinate with the ESPN+ commentator so he can share the information over TV.
Faraci says that the work is really fun, and that it's important.
Rahman is in his second year working with the broadcasting group. He has worked at the Holt Arena since 1994, but he says that being a camera operator gets him more involved with the sports and the teams. His favorite sport to film is women's basketball because he says they always have a good team. He says he was proud to be part of the crew that made the ESPN Top Ten list for Tomkia Whitman's buzzer-beating shot captured by Jake Link on camera.
Alexandra Towsey is a junior majoring in public relations. She got the job on the film crew after talking to the head of the Department of Communication, Media, and Persuasion, Dr. James DiSanza, who persuaded her to try it. She had never done filming before, and is now getting great experience.
"Anytime you get a really good shot and they replay it, that's satisfying," she says.
Megan Cleveland is a sophomore in her second year of sports broadcasting. She is majoring in video communications with a video emphasis. She also started working with the crew at the suggestion of DiSanza.
"I love working with cameras," she says. "It's super fun. My favorite sports to film are soccer and basketball, mostly because those are more active. You're always moving the camera around."
She says she has had many memorable moments on the crew, but one that stands out happened while working the end zone camera.
"They showed one of my shots on the board and the crowd was booing because of the results of the play. John said, "Megan, the crowd's reacting to your shot!" The opposite team really nailed an ISU player and I'd gotten a shot of that. ESPN did the replay in slow motion."
"We produce a very high quality broadcast," Young says. "I think that's a combination of having steady leadership year after year and also that student enthusiasm becomes a real asset to us. We work really hard to elevate our game as high as we can."
Young says that the film crew is getting professional experience, the same as any professional sports film crew.
"The students get to do the exact same thing the professionals are doing. They're getting absolute real world experience. If one of them wanted to be an NFL camera operator at some point, this would be a great starting point."
Young says that many students from the ISU film crew have gone on to media careers. The students that work on the crews can go directly into sports live production or a post-production house.
Hussaini says that two things surprised her about America were the kind people, and that "if someone tries, they can achieve anything because the opportunity will be given to them here."
She would like to become a writer and continue her education in the field of cinema (directing) and work in big film production companies. She knows that she has many abilities and can use opportunities well.
---
Categories: