Using Recycled Tires for Building Construction Research at Idaho State University Shows Promise
September 12, 2023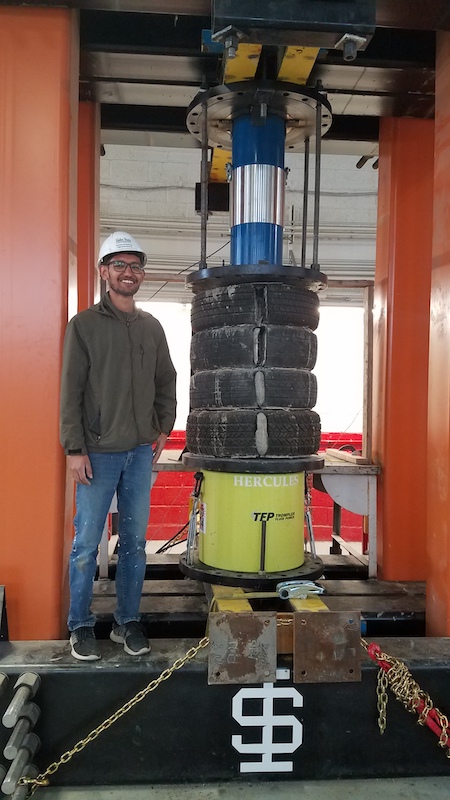 For Idaho State University Associate Professor Mustafa Mashal and Alumnus Mahesh Mahat, the calculations for designing a structure are intensely personal.
Beyond just fractions and figures, the equations can show if a design succeeds or fails or if the structure stays standing or crumbles to the ground. And folks like Mashal and Mahat - who grew up in the earthquake-prone cities of Kabul, Afghanistan, and Kathmandu, Nepal, respectively - know those equations could be the difference between life and death.
"The worst one was the 2005 Kashmir Earthquake," Mashal said. "I was an undergraduate student at Kabul University then, and it was in the morning. I was in a classroom, and as the earthquake started, I thought someone had kicked my chair and saw the radiator pipes rattling against the walls. I ran outside and had a hard time staying balanced. While the earthquake did not cause noticeable damage in Kabul, I knew that many would be affected wherever the epicenter was located."
Mahat was 18 when he experienced a terrifying 7.8-magnitude earthquake in Nepal in 2015.
"Seeing the devastation around me was heartbreaking, as many buildings had crumbled into piles of rubble," Mahat said. "The news of friends and acquaintances who did not make it or were injured added to the distressing atmosphere. It's a feeling I wouldn't wish upon anyone."
For both, their experiences served as a clarion call to civil engineering as a career.
"Witnessing the widespread destruction of the 2015 quake and understanding the potential for civil engineering to contribute positively to society motivated me to pursue this field," Mahat said.
"2005 was the turning point for me to consider pursuing higher education and a structural and earthquake engineering career," said Mashal.
In August 2016, Mashal joined the faculty at Idaho State University after earning degrees at Kabul University, the State University of New York at Buffalo, and the University of Canterbury in Christchurch, New Zealand, and stints working as a consulting structural engineer in the private sector. A year later, Mahat made his way to Pocatello to study as an undergraduate after considering more than two dozen universities.

In 2021, Mahat got to work on a master's degree, and his research would tackle a two-fold idea Mashal had been formulating: could waste tires be used in home construction and repair? Specifically, Mashal thought to use the tires as a form for concrete columns in either new home construction or as a way to shore up an existing building. Waste tires have been studied in both structural and non-structural applications, Mashal said, but not in this way.
"The concept immediately resonated with me as it allowed us to explore sustainability and seismic resilience simultaneously," said Mahat.

For the next 18 months, Mashal, Mahat and Jared Cantrell, research engineer and laboratory manager, put the idea to the test. The team built 12 columns, some with the tires as support, others without; some with rubber aggregate from recycled tires, and others with the more traditional rock as an aggregate. A fundamental component of concrete, aggregates are inert granular materials, such as sand, gravel, crushed stone, or other mineral particles bonded together with cement paste to create concrete. All the columns were placed in a press capable of exerting more than 2.5 million pounds of force on the columns and squeezing the concrete to its breaking point. While the columns were being stressed to their limits, the team could get data on precisely how much force was being placed on the columns up to and the exact moment they failed.
The results of their research was recently published in the journal Sustainability, and in the paper, they detail how the columns using the tires could withstand 50 percent more pressure than the columns that did not use the tires.
Using the tires would provide a second life for some of the one billion discarded each year and offer low-cost construction materials in developing nations like their childhood homes in Nepal and Afghanistan.
"Many developing nations face challenges around natural or human-made hazards, and many of the homes in these countries are not able to withstand forces such as earthquakes and hurricanes due to insufficient foundations," said Mashal. "Consequently, there's almost always a tremendous number of lives lost when a natural event such as a large earthquake strikes in these countries. In the years ahead, I hope to see new practical and cost-effective designs in use and those death tolls become lower and lower."
Mashal says the research team at ISU is planning to follow up on this preliminary research and explore other aspects of using waste tires in other structural applications. They plan on partnering with interested non-profit organizations to help implement these solutions in the developing world.
Mahat graduated with his master's in civil engineering in August 2022, parlaying his experience at Idaho State University into a career as a civil research and development engineer for Blue Planet Systems. The company focuses on using waste carbon dioxide and waste calcium from other industrial processes to manufacture synthetic limestone aggregate for concrete. Blue Planet Systems says their aggregates make "concrete carbon negative, transforming the built environment from a carbon burden to a carbon sink."
"My role is to work with the carbon-sequestered aggregate, study its properties, and research its potential application in the construction industry," Mahat said. "Idaho State University provided me with valuable research opportunities, mentoring, and exposure to cutting-edge technologies, which prepared me for my current role. I look forward to contributing to a greener and more environmentally responsible future through innovative civil engineering practices."
For more information on Idaho State University's Department of Civil and Environmental Engineering, visit isu.edu/cee.
Prospective students can schedule a campus tour at isu.edu/visit.
---
Categories: