Geosciences Student Named to Geological Society of America Rocky Mountain Section Board
August 28, 2023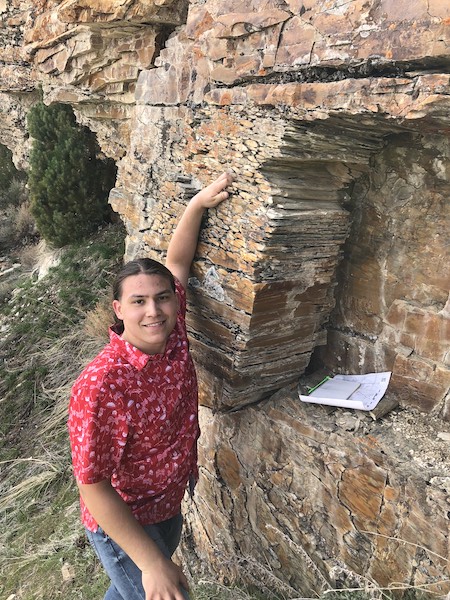 An Idaho State University undergrad has been selected to serve as a representative to one of the largest professional organizations for geologists.
Recently, Tiago Heebner, a junior majoring in geology, was chosen to serve on the management board of the Geological Society of America Rocky Mountain Section as the Undergraduate Student Representative. In the role, he'll provide a student perspective to the group, travel to GSA conferences around the nation, and meet with leaders outside the geology field to discuss the intersection of their work and geosciences. Formed in 1948, the Geological Society of America Rocky Mountain Section consists of more than 4,000 members in academia, government, and industry from Idaho, Colorado, Montana, New Mexico, North Dakota, South Dakota, Utah, Wyoming, and northern Arizona as well as the Canadian provinces of Alberta and Saskatchewan and the state of Chihuahua in Mexico. Heebner was nominated for the post by Dave Pearson, professor of geosciences and chair of GSA's Rocky Mountain Section, and the management board voted to confirm his nomination.
"I'm excited to provide my input to the group, contribute to scientific discussions, and network with members of the geosciences community from around the world," said Heebner. "It's an honor to have been selected, and it reassures me that I am, in fact, doing well at what I love."
"Congratulations to Tiago on his new role with the Geological Society of America Rocky Mountain Section," said Pearson. "I am happy he welcomed the opportunity to expand his service beyond ISU. Tiago will be able to provide ideas and feedback about how the Section can better serve students and beyond."
Heebner is no stranger to lending a hand at Idaho State. He currently serves as the Vice President of the ISU GeoClub. Previously, he was a member of the Department of Geosciences Student Advisory Board, served as a teacher's assistant for Assistant Professor Carrie Bottenberg's Dynamic Earth class, assisted Associate Professor Shannon Kobs Nawotniak with her Science and Engineering Exploration Camp session with local youth, and worked as a Career Path Intern in the department's mineral separation room.
"Ever since I was a kid, I was always fascinated by rocks and minerals and how diverse they are," Heebner said. "I would also obsessively check out books from the library about things like volcanoes, caves, and landslides. I have an insatiable desire to understand how the world - and other planetary bodies - work. I encourage anyone who is even the slightest bit interested in the Earth and its processes to take a couple of geosciences classes and discover the same joys that I get from learning about this beautiful planet that we all live on."
For more information on ISU's Department of Geosciences, visit isu.edu/geosciences.
Prospective students can schedule a campus tour at isu.edu/visit.
---
Categories: