A Living Canvas: ISU Welcomes Visiting Artist Brian Collier's Ecological Exhibit
August 24, 2023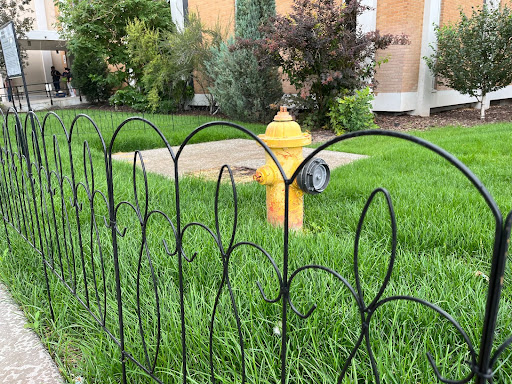 A patch of lawn at ISU is being un-lawned to welcome native plants and pollinators.
On the Pocatello Idaho State University campus, a small fenced-off patch of lawn by the Fine Arts building has been left unmowed.
This is part of a project hosted by ISU Department of Art and artist Brian D. Collier, Professor of Art & Design at Saint Michael's College, Vermont.
Unlawning America, an innovative art and ecology initiative, is making waves across the nation as it challenges the traditional perception of lawns and advocates for the transition to pollinator-friendly meadows. This ongoing project, led by Collier, aims to reshape the way we view and interact with our landscapes, emphasizing the ecological and cultural impact of lawns.
In spring 2024, Collier will serve as a visiting artist for the Department of Art at Idaho State University, offering students and the local community an opportunity to engage with the project's principles and ideas firsthand.
Shawn Edrington, Assistant Professor of Art, says that the department decided to have a theme to guide their selection process from year to year, with their first theme being "Art and Ecology." They came across Collier's work in the book Art & Ecology Now.
The project, often referred to as "A Call to Inaction," encourages individuals, communities, and institutions to reconsider the necessity of excessive lawn maintenance and explore the benefits of embracing a more natural approach. Unlawning America prompts people to ask themselves vital questions: Is constant mowing necessary? Are lawns actively used for recreation, or are they maintained due to societal pressure? By sparking these conversations, the project aims to bring about a shift towards sustainable practices.
Collier's innovative strategies offer practical steps for individuals interested in transitioning their lawns into pollinator-friendly meadows. Rather than promoting the elimination of all lawns, the project focuses on lawns that aren't actively used for recreation, aiming to transform them into vibrant habitats for pollinators while reducing air, water, and ground pollution. This transformation not only conserves resources but also enhances local ecosystems and improves overall health. As part of Collier's visit to ISU in the Spring, a site was selected on the ISU campus, near the Fine Arts building, to become un-lawned.
Dandelions, often considered weeds in manicured lawns, have emerged as a symbol of the project's message. Collier highlights the numerous benefits of dandelions, both as a food source and as a natural fertilizer for lawns. These "weeds" can play a crucial role in promoting biodiversity and supporting pollinators during the spring.
Collier's extensive research forms the backbone of the Unlawning America project. Influenced by a range of historic and contemporary sources, including artists, nonprofit organizations, activists, and governmental programs, the initiative bridges art, ecology, and sustainability. Collier's research-based approach draws attention to the intersection of the human and natural worlds, fostering a deeper understanding of the ecosystem we inhabit.
To learn more about the Unlawning America project, visit the project's website at briandcollier.net or contact Brian D. Collier at bdcollier@societyrne.net.
For more information about Collier's upcoming visit to ISU please contact the Department of Art at art@isu.edu, 208-282-2361.
---
Categories: