ISU School of Performing Arts to Present: "The Cherry Orchard"
March 17, 2022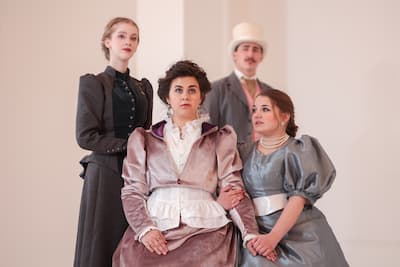 Idaho State University's School of Performing Arts will present "The Cherry Orchard" on April 15, 16, 21, 22, and 23 at 7:30 p.m. in the Beverly B. Bistline Theatre in the L.E. and Thelma E. Stephens Performing Arts Center.
In the wake of the liberation of the serfs, an aristocratic Russian landowner returns to her family estate, where she learns it is about to be auctioned to pay for the mortgage, along with the family's beloved cherry orchard. "The Cherry Orchard," by Anton Chekhov, dives into themes of cultural futility, materialism, and the decline of aristocracy.
"'The Cherry Orchard' centers on social change, mid-life scrutiny, and hope that the next generation will create a better, more prosperous world for themselves. These themes and characters are just as pertinent today as when Chekhov wrote it in 1903 when Russia was on the brink of another revolution," Show Director Vanessa Ballam said. "I feel that Chekhov wrote this play as a requiem for an old Russia in the process of dying with a new Russia breathlessly waiting but still powerless to be born. The orchard itself is a symbol of mobility, feudal society, aesthetic sensibility, sublime beauty, and represents something exquisite that the family is unwilling to let go of which ultimately leads to their downfall."
Tickets are available now at the ISU box office, by calling box office manager Julie McKnight at (208) 282-3330, or online at isu.edu/tickets. Masks are available for all patrons and staff. Ticket prices range from $5 to $14. If you are a Flex Pass holder, please call ahead to reserve your seat.
---
Categories: