Idaho State University Mourns the Passing of Bruce Loebs
April 13, 2022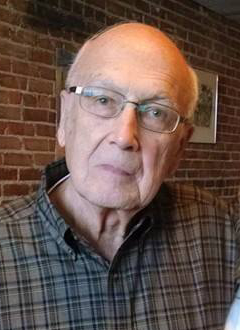 Bruce Loebs, Professor of Rhetoric and American Public Address, and longtime Chair of the Department of Communication, Media, and Persuasion, died on Saturday April 9.
Bruce Loebs received his Ph.D. from the University of Oregon. After five years of teaching and coaching debate at California State University, East Bay, he came to Idaho State University as the Chair of the Communication and Theatre Department in 1969. He held this position for 36 years, having served longer as a department chair than anyone in the history of Idaho State University. Bruce continued teaching full-time until his retirement in 2015.
During his tenure as chair, he shepherded the department through many changes. He integrated the Mass Communication Department into Communication and Theatre in the mid-1980s and administered it until it became its own department in the 1990s. He helped the Theatre program become its own department when it moved into the L.E. and Thelma E. Stephens Performing Arts Center. He was responsible for restoring oral communication to ISU's general education curriculum.
Throughout his career at Idaho State, Bruce Loebs taught COMM 1101, Argumentation, American Public Address, and the Rhetoric of Hitler and Churchill. According to Nancy Legge, who teaches rhetoric in the Communication, Media, and Persuasion Department, Aristotle's works were central to Bruce's teaching and research. Legge said, "he used Aristotle's ideas to understand and explain how Hitler used rhetoric to sway audiences and sell evil to the German people. Bruce was probably the world's foremost expert in the rhetoric of Adolf Hitler." Bruce wrote several articles about Hitler's rhetorical strategies. Perhaps his most significant published work was an examination of the U.S. decision to drop the atomic bombs on Japan, "Hiroshima & Nagasaki: One Necessary Evil, One Tragic Mistake," printed in the public affairs magazine, Commonweal.
Bruce was active in conservative political circles in Idaho throughout the '70s and early '80s as a respected consultant and speech writer.
Prior to retirement, and for several years after, Bruce taught in the Idaho State University New Knowledge Adventures program, where he offered six-week courses on the rhetoric of World War II, the Vietnam War, or the American Revolution. He would pack the room with 40-50 community members eager to hear from a true expert.
Aside from his family, nothing was more important or a more defining element of Bruce Loebs' life than teaching. "He was an exceptional lecturer who had a passion for getting his material right.," said James DiSanza, Chair of the Communication, Media, and Persuasion Department. "I would often find him in his office the day before class, updating his notes to reflect a new book he had just read. But he also had a passion for connecting with each and every student and working to make the material he taught relevant to their lives."
Bruce would stay after class for however long a student needed help them with the material. He would have hours-long conversations with students in his office, discussing course material, politics, and current affairs. He loved academic life because it allowed him to improve the lives of the next generation.
Holly Kartchner, a former student and the Director of Recruitment and Retention for the ISU College of Arts & Letters said, "As a non-traditional student, Dr. Loebs inspired me to pursue my education. He believed in me and I would have done whatever I could to fulfill his expectations. He changed my life."
Jeremy Towsey-French, a former student and business owner in Oregon, noted that "Dr. Loebs inspired me with his immense wisdom, combined with his commitment to rigor, clarity and integrity—core tenets that defined my life at ISU and all the years since graduation."
Bruce is survived by his wife Neila, his son Grant, daughter Claire, and his grandchildren, John, Sarah, Nathaniel, Ryan, and Amanda.
---
Categories: