Idaho State Nuclear Engineering Department Honors Volunteers
March 14, 2022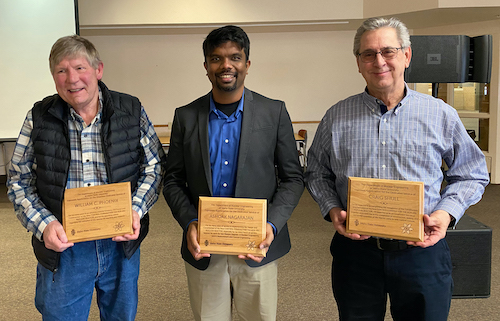 Idaho State University's Nuclear Engineering Department is saying thank you to volunteers who helped keep ISU's reactor running.
Recently, department faculty and staff presented Ashoak Nagarajan, Craig Shull, and William Phoenix with commemorative plaques recognizing their work on building the reactor's new control console. The original vacuum tube configured control console had outlived its useful life, and replacement parts became increasingly difficult to find. Thanks to their volunteer efforts, a new console was built that features new circuitry and utilizes solid-state relays, eliminating the need for antiquated vacuum tubes. Additionally, the new console is more reliable and easier to maintain.
"The long-term dedication of these individuals in seeing this project to completion demonstrates their passion for nuclear engineering education," said Dr. Chad L. Pope, Chair of the Nuclear Engineering Department. "Without their experience and knowledge - coupled with their willingness to volunteer hundreds of hours - we would have never been able to complete this vital project."
Idaho State University has been home to an Aerojet-General Nucleonics nuclear reactor, commonly known as AGN-201, since it was donated by the Idaho National Laboratory in 1965. AGN-201 is a low-power, 5 watts reactor used for both academic and industrial research/experiments and various testing and training purposes. It is located in the Nuclear Science Laboratory on the lower level of the Lillibridge Engineering Building.
"We are poised for another 50 years of operation," Pope said. " I am extremely grateful for Ashoak, Craig, and Bill's willingness to ensure sustained operation of ISU's AGN-201 reactor and the success of ISU's Nuclear Engineering Department."
ISU is one of only 25 universities in the nation with a nuclear reactor on campus.
For more information on ISU's Nuclear Engineering Department, visit isu.edu/ne.
---
Categories: