Kevin's Run for Funds Playlist
August 29, 2022

Prior to last year's inaugural Run for Funds event, Kevin shared his running playlist with all participants.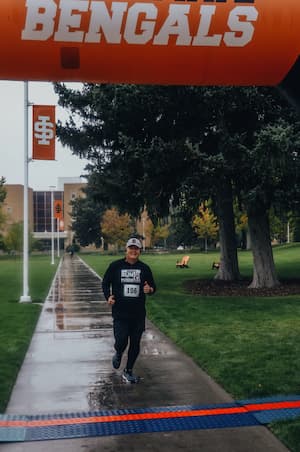 Some participants tried to add all of the songs up in hopes of determining his overall pace (and, quite frankly, whether they could beat him in the 5K). Remember, Kevin will personally add $10 to the scholarship fund for every employee who completes the race ahead of him. Much to the disappointment of many, Kevin's playlist doesn't actually match his 5K running time. However, you once again asked for it, so here's a copy Kevin's 2022 playlist.
Kevin made three changes to his playlist this year. Can you spot the differences?
The first ten Idaho State employees to email president@isu.edu correctly noting the three changes will receive a $25 gift card to the University Bookstore. In addition to being an ISU employee, you must also be registered for the race at the time of sending the email to be eligible for one of the ten gift cards.
Kevin's 2022 Playlist
Jump, by Van Halen

What I like About You, by The Romantics

Twistin' the Night Away, by Sam Cooke

Boulevard of Broken Dreams, Green Day (edited)

The Middle, by Jimmy Eat World

All the Small Things, by blink-182

I Wanna Be Sedated, by The Ramones

Goodbye to You, by Patty Smyth

Video Killed the Radio Star, The Buggles

You Might Think, by The Cars

Burning Love, by Elvis Presley

Breakfast at Tiffany's, by Deep Blue Something

You Make My Dreams Come True, by Hall and Oates

Heat Wave, by Martha Reeves and the Vandellas

Kevin's Run for Funds is a 5K run/walk event that raises money for student scholarships that began in 2021. This year's race will take place on Saturday, September 17, beginning at 8 a.m. at the Stephens Performing Arts Center. All net proceeds will directly go into a permanent scholarship endowment. Registered participants will receive a t-shirt, race bib, and a ticket to the home football game later that day.
We'd like to acknowledge and extend a huge thank you to Lookout Credit Union and Portneuf Health Trust, our two gracious sponsors. For more information, visit isu.edu/runforfunds.
---
Categories: