Dr. Arunima Datta Named 2021 East Idaho Woman of Influence Honoree
December 16, 2021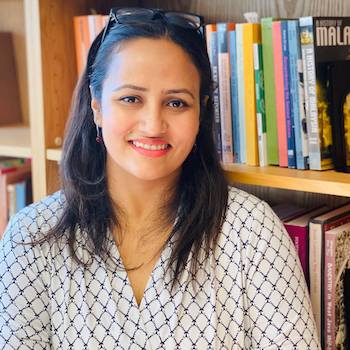 Arunima Datta, assistant professor of history, was awarded the Idaho Women of Influence award in the education category at the third annual Women of Influence Awards Banquet. The banquet was sponsored this year by title sponsor Idaho Power, presenting sponsor Idaho National Laboratory, category sponsor Silver Star Communications, Health West, Inc., the Idaho State Journal, the Rexburg Standard Journal and the Post Register, which are owned by Adams Publishing Group - East Idaho and Utah.
According to the Idaho State Journal printed insert: "Her first book, Fleeting Agencies: A Social History of Indian Coolie Women in British Malaya, was published this year by Cambridge University Press and received the Whaley Prize from the National Women's Studies Association. She is now in the process of writing her next book, called Waiting: Indian Traveling Ayahs in Britain, which examines the lives of traveling nannies (ayahs) in the British Empire in the late 19th and early 20th centuries.
In further recognition of her scholarship, Datta was elected a fellow of the UK's Royal Historical Society, one of the most prestigious and selective historical organizations in the world. This year alone, she has been invited to give virtual lectures at several international institutions and was featured on the popular BBC-Sounds podcast. She also won a research grant from the Idaho Humanities Council and was appointed the new associate editor for the scholarly journal Gender and History.
Datta is committed to making a university education a meaningful and beneficial experience for all students. To that end, she was one of the first instructors at ISU to teach in the ROAR program, a first semester, first-year course designed to equip students with the tools and skills to be successful in college.
Along with broadening the horizons of ISU students, Dr. Datta is also a strong advocate for the university's connections with local high school teachers and students. Dr. Datta works to strengthen the ties between Eastern and Southeastern Idaho's local communities and the university, making a college education more accessible to more students."
---
Categories: