Parker Pratt named January ISU Career Path Intern of Month
January 9, 2020

POCATELLO – Parker Pratt, a senior pursuing a degree in music through Idaho State University's School of Performing Arts, has been honored as the January ISU Career Path Intern of the Month.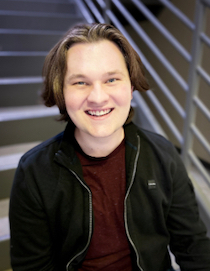 Pratt has been working as a career path intern within the Stephens Performing Art Center since the beginning of fall semester. During his internship, Pratt has assisted with graphic design for various events, written press releases and even helped execute the first-ever ISU chorus flash mob.
Most recently, Pratt helped organize an "After Glow" event, which occurred directly after the initial performance of "The Best Christmas Pageant Ever: The Musical." This event was created to bring the community, actors, and the production and theatre staff together to celebrate opening night.
"Parker been incredible at creating dynamic designs for promotions," said Meg Stover, business and promotions manager for the ISU School of Performing Arts and Pratt's supervisor. "Even with a busy and stressful semester, he comes to work with a smile on his face and an excellent attitude."
Outside of his internship and school responsibilities, Pratt also runs his own graphic design company, PM Designs.
"This internship has really opened me up to many career possibilities," Pratt said. "Not only did I have the courage to start my own company after gaining skills within my internship, but I also realized that I can channel my creative side through both music and graphic design."
Originally from Boise, Pratt will graduate in May 2020 and plans to move to Salt Lake City to begin his professional career. In his spare time, Pratt enjoys reading and being outdoors.
---
Categories: