Math, physics, philosophy and writing all have a place in Alec Lepisto's world
February 27, 2020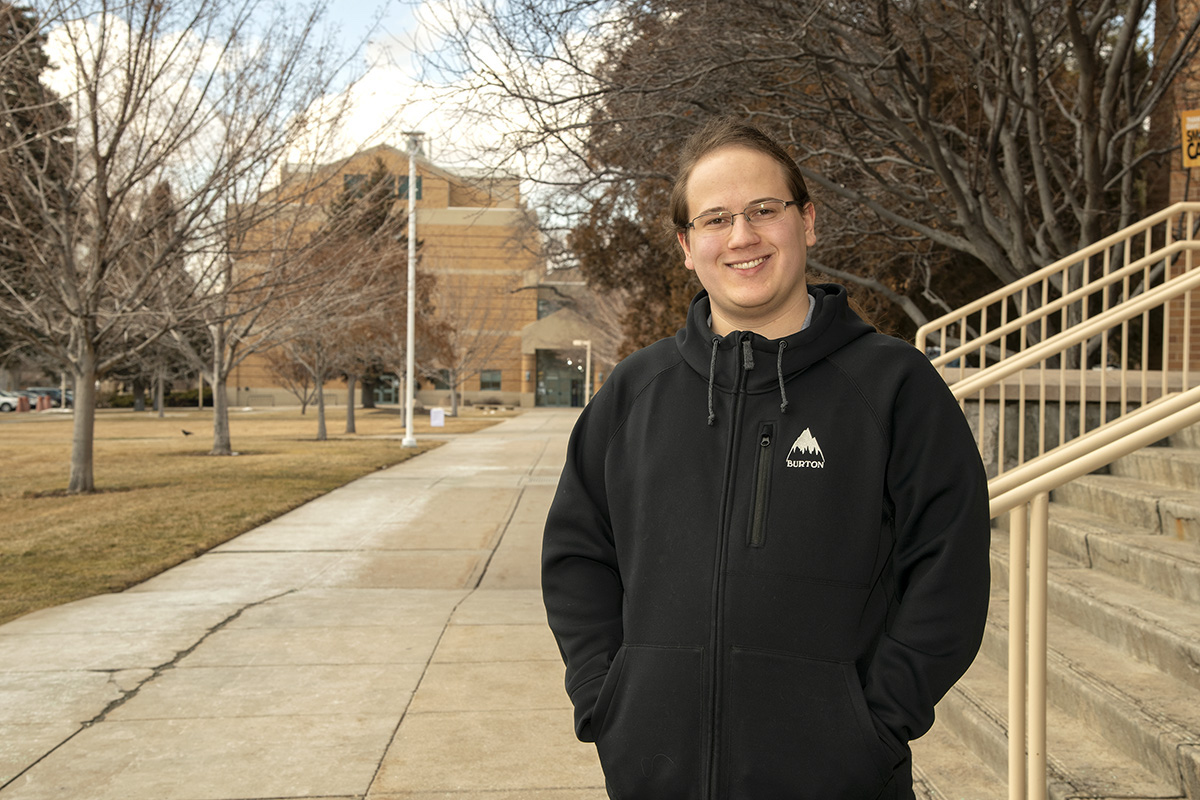 POCATELLO – Senior Idaho State University Honors Program student Alec Lepisto believes in living a well-rounded life and his academic and private pursuits show he walks his talk.
Although he is double-majoring in physics and math, Lepisto has a literary side. Take for example, his writing of the tale of two women having a conversation about the person they have just killed. This 2,000-word piece of fiction titled "Fugue" will be published in the 2020 edition of Scribendi, a nonprofit, annual print publication by the University of New Mexico Honors College that publishes creative work from undergraduate Honors students from more than 900 institutions from across the country. Scribendi is a literary journal, not a scientific one, soliciting works of poetry, creative nonfiction, short fiction, foreign language, visual art, photography and open media.
Lepisto, who was editing the University Honors Program newsletter and was an Honors Envoy last semester, was encouraged by his Honors advisor to submit a short story to the publication. He did and "Fugue" received the Western Regional Honors Council (WRHC) Award for Short Fiction
"The story itself is kind of a weird thing," he said. "My preferred way to describe it is 'existentialist fiction.' It explores a lot of the existential themes of freedom and choice."
Lepisto said he loves physics and math and plans to pursue a Ph.D. in physics, but he loved English classes in high school and wishes his "double majoring" and 18-credit load per semester left him with the time to take college literature classes.
"I miss that (taking literature courses), but I still enjoy writing and I write in my free time," he said. "I find it very important to have a well-rounded experience and view in life. There are people who dedicate their life into working in one specific area and have done amazing work there, but at some philosophical level I am hesitant to call that the ideal life. It is important to incorporate everything."
Speaking of philosophy, that is another area Lepisto is interested in and he's found the time and effort to add philosophy as a minor to his already heavy course load.
"I love philosophy, and it has always been a lifelong hobby and interest of mine," said Lepisto, who is an ISU Presidential Scholar and a member of the ISU Philosophy Club. "At its core it is just deep thinking about interesting questions. There are ideas and theories I feel myself naturally drawn to, and before studying philosophy I had my opinions about them, but I like to see arguments supporting them. Other stuff I never imagined that I would be drawn to."
Pursuing two majors has provided its challenges to Lepisto.
"The majors line up well at the beginning but when you're about where I am now, you need to take a couple of 400-level classes of each per semester," Lepisto said. "It can get pretty heavy. Fortunately, I am able to think about them separately. Exhaustion from one doesn't lead to exhaustion in the other."
And though he wants to be a physicist, that could play out differently than a strictly scientific calling.
"I do love my science fiction," Lepisto said. "I'm not against becoming an Isaac Asimov, getting a Ph.D. in physics and becoming a successful author if that is the way things go."
"Alec is a phenomenal example of the Renaissance-type student that we aspire to in the Honors Program at ISU," said Shannon Kobs Nawotniak, director of the University Honors Program and associate director of volcanology. "He's a published author, a researcher in Dr. McNulty's lab, a delightful student, and an active member of the campus community."
---
Categories:
College of Arts and LettersCollege of Science and EngineeringStudent LifeUniversity News