ISU's Mashal among Center for Advanced Energy Studies inaugural cohort of CAES Fellows
POCATELLO – The Center for Advanced Energy Studies (CAES) has selected Idaho State University Associate Professor of Civil and Environmental Engineering Mustafa Mashal as one of six new CAES Fellows.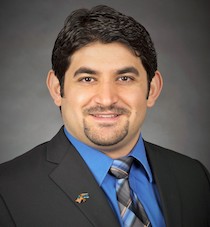 The six members of this diverse group – including a researcher with the U.S. Department of Energy's Idaho National Laboratory and faculty members from Boise State University, ISU and University of Wyoming – have demonstrated extensive engagement in the CAES community, collaborating with partners at INL and the CAES universities in at least one of the focus areas outlined in the CAES Strategy.
Each of the fellows has exhibited impressive leadership: mentoring students, leading research projects and workshops, representing their organization at CAES events, and taking the initiative to create stronger bonds among the members of the CAES consortium. Fellows serve two-year appointments during which they are provided with resources and opportunities to drive further collaboration among the CAES entities.
"I am deeply honored to have been selected as one of the CAES Fellows," Mashal said. "I have been working with CAES since 2017. The partnership with CAES has provided many research opportunities for myself and the students in my research group."
CAES is a research, education, and innovation consortium consisting of INL and the public research universities of Idaho and Wyoming: BSU, ISU, UW, and the University of Idaho. CAES was designed to harness the power of collaboration among its members – representing 65,000 students, 8,000 researchers, 1,100 degrees/certificates and nearly $2 billion in annual research funding. From its headquarters in Idaho Falls to spoke locations across Idaho and Wyoming, CAES leverages its collective expertise to inspire innovation and impact, empowering students, faculty, researchers, and industry to accelerate solutions to complex energy issues. The CAES Fellows initiative was launched this spring to advance this effort.
"Celebrating the CAES 10th anniversary in 2019, we had the opportunity to reflect on phenomenal talent across the CAES members that have contributed to our collaborative mission," said CAES Director Noël Bakhtian. "We're excited to highlight these individuals and provide them with opportunities to continue leveraging capabilities and expertise across CAES to accelerate science and technology discovery and grow the next generation of energy leaders.
Mashal participated in several collaborative projects with INL and the CAES universities, including a project he leads that recently received a $1.1 million grant from the Idaho Global Entrepreneurial Mission initiative. CAES provided seed funding for the project, which calls for the construction of a Disaster Response Complex for research, certification, and training of first responders. A participant in the CAES Summer Visiting Faculty Program in 2019 and a current member of the Advanced Manufacturing and Energy Policy working groups, Mashal is also working with the CAES operations team to pilot a training program for CAES students that is modeled after Battelle's Laboratory Operations Supervisor Academy.
"I have discovered new research areas where I can use my expertise and have already worked on several projects with researchers from INL and CAES," Mashal said. "I am planning to build on our collaboration with CAES in the upcoming years and be one of the ambassadors for CAES at ISU."
Mashal received his doctorate in civil engineering, with an emphasis in structural and earthquake engineering, from the University of Canterbury in New Zealand.
Other CAES Fellows named this year include Ron Boring, Idaho National Laboratory; Mike Borowczak, UW; and Brian Jaques, Lan Li, and Claire Xiong from BSU.
---
Categories: