ISU Rupp Debate Squad will host a public debate on universal basic income Feb. 11
February 7, 2020
POCATELLO – Idaho State University's award-winning Rupp Debate Squad will host a public debate, Tuesday, Feb. 11, at 6 p.m. in the Pond Student Union Building Wood River Room.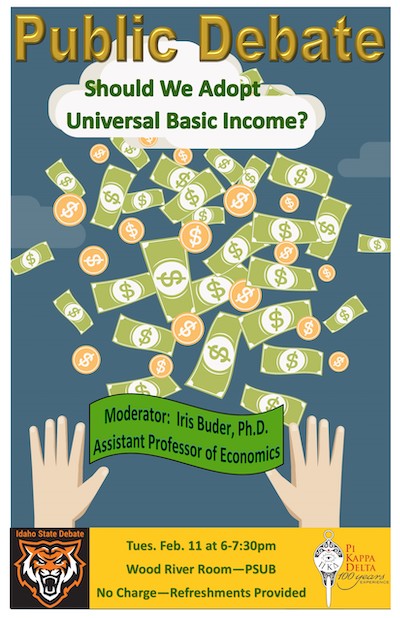 There is no admission fee, and all are invited.
Students will debate adopting Universal Basic Income. According to the Stanford Basic Income Lab, "Universal basic income takes on distinct forms in different historical and geographic contexts. It varies based on the funding proposal, the level of payment, the frequency of payment, and the particular policies proposed around it. Each of these parameters are fundamental, even if a range of versions still technically count as UBI (a universal, unconditional, individual, regular and cash payment)."
The debate is a modified "British Parliamentary" style, featuring one pair of speakers on each side of the issue. The sides for the debate were determined by a coin toss, and teams have been preparing for several weeks. Each team will provide an opening position – or case – from their research and after both teams have made initial arguments, each side then takes turns answering cross-examination by the opposition. A unique feature of these debates is that the team engages audience members in the cross-examination questioning with the aid of a Moderator. Short final presentations will summarize each side's position.
The moderator for the debate is Iris Buder, ISU assistant professor of economics. Buder teaches undergraduate courses in the economics of health care, macroeconomics, microeconomics and economic issues.
"We are seeking to expand the dialogue on this issue, and explore both sides of the topic," said Nick Grunig, the team's past president and event organizer.
The Rupp Debate team presents public debates periodically. The most recent function, including those who livestreamed the debate, was viewed by nearly 400 local and regional participants in person and online.
The Rupp Debate Team is supported by James A. and Sharon E. Rupp, The College of Arts and Letters, the Department of Communication, Media, and Persuasion, and the Associated Students of ISU.