ISU Professor Hale lands two NSF grants to study stream carbon cycles at Gibson Jack Creek, SLC areas
July 28, 2020
Andrew Taylor, Assistant Director of Marketing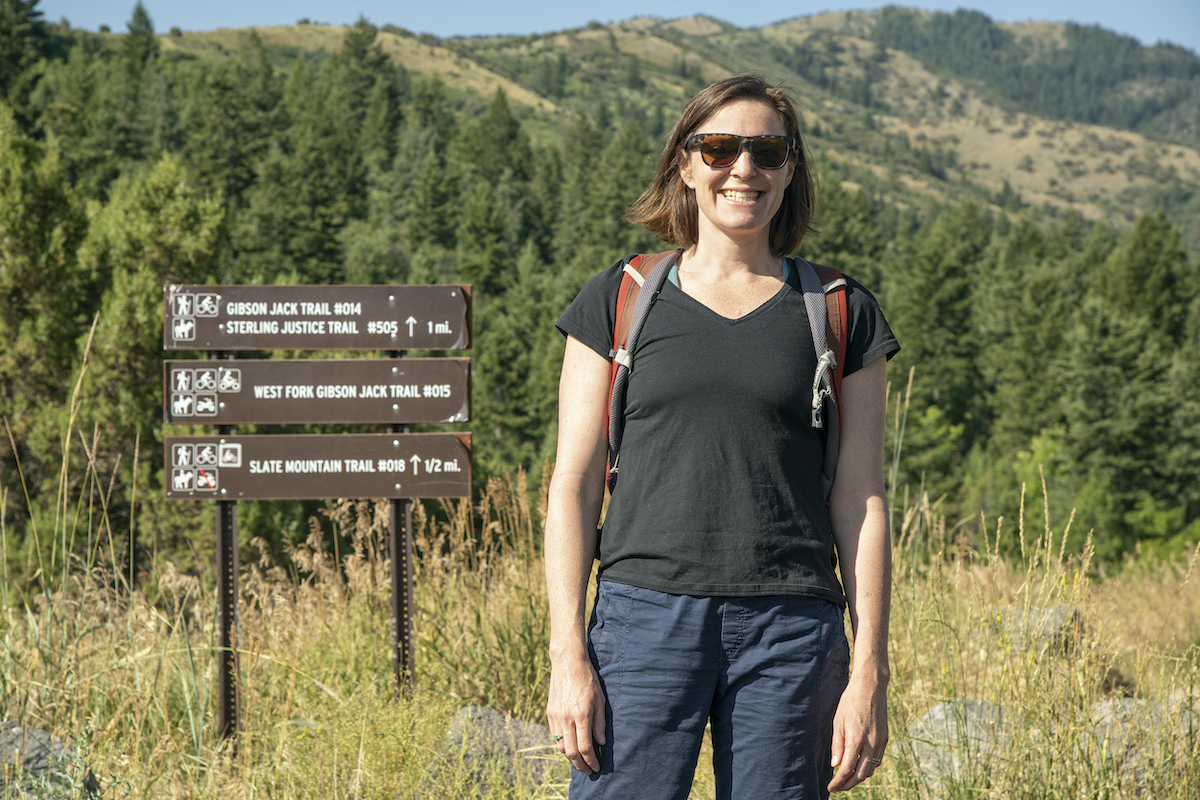 POCATELLO – Researchers at Idaho State University are studying Gibson Jack Creek, located at a well-known and popular outdoor recreation area just outside of Pocatello, and a Salt Lake City-area stream to get a better insight on how streams cycle carbon – which has large implications for understanding climate change.
The carbon cycle is what scientists describe as how carbon, a life-sustaining element, transfers back-and-forth between the atmosphere, oceans and organism, and understanding this cycle is key for maintaining a stable climate and carbon balance on earth. The role streams play in understanding the carbon cycle has not received enough attention, according to Rebecca Hale, an assistant professor in the ISU Department of Biological Sciences.
"In just the last 10 or 15 years have we really realized just how important streams are for carbon cycling," Hale said. "So when we think of net ecosystem production (basically primary production that isn't respired), about half of that ends up in streams. Streams end up being really important even though they only cover about one percent of the land surface."
"If we assume," she continued, "that carbon is just being stored on the land surface and it is really being exported by streams, then when we have more carbon emissions we are going to get the mass balances all wrong."
Hale has received two National Science Foundation Grants from its Ecosystem Science Program to study the carbon cycle in streams. Her focus is helping to correct some poor assumptions about how streams cycle carbon, namely that streams have water in them all the time and that people don't have influence on what is going on in streams.
"These two projects are really addressing those two big blind spots in our understanding of how streams process organic matter that they are ultimately receiving from terrestrial systems," she said.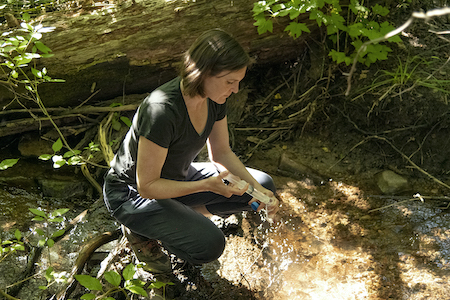 The first grant, which she and other ISU researchers have already started on, is funded for $200,000 and it focuses on streams with intermittent flow, meaning portions of them don't always have water and dry up. That research effort is occurring on Gibson Jack Creek and the co-investigator on it is Sarah Godsey, ISU geosciences associate professor.
"In the past, when researchers have studied the role of streams in the carbon cycle, they ignored streams that don't have water in them all the time," Hale said. "However, over 50 percent of streams dry occasionally so if you are ignoring half the streams you aren't getting an accurate picture."
The second NSF grant is for $1.4 million and is much larger in scope and it focuses on streams in five urban areas across the United States, Salt Lake City, Boston, Atlanta, Miami and Portland, Oregon.
"Studies have assumed people don't have any influence on what is going on in the streams (with regard to carbon) and this is a bad assumption," Hale said. "A lot of stream systems are indirectly touched by human activity like global climate change, but a lot of them are directly influenced by human activity, largely through agriculture, but also by urbanization and patterns of development."
ISU's portion of the second grant is $934,000 and it is the lead institution on this collaborative project with the University of Massachusetts, Florida International University, University of Georgia, Portland State University and the U.S. Geological Survey. ISU researchers will focus on streams in the Salt Lake City area and researchers will be getting out next spring to start this study.
"A lot of the nitty-gritty aspects of the projects are similar," Hale said. "In both of these projects, we are seeing how intermittence and urbanization affect the sources of organic carbon, the fluxes of organic carbon and the processing of organic carbon in streams through these very dense spatial samplings and linking that back to landscape characteristics to understand how patterns of development are affecting carbon sources and processing, and how patterns of stream flow intermittence are affecting patterns of organic matter concentrations and sources."
In both projects, the researchers are also using high-frequency water-quality sensors in different locations to understand patterns of dissolved organic carbon fluxes and trying to connect that information to other temporal patterns like stream temperature and discharge.
"Streams only cover a very small proportion of the land surface," Hale said. "It is really important to understand what they are doing so that we can get carbon budgets right."
The official titles of Hale's current NSF grants are: "Collaborative Research: Scales and drivers of variability in dissolved organic carbon across diverse urban watersheds," referring to the Salt Lake City-area study, and "Network-scale streamflow intermittence controls on dissolved organic carbon concentrations and processes," referring to the Pocatello-area study.
Bottom photo information: Professor Hale taking a water sample at Gibson Jack Creek.
---
Categories: