ISU Pinyon Jay Press to host lecture, workshop with printmaker Andrew Huot
March 2, 2020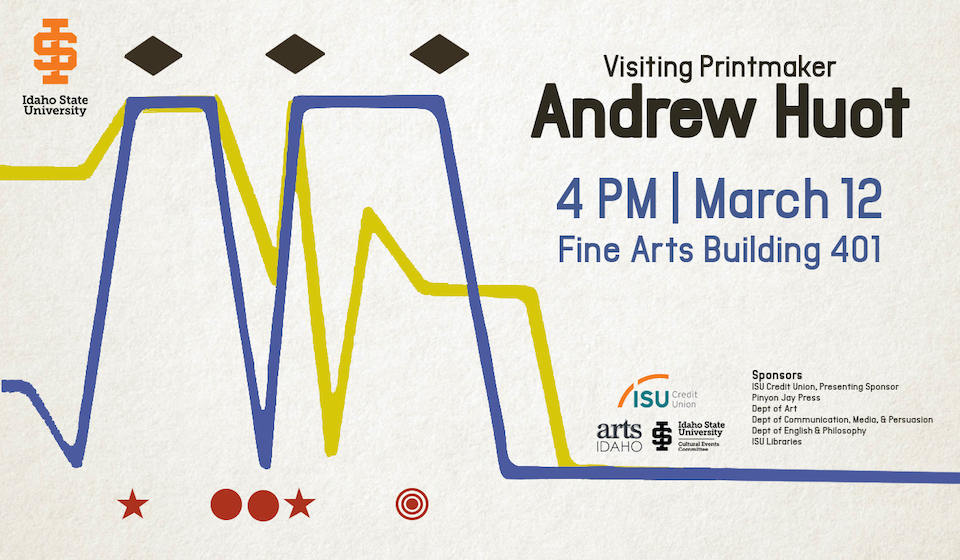 POCATELLO – Idaho State University's Pinyon Jay Press will host a free lecture with printmaker Andrew Huot on the art of printmaking on March 12 at 4 p.m. in Room 401 in the Fine Arts Building.
During the lecture, Huot will discuss his books and letterpress artwork.
Huot will also present a two-day pressure printing workshop March 13-14, using equipment in the Pinyon Jay Press VisComm Experimental Lab. The cost for the workshop is $15. To reserve a spot, contact Gretchen Jenson at jensgret@isu.edu or at 208-282-2361.
For more information on the lecture or workshop, contact Curtis Whitaker at whitaker@isu.edu.
The Pinyon Jay Press is a collaborative venture between the Department of Communication, Media and Persuasion, the Department of English and Philosophy and the Department of Art. It provides faculty and students the opportunity to learn the art of fine letterpress printing and to explore various forms of expression that involve image and text.
---
Categories: