ISU chemistry student Orme's research poster places second nationally; undergraduate appreciates research opportunities
July 13, 2020
Andrew Taylor, Assistant Director of Marketing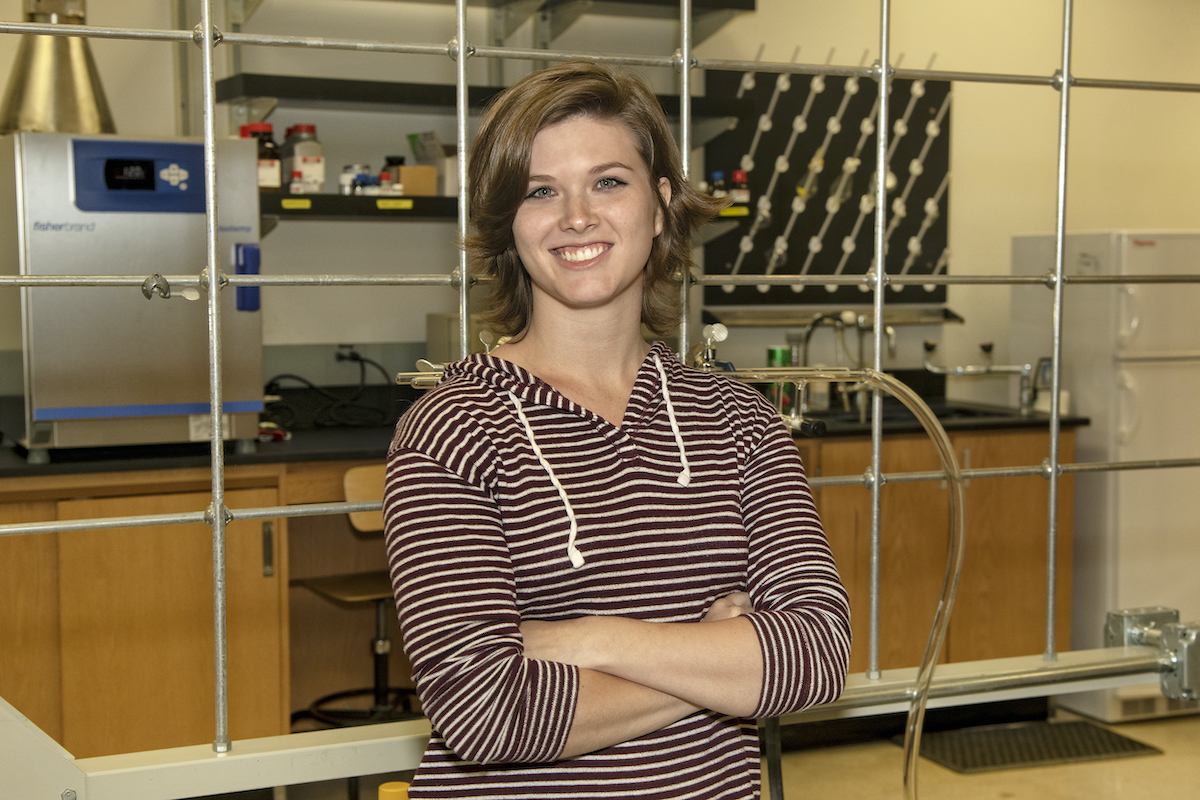 POCATELLO – Idaho State University senior Kennalee Orme from Rexburg won second place for her research poster at the POLY Industrial Advisory Board sponsored Undergraduate Research in Polymer Science Symposium at the national meeting of the American Chemical Society this summer.
"I submitted it thinking it would not be anything at all and then I found out I'd gotten an award for it and I had gotten second place and that was really exciting for me, definitely pretty cool," said Orme, 21, a biochemistry major, scheduled to graduate in December, who received a $300 prize for her award along with the recognition.
She works in the lab of Courtney Jenkins, an ISU chemistry assistant professor. Orme said her undergraduate research experience helped her to succeed.
"This is a really large, national meeting, that has people from not just from the U.S. but people from across the world travel to attend this conference of the American Chemical Society," Jenkins said. "It is the largest chemistry-based society so it is definitely a competitive place to be and you get to share your science with a wide variety of people and so, for her to be chosen, was pretty exciting."
Originally, Orme was supposed to present her research in person in Philadelphia, but the in-person conference was canceled due to Covid-19 so she presented the research online.
Orme said the study she is working on is exploring the different ways that chemists can use a process called "inverse vulcanization" to create synthetic materials from waste sulfur.
"It is a way to incorporate monomers, that are small carbon-based molecules, into sulfur," Orme said. "So what we do is place the sulfur in a little vial, we heat it in an oil bath and then we add this monomer to it that is called a cross-linker that connects the sulfur together through a radical reaction. The bonds of the atoms break and then they can all connect together to form this substance that is kind of like a plastic or a tar."
The substances produced by inverse vulcanization can be used for a wide variety of things including lithium sulfide batteries, infrared glass, adhesives and water filtration.
"I thought it was really cool making a poster for that kind of event," Orme said. "It was kind of scary, it was the first time I'd ever done it, so I wanted to do a good job. It was really great having Dr. Jenkins look over it for me. She was able to give me a lot of tips and pointers that I wouldn't have thought of to make it look professional and to include all the information that was necessary."
Orme spoke highly about the experience, knowledge, camaraderie and mentorship she's had while working in a research lab while earning her degree.
"Working for Dr. Jenkins has been so fun and also really informative and I have been helped by multiple staff in the chemistry department," Orme said. "I basically know all of them by name because there is so much interworking. It has been really nice because I've gotten to know all of the chemistry department. They are very friendly and very helpful."
Besides helping her with her research they also have given her advice on plans for after earning her undergraduate degree, including advice on graduate school and employment. For now she plans to try to get a job working as a chemist and then attend graduate school in a year or year and a half.
"I think I really got a head start working with Dr. Jenkins," Orme said. "We've been working on a paper together. I can see that process of how to put papers out and how research is actually applicable. When I first started, I didn't even know what research looked like. I had no idea. Now, what I have seen is that there is a lot of exploring different papers, seeing how you can improve on existing science and then putting your own work out there for other people to review, and to give criticism."
Orme said she also bonded with fellow undergraduates working in the lab. For most of her time in the lab there were three other students, and then a fourth was added near the end of the academic year.
"We've been able to present to each other and we have been able to talk about our projects together," she said. "It has been good because it helps me to be able to explain what I am doing easier because all of our projects are just slightly different, we all have different focuses. It has also been nice that I've been able to remember what it was like to be a freshman or a sophomore and just learning equipment, and just learning these new and exciting chemistry things."
The mentorship and knowledge she receives aren't all technical in nature. For instance, she has learned there is more fluidity in choosing a career, educational path and research niche than she previously thought.
"I am going into biochemistry, which is a perfectly fine field for a lot of people, but it is also very difficult for me," Orme said. "But one thing I learned working in Dr. Jenkins' lab is that even though she is a biochemistry professor, that is why she was hired on, she is very knowledgeable and specializes in something else, which is polymer chemistry. That was really cool to me because it tells me that what you want to work on and do in life, as far as research goes, is not permanent, you can change and you can figure out your interests."
She offered this advice for incoming students interested in research.
"Looking into research you want to look for an advisor who specializes in something that is interesting and research just gives you an opportunity to try it out," she said. "It doesn't matter what you are focused on as far as your chemical or biochemical major goes, you can choose whichever one you want and try to find something that you are really interested in."
---
Categories:
College of Science and EngineeringResearchStudent LifeUniversity News