Film, Panel Discussion to explore "Anthropocene: The Human Epoch" Feb. 20 at ISU
January 31, 2020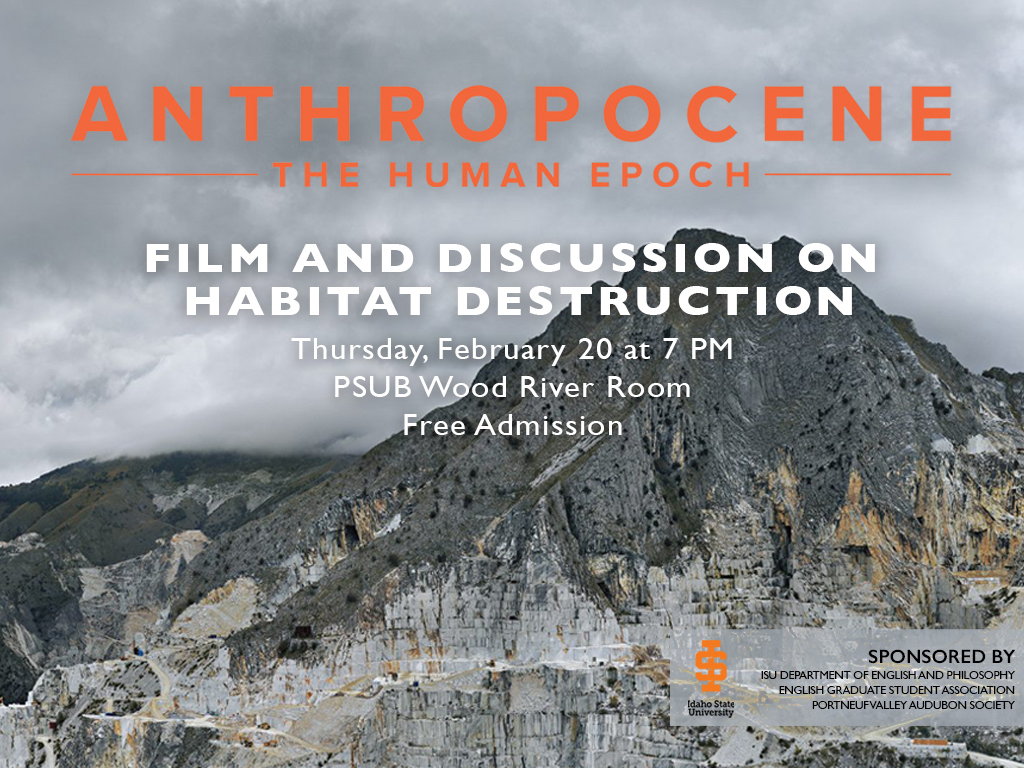 POCATELLO – A free screening of the film "Anthropocene: The Human Epoch" and a panel discussion on how human beings have had an impact on the environment will be held at 7 p.m. Feb. 20 in the Idaho State University Pond Student Union Wood River Room.
The word "anthropocene" is used with increasing frequency as a label for our current geologic age, indicating the impact that human beings have had on the environment. Much of this impact takes the form of habitat destruction, as Earth's land, air and water have become unlivable for many plants and animals when transformed to suit human needs.
The film "Anthropocene: The Human Epoch" provides viewers with an immersive sensory experience of what this transformation feels like around the globe, focusing on representative sites that have experienced massive change.
Following the 80-minute screening of the film, the following panelists will discuss loss of habitat both at the local level and in general terms:
Colden Baxter, ISU professor of biological sciences
Linda Leeuwrik, Pocatello City Council member and cultural historian
Kevin Marsh, ISU professor of history
Tesa Stegner, ISU professor of economics
The discussion will be moderated by Curt Whitaker, ISU professor of English.
The event is co-sponsored by ISU's Department of English and Philosophy, the ISU English Graduate Student Association, and Portneuf Valley Audubon Society.
---
Categories: