Emma Bailey named May ISU Career Path Intern of Month
April 30, 2020
POCATELLO – Idaho State University's May Career Path Intern of the Month is Emma Bailey, a junior pursuing a degree in visual communications with an emphasis in graphic design.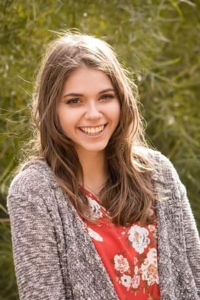 Bailey currently holds a Career Path Internship at the Museum of Idaho in Idaho Falls, where she has been able to put her skills to work creating marketing elements including posters and outdoor banners for the museum's evolving exhibits.
Recently, Bailey won the Diamond Award for best overall ad campaign in East Idaho. This award was given by the Idaho Falls Advertising Federation, with judges located statewide. Bailey proved her skills as a graphic designer by winning this overall professional category while still a student at ISU.
"Emma has contributed impressive work on a number of campaigns and initiatives for us at the Museum of Idaho," said Jeff Carr, Museum of Idaho director of public relations and Bailey's supervisor. "It's gratifying to see her good work being noticed and recognized by industry professionals. She is a joy to work with."
Initially starting her degree, Bailey was unsure if visual communications was the correct track for her. Bailey had always been interested in the arts, taking painting, ceramics, photography and yearbook throughout high school. Entering ISU she recognized that she needed to learn Adobe products to succeed academically and professionally.
"Interning at the Museum of Idaho has given me the confidence and practice I needed to know that graphic design is the career path for me," Bailey said. "The projects they give me never get old, and I love working with them to produce something awesome."
Upon graduating, Bailey hopes to work as an in-house graphic designer in Idaho Falls. Originally from Rigby, Bailey enjoys hiking and camping with her husband and Huckleberry, the couple's golden retriever. She also plays the guitar, paints and enjoys finding ways to be creative just for fun.