Creatures, plants of the night – large and small – featured in "In the Shadows" exhibit
January 22, 2020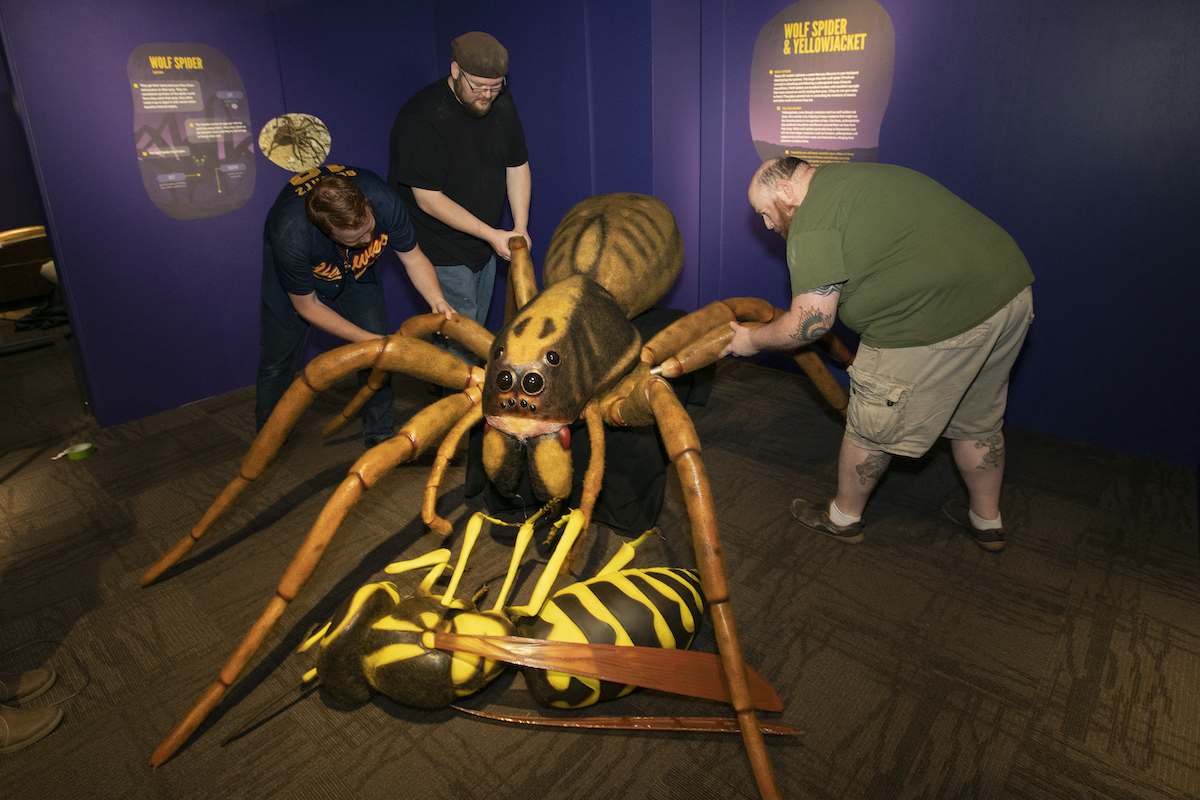 12-foot 3D spider, 3-foot eyebrow mites among items on display at Idaho Museum of Natural History
POCATELLO – "In the Shadows," a new exhibit that opened this month at the Idaho Museum of Natural History, gives visitors the chance to see the creatures of the night in a new light, which includes giant 3D replicas of spiders, wasps, mites and mosquitos.
"The basic premise is this is all the stuff that lives in Idaho that we interact with on a daily basis, but we hardly ever see it, with the exception of mosquitoes, which we see quite frequently," said Jesse Pruitt, manager and technical specialist of the Idaho Museum of Natural History's Idaho Virtualization Laboratory.
Using cutting-edge 3D technology, a portion of the new exhibit includes a 12-feet in diameter wolf spider, a 4-1/2-feet long yellowjacket wasp and other giant replicas of tiny creatures blown up in size so patrons can appreciate them, like the mites that live in our eyelashes and potato blight that Idaho farmers have to contend with.
"We've created this exhibit from start to finish," Pruitt said. "We have everybody in the lab involved. Everybody has made pieces. It was all made in-house, including the accessory pieces. We used our 3D printers and the pieces are hand-painted It has been a lot of fun and it has been really nice to see this come together."
The five enlarged 3D creatures are only a small portion of the exhibit, that features a wide array of other interesting displays including mountain lion mounts provided by the Idaho Department of Fish and Game and a sensory exhibit about flowers that bloom at night that includes a smelling dispensary. The exhibit will also explore how creatures of the night such as owls and bats live their lives.
Exhibit designers said they hope to leave visitors with an appreciation for the outsized role the tiniest of creatures can play in their lives and hope visitors may never look at the dark the same way again.
The Idaho Museum of Natural History has been serving Idaho since 1934. To learn more about the museum visit imnh.isu.edu. For more information, call 208-282-3168.
---
Categories: