Center for Advanced Energy Studies hosts online "Solve Climate by 2030" panel April 7
March 25, 2020

Idaho State University's Linda Engle among panelists
Good news has been hard to come by lately, but here's something you can do to help shape the future for the better while taking your mind off the gloom and doom: Solve Climate by 2030, is an interactive, online event hosted by the Center for Advanced Energy Studies (CAES) that aims to come up with ways to combat climate change locally.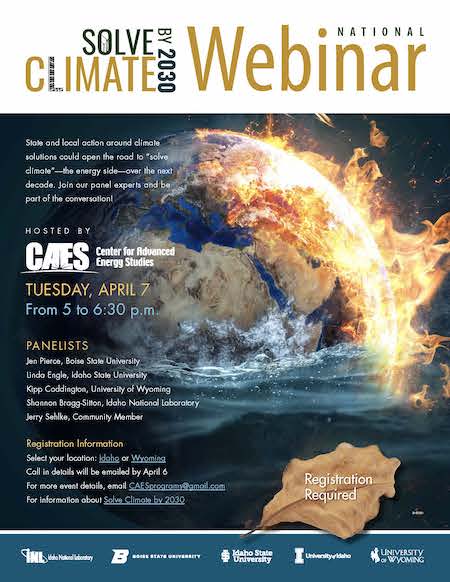 The event kicks off at 5 pm on April 7 with a live webinar featuring expert panelists sharing climate change solutions. Since state and local action can help address climate change over the next decade, the panel discussion will be followed by participants sharing their action ideas and voting live for the top three solutions.
If you are an educator, the webinar recording will be available for your use in online classes with associated teaching guides for multiple disciplines.
The goal of the community dialogue is to come up with three ambitious but feasible actions that need to take place in Idaho and Wyoming in order to tackle climate change by 2030. The year 2030 marks the close of a 10-year window in which climate scientists have said we must make significant reductions in carbon pollution in order to prevent potentially dire changes to the climate.
CAES is a research, education, and innovation consortium bringing together Idaho National Laboratory and the public research universities of Idaho and Wyoming: Boise State University, Idaho State University, University of Idaho, and University of Wyoming. The free online event is one of 52 seminars held in all 50 states through the Solve Climate by 2030 initiative. CAES is representing the Idaho universities and University of Wyoming in coordinating the event, which will be streamed live and is intended to engage the public in the climate change discussion.
You may register for the event here.
See the attached flyer for more information, or email CAESprograms@gmail.com.
---
Categories: