SARE program gives ISU undergrad Alyssa DeSmit the research opportunity to help unravel mysteries of Gibson Jack drainage
August 18, 2020
Andrew Taylor, Assistant Director of Marketing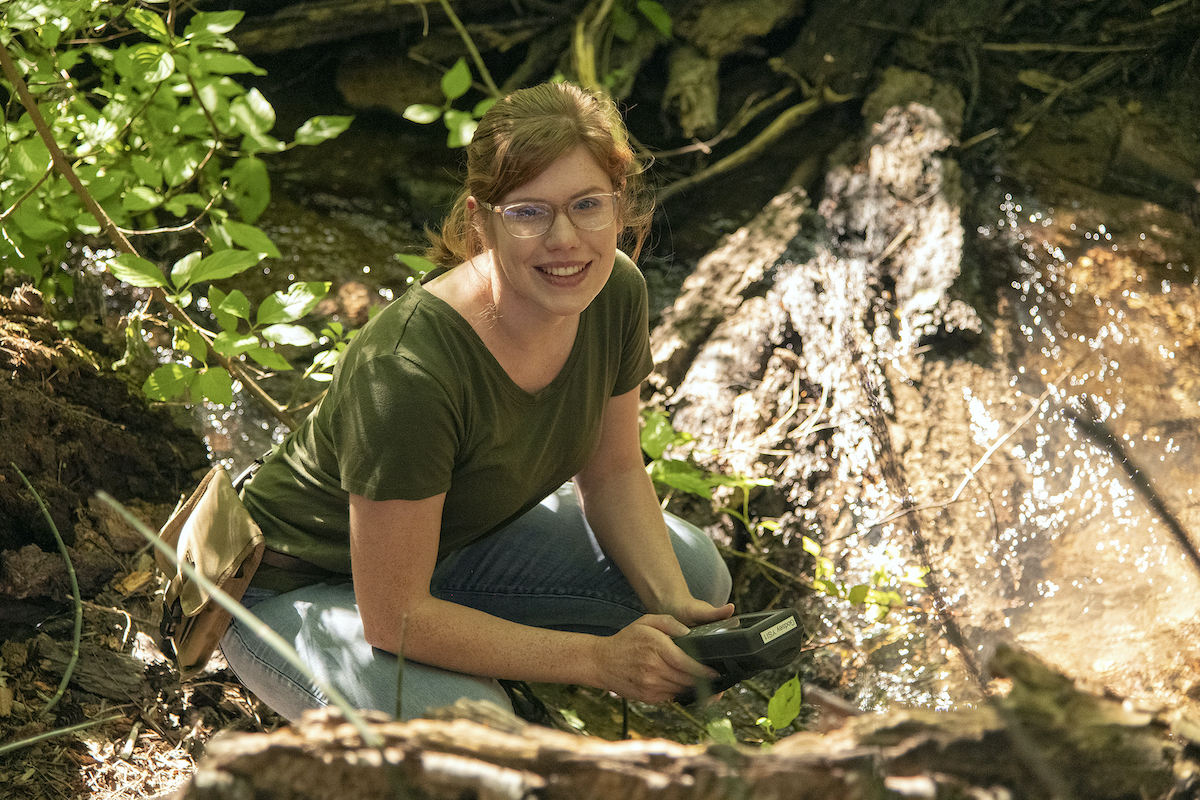 POCATELLO – On many mornings this summer, Idaho State University geosciences undergraduate student Alyssa DeSmit has been hiking up the Gibson Jack Creek, often accompanied by ISU geosciences Masters student Thane Kindred, to measure the quality of the creek's headwaters.
"Our study is looking at the electric conductivity of Gibson Jack and its tributaries, trying to figure out what the geochemistry of the stream is," said DeSmit, a native of Lumberton, North Carolina.
On a typical research day, she and Kindred meet at the Gibson Jack trailhead just out of Pocatello in the Caribou National Forest, and walk up several miles, for as long as 2 or 2-1/2 hours, to get to sites to sample water. On the creek's higher reaches the stream channel is dry in spots, so the pair walks along the stream channel, trying to find water to sample, using two different types of sensors.
"Electrical conductivity is a measure of the amount of electrical current the water can carry or its ability to carry a current," DeSmit said. "It can teach you where the water is coming from."
Water that dissolves the rock tends to be saltier, like the hard water in our taps, and it can transmit current really easily. By contrast, really pure water that hasn't dissolved much rock will not be as salty and won't transmit the electrical current well. Because there are lots of different kinds of rocks in Gibson Jack, the different headwater streams actually have really different natural water quality, because some rocks, like limestone, are a lot easier to dissolve than others.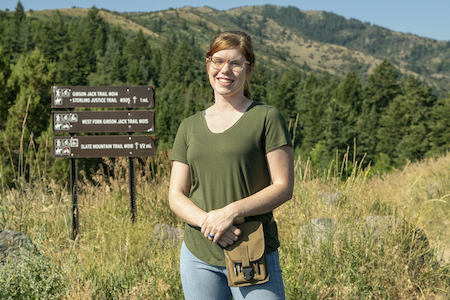 DeSmit is participating in the National Science Foundation's Summer Authentic Research Experience (SARE) program, which is part of a five-year, multi-million-dollar NSF GEM3 grant being undertaken by Idaho's universities and colleges to study sagebrush and redband trout, and their environments, to help provide evidenced-based information for resource management and policies. The full title of the GEM3 project is Genes by Environment: Modeling, Mechanisms, Mapping. SARE is designed to give undergraduates paid summer research experience in an effort to increase the number of people and the diversity of people entering research fields.
For DeSmit, the program is living up to its expectations.
"It has been my first real research project," said DeSmit, who is scheduled to earn her undergraduate geosciences degree this month. "I've done other projects similar in my classes, but not to this extent. I have loved this opportunity. It has really helped me solidify what I want to do and helped me realize I am on the right path."
DeSmit is one of six students, five from ISU and one from the College of Western Idaho, who are participating in the program this summer under the guidance of ISU faculty. The program was scheduled to run from mid-June to mid-August, although some project schedules were changed because of the coronavirus pandemic. SARE participants receive a $4,000 stipend.
"The SARE program is meant to provide students with exposure to authentic research experiences where they can get out into the field, as is the case with most of our students, but some of them are in labs as well," said Janet Loxterman, chair of the ISU biological sciences department and an administrator for the GEM3 SARE program at ISU. "They can be helping with modeling and mapping activities, the major aspects of GEM3, so there are all kinds of activities they can be involved with, but it is really important to provide them research experiences working with graduate students and faculty collecting real data."
And in the case of DeSmit's work on Gibson Jack Creek, she is collecting "real" data. She is working under the direction of Sarah Godsey, ISU associate professor of geosciences, who has a couple of ongoing studies taking place on Gibson Jack drainage, including studies related to the GEM3 project.
"The gist of the study that Alyssa is working on is that we are really interested in understanding how the interaction between streams drying at their headwaters can influence the water quality downstream," Godsey said. "Basically, throughout most of Idaho, most of us rely on mountain water for our water supply so what happens in mountain streams can have a really big impact on the water we drink and use. What Alyssa's project is trying to do is characterize how variable that water is in those mountain headwater streams."
DeSmit's work will help Godsey and her collaborators know where to put instrumentation, where to sample and where to study the streams in Gibson Jack as part of larger-scale projects Godsey is involved with that seek to characterize how much the landscape in intermittent headwater streams actually influences downstream water quality because of in-stream changes versus disconnections from the landscape.
"Alyssa's is a preliminary project to help us know what to do at the next steps," Godsey said. "Basically, she is out in the field walking a large number of miles, covering some ground with her sensors, sticking them into the stream at strategic places to understand how variable headwater stream chemistry really is."
Working with a graduate student has been a benefit for DeSmit – it means she is not going out alone and she is getting mentorship from a graduate student as she considers going to graduate school. DeSmit's current plan is to work for a couple of years in her field, determine her study focus and then attend graduate school.
The coronavirus pandemic affected DeSmit's summer in a number of ways. She had originally planned to attend the ISU geology field camp at the Lost River Field Station north of Mackay, a "five-week, six-credit capstone course in field geology," but it was largely cancelled, although a portion of it was held virtually. Instead, she was able to land her SARE research position.
However, because of the pandemic, her research started later in the summer than planned, and will run later, until Sept. 1. In addition, DeSmit and Kindred have been taking COVID-19 precautions, driving separately to the field location and maintaining social distancing in the field.
"We've learned how to make the field research work safely," Godsey said. "They are meeting in the field and keeping their distance, but keeping an eye on each other so they are safe out there. But it means she is getting a good bit of experience of doing field research."
---
Categories:
College of Science and EngineeringResearchStudent LifeUniversity News