Physics doctoral student Connor Harper is Idaho State Career Path Intern of the Month for October
October 6, 2020
Tatyana Van Etten, Career Center coordinator
POCATELLO – Idaho State University physics doctoral student Connor Harper is the October Idaho State Career Path Intern of the Month.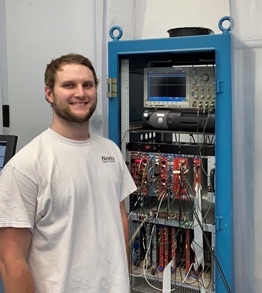 Harper currently holds a Career Path Internship position with the ISU Department of Physics where he constructed a new laboratory in the Physical Science Building's clean room that provides undergraduates with a data collection platform for research.
"Harper established a new research lab that brings cutting edge research within reach of undergraduates," said Tony Forest, professor in the Department of Physics, Nuclear, and Electrical Engineering and Harper's supervisor.
The lab allows students to research the spontaneous fission events from Californium-252 and verify the Burggraf-Forest-Dale Effect (BFD Effect) discovered at the Idaho Accelerator Center two years ago.
"The BFD Effect is the blocking of neutrons by the remnants of the induced nuclear fission reaction," Harper said. "Although currently not understood, the neutron blocking appears to be correlated with the direction of the fission fragments that are also emitted during the fission process."
"Harper spent the summer constructing a new lab in the physics basement at ISU that will allow undergraduate students to measure this correlation of the neutrons and investigate the reasons for these correlations," Forest said.
Harper said the biggest highlights of his internship experience were being able to create something that other students will get to use to further their own knowledge of fundamental physics and to have an advisor, Forest, who was always willing to answer his questions and lend a hand over the summer when needed.
Originally from a small town in western England, Harper hopes to become a research scientist studying fundamental physics at a national lab or make the shift into the field of radiation safety. In his spare time, he likes to work on and ride his motorcycle up through Caribou National Forest and around Pocatello.
---
Categories:
College of Science and EngineeringResearchStudent LifeUniversity News