ISU School of Performing Arts to present 'The Wolves' beginning Sept. 18
August 28, 2020
Meg Stover, School of Performing Arts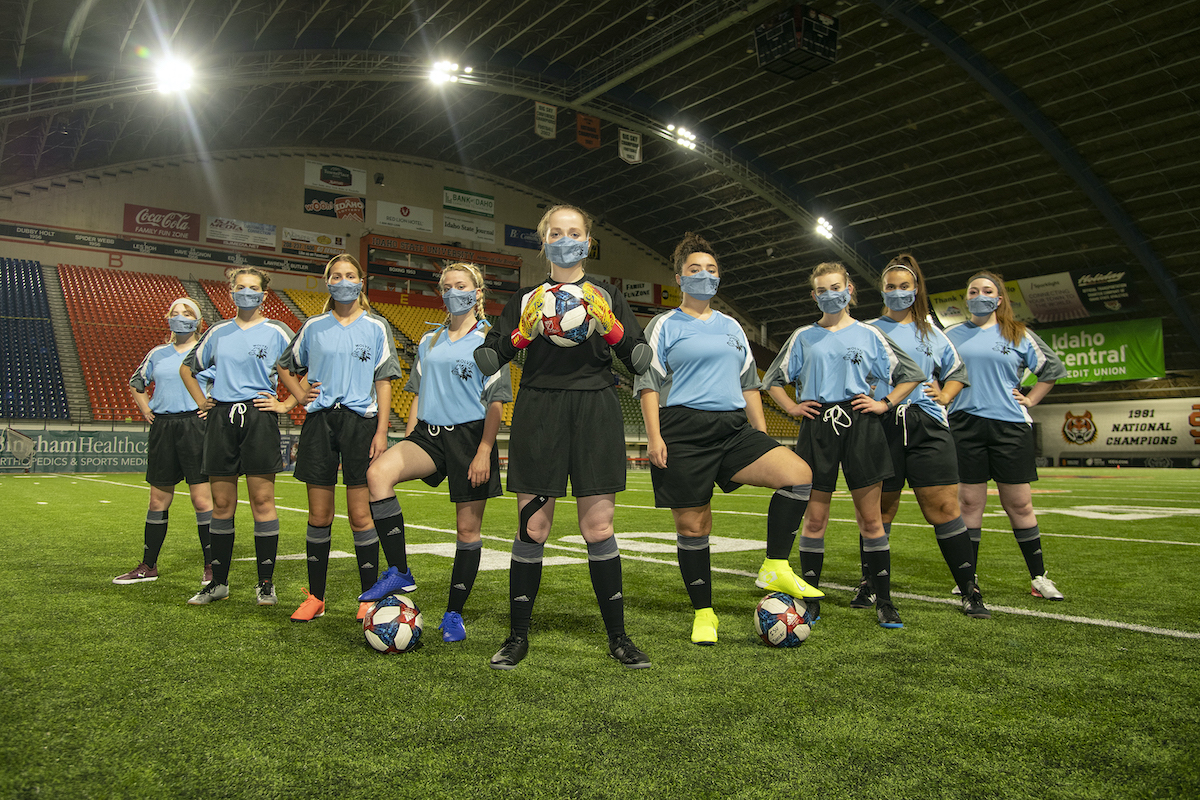 POCATELLO – Idaho State University's School of Performing Arts will present the "The Wolves" on Sept. 18, 19, 24, 25 and 26 at 7:30 p.m. in the Blackbox Theatre in the L.E. and Thelma E. Stephens Performing Arts Center.
"The Wolves," by Sarah DeLappe, was written about a girl's high school soccer team and features an all-female cast. The ISU cast includes a talented group of nine teammates, a soccer mom and their three understudy swings, each learning at least three roles.
Vanessa Ballam, director of "The Wolves" and ISU theatre faculty member, perfectly describes the show as "a fierce girls' indoor soccer team navigate the politics of their personal lives as well as the politics of the larger world, while they prepare to battle on their soccer turf. Each team member wrangles with their individuality while finding their way within the pack."
To train and rehearse for the show, the cast have been working closely with the ISU women's soccer team, doing drills, conditioning and learning to love the game.
"Working with Debs Brereton and the ISU women's soccer team is such an incredible opportunity," Ballam says. "Not just the skills training, but the gift of creating an integrated partnership and team between theatre and athletics."
The cast has been working for months to learn and make the show as true-to-life as possible with this collaborative opportunity.
"I think it's a really rare experience to be able to combine athletics and the arts in college and schools in general, so to be able to have this incredible opportunity to work with the Idaho State women's soccer team is absolutely incredible and honoring," says sophomore Elaine Bell "We both get to learn from each other and collaborate, which is inspiring and educational."
Tickets are available now by calling box office manager Julie McKnight at (208) 282-3330, or purchasing online at isu.edu/tickets. Strict precautions are in place due to COVID-19, and seating will be extremely limited — 24 seats will be available per performance, and seats will be assigned. Please purchase tickets one day in advance of your chosen show date to allow for accommodations.
If you are a Flex Pass holder, please call ahead to reserve your seat. Masks are required for all patrons and staff. Live-streaming tickets will soon be available: more information to come.
---
Categories:
College of Arts and LettersEventsPerforming ArtsUniversity News