ISU Professor Finney among scientists addressing Idaho U.S. Senate staffers on climate change
October 19, 2020

POCATELLO – Idaho State University's Bruce Finney, a professor of biological sciences and geosciences, was one of two representatives from the American Geophysical Union to meet and discuss climate change with staff members representing U.S. Senators Mike Crapo and Jim Risch during Earth Science Week, Oct. 11-17.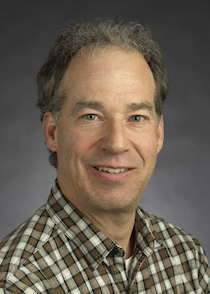 "The meetings have gone well with much productive discussion," Finney said. "We appreciated the opportunity to speak with staff members from both of Idaho's senate offices. It was great that people we talked to were receptive to us."
The virtual meetings were part of the American Geophysical Union's annual Climate Change Advocacy Days that coincide with Earth Science Week. The American Geophysical Union (AGU) is one of the largest organizations of Earth, atmospheric, ocean, hydrologic, space, and planetary scientists, consisting of more than 130,000 members from 144 countries. AGU's activities are focused on the organization and dissemination of scientific information in the interdisciplinary and international fields within the Earth and space sciences. The organization's headquarters is in Washington, D.C.
Finney credited Emma Burkett, an Idaho native and AGU member who is now a doctoral student at the University of New Hampshire, with setting up the meetings.
"She wanted to communicate the importance of federal climate action for Idaho and its constituents, and I joined the effort following her invitation," Finney said. "The staff members we spoke to were familiar with the science of climate change. Overall, our goal was to have a conversation to point out what research is showing on climate change and what is projected to happen, and make ourselves available to them if they need to talk to scientists about these issues."
Information that Finney and Burkett communicated to the senate staff members included:
• They pointed out that higher temperatures cause more of the increased winter and spring precipitation to fall as rain instead of snow.
• The decrease in snowpack presents a water storage threat across the state as well as an instability in energy security for hydroelectric power.
• The AGU representatives recommended supporting deep-drilling geothermal projects and enhanced geothermal systems, and to protect Idaho's water security for future generations and for outdoor recreation.
With regard to geothermal energy, Finney and Burkett recommend support of the Advanced Geothermal Innovation Leadership Act to ensure Idaho's leadership and security in geothermal technology.
In Idaho, 66% of residents polled this year believe global warming is happening and 54% believe it is caused by human activities. In addition, 64% believe global warming will harm future generations, 71% believe carbon should be regulated as a pollutant and 76% believe schools should teach about global warming.
"Scientists and engineers must continue to engage with policy makers, communities, businesses, and the public to undertake solution-oriented research and analysis," Finney said. "Effective climate policies will rely on innovative and responsive science and engineering to inform and weigh response options."
For more information on how the climate crisis impacts Idaho, Finney recommended those interested to view Idaho's state summary created by the NOAA National Centers for Environmental Information at https://statesummaries.ncics.org/chapter/id/.
Finney and Burkett are hoping to meet soon with staff members from the offices of Idaho U.S. Congressmen Mike Simpson and Russ Fulcher.
---
Categories: