ISU civil engineering students Kerr and Shokrgozar among top-five finalists at ASBI competition
November 10, 2020
Saroj Lamichhane, COSE Marketing Intern
POCATELLO – Idaho State University Department of Civil and Environmental Engineering students Samantha Kerr, a senior undergraduate, and Ali Shokrgozar, a doctoral candidate, were selected among the five finalists for the American Segmental Bridge Institute (ASBI) Research Project competition at a virtual convention this fall.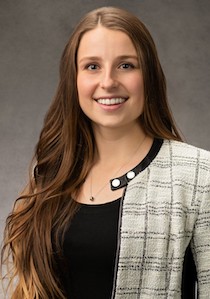 At the competition, Kerr presented her research on "Metallic Dissipaters for Design of Seismic Resilient and Low Damage Precast Bridges." She was the only undergraduate and the only female candidate in the final competition.
"The ASBI competition was the first of its kind that I've participated in so I was learning every step of the way," Kerr said. "The biggest takeaway for me was learning to present my research confidently and concisely, given the time frame we had. "
Shokrgozar presented equally important research on "Analytical Modeling of an Innovative Seismic Resistant Connection for ABC: Validation Against Experimental Results."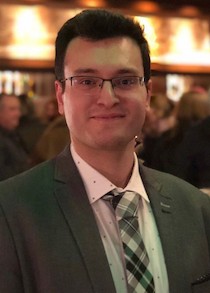 "As a result of my experiences, I am aware of the importance of frequent communication among project members and of developing a realistic research plan, timeline, and budget," Shokrgozar said. "It helped me develop relevant skills in doing experiments, managing my time, and writing effectively."
Mustafa Mashal, associate professor in the Department of Civil and Environmental Engineering, sponsored Kerr and Shokrgozar for the ASBI Competition.
"We were very honored to have two students from ISU among the finalists. Students are our ambassadors, they take the word out," Mashal said. "It doesn't have to be a faculty always going on showing up in front of people. Instead, students such as Samantha and Ali can do a great job. We're very proud of both of them. We would like to thank ASBI for being an industry champion for ISU, we appreciate their invitation for ISU to participate in the ASBI Competition."
There were five judges from the industry in this competition, which was held Oct. 27 and 28. Originally, only the winner was going to get $1,500. However, the judges and organizers concluded all five finalists were outstanding. Rather than handing in a single prize to the winner, surprisingly, they decided to award each finalist a $1,500 cash prize. The committee, thereafter, also decided a doctoral student from the University of Texas at Austin as a winner of the competition, who received an additional $500.
Students from the universities across the nation had submitted their proposals to participate in the competition. Shokrgozar and Kerr competed with finalists from the University of Texas at Austin, Florida State University, and the University of Minnesota Duluth.
"Balancing coursework with working on the projects for competitions requires high-level time management, and being part of a team means putting an organization's goals above your own," Shokrgozar added.
Shokrgozar had participated in two other national competitions before this, the 2019 Precast/Prestressed Concrete Institute Big Beam Contest and a 2020 National Precast Concrete Association Student Competition. Based on the performance, his team had placed second and third positions in the nation respectively.
Photo information: Top, Samantha Kerr; bottom Ali Shokrgozar.
--
---
Categories:
College of Science and EngineeringResearchStudent LifeUniversity News