Idaho State's Justin Dolan Stover named 2020 Innovative Educator for Social and Behavioral Ways of Knowing
October 19, 2020

POCATELLO – The Idaho State Board of Education has named Idaho State University history professor Justin Dolan Stover this year's Innovative Educator for Social and Behavioral Ways of Knowing.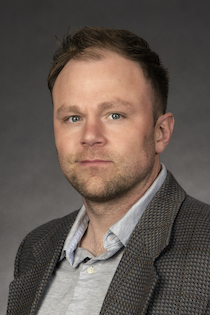 The Board's General Education Committee, along with Capital Educators Credit Union, will celebrate Stover at a virtual General Education Summit on Oct. 22.
"I'm honored," Stover said of the award. "To be recognized by students, peers and the State Board validates the efforts I've taken to create dynamic lectures, alter delivery methods to meet various student needs and revise course content to include the latest research and interpretations."
Starting in 2019, each year Idaho's General Education Committee acknowledges educators who are dedicated to general education in Idaho and pursue meaningful innovations in their teaching. Innovative Educators are then recognized at the annual General Education Summit.
At this year's online summit, Stover will speak about his approaches, successes, and obstacles in teaching.
"I approach teaching as a storyteller," Stover said. "In my discipline, history, we see all the makings of great drama; I try to explain the past and the events that have shaped our present in ways that students can identify and associate with."
In a general education course, Stover said, his goal for students is genuine competency. Students will learn how to write concisely, synthesize multiple sources or articulate complex ideas.
He doesn't believe in "assessments for the sake of assessment," and will adapt course assignments as they demonstrate an understanding of a subject or skill.
"In the end, my goal is to equip students with the skills to analyze the past, to recognize (if not understand) its complexity and to ensure that they're prepared to proceed to the next level of their education," he said. "My goal is to help produce citizens who are actively engaged with the past and able to view the present through the contexts that created it."
Today's students benefit from this approach to teaching and learning, said John Gribas, College of Arts and Letters associate dean for fine arts and humanities. In a quickly-changing world, and job market, students must build a broad knowledge base and skill set — meaning educators must readily adapt to change, as well.
For students to tap into their potential for creativity and contribution, Gribas said, innovative educators must create an innovative education system.
"ISU is a unique place, in large part because it is filled with outstanding faculty who are, across the board, deeply committed to knowing and investing in students," he said. "Innovative educators like Dr. Stover offer students educational experiences that can truly change their lives for the better."
---
Categories: